DYFI leader Maidul Islam's family loses breadwinner
Unit secretary of the Left outfit, who allegedly died of wounds sustained during police-protester clash had told his wife that he would buy books for his daughter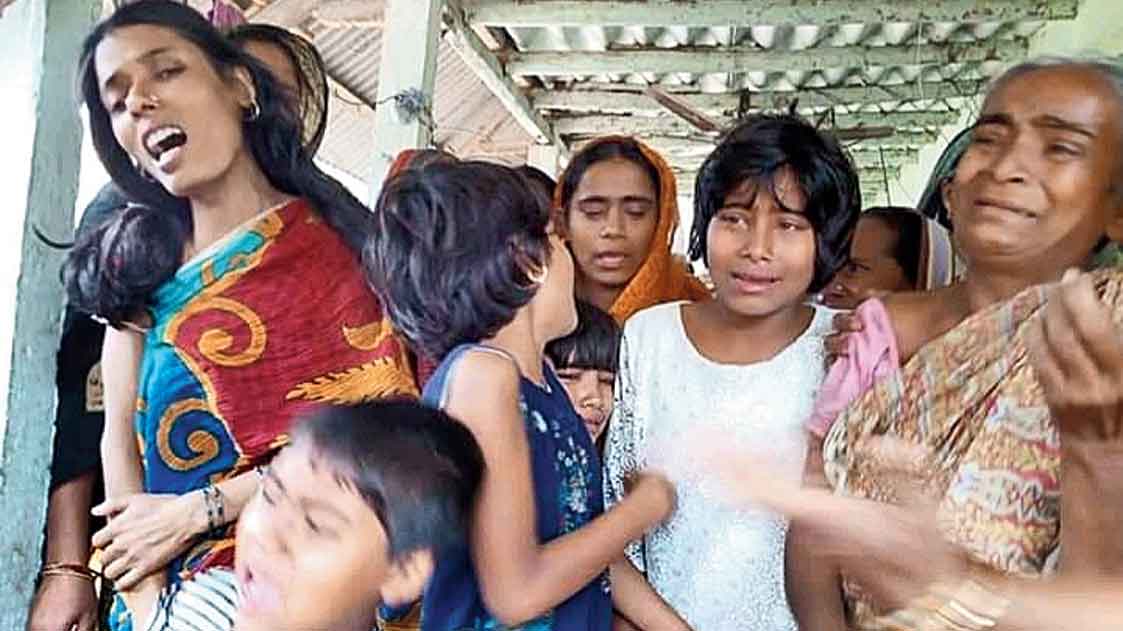 Family members of Maidul Islam Middya mourn his death at their village home in Bankura's Kotulpur on Monday.
Rupesh Khan
---
Bankura
|
Published 16.02.21, 01:47 AM
|
---
Maidul Islam Middya, 33, the unit secretary of the CPM-backed DYFI in Bankura's Kotulpur, who died in Calcutta on Monday allegedly of wounds sustained in the police-protester clash that erupted during the February 11 march of Left youths to Nabanna for jobs, had told his wife that he was going to buy textbooks for his daughter.
Maidul, who drove an autorickshaw for a living in Kotulpur, was the sole breadwinner of his family that included his mother Tahamina Biwi, 66, wife Aleya Biwi, 29, two daughters Suraiya Parvin, 10, and Sumaiya Parvin, 5, and niece Rebeka Sultana, 12.
"He (Maidul) told me that he is going to buy books for our elder daughter, who is a Class V student at a residential school in Burdwan. I thought he will go to Burdwan to buy the books but only later did I come to know that he had been injured in the police torture in Calcutta," said his wife from their two-storey mud house at Chorkola village in Kotulpur, some 72km from Bankura town.
Maidul wanted his daughters and niece to study and did not want his poverty to come in the way. He had got Suraiya admitted to a free residential school in Burdwan this year. Sumaiya is a Class I student at a local primary school, while Rebeka studies in Class VII at a local high school.
Maidul had lost his sister a few years ago and had brought over her daughter Rebeca home just so that the girl did not miss out on her education.
"He could not study beyond Class X as his father had died early but always dreamt of educating his daughters and niece. When he had bought the auto, he told us he needed to earn more so that the children got a good education," said his neighbour Alam Sheikh.
Alam added that Maidul was so concerned about educating the three girls that whenever teachers or friends suggested a book, he would rush to buy it.
DYFI leaders in Bankura said Maidul was always there to support others too. When the poor were affected during the Covid-19 lockdown, he dipped into his savings and helped organise relief camps.
"He contributed to our relief camps during lockdown. He was so active that he emerged as the face of our organisation in the area and we elected him as the secretary of Gopinathpur unit," said Pradip Panda, Bankura DYFI secretary.
Right now, Aleya is worried about how to run her all-female family. On hearing that chief minister Mamata Banerjee had spoken to CPM leader Sujan Chakraborty and assured help to the family, Aleya said: "I am ready to take up a job if the government gives me one. But the job should be good enough to help me run our big family."
She added: "How can we survive? We have no land, no food stock. He was the sole breadwinner. Who will take care of us? Why was he beaten up so brutally that he had to die?"
Neighbours said Maidul's mother Tahamina was inconsolable and daughter Suraiya fainted several times throughout the day.
As family members waited for his post-mortem to be over in Calcutta, CPM leaders Amiya Patra, Ajit Pati and Abhoy Mukherjee visited his home. Tapas Chakraborty, a CPM district secretariat member in Bankura, said: "Mamata Banerjee's police killed a youth on whom the entire family depended."