Durgapur faces water crisis
The water scarcity has been sparked as the capacity of the feeder canal of Damodar river has reduced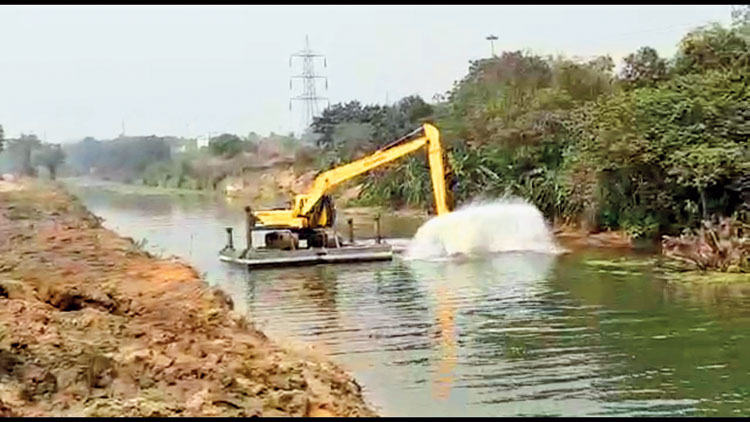 ---
|
Durgapur
|
Published 02.03.20, 09:19 PM
---
Residents here have started to feel the pinch of drinking water shortage even before summer sets in, leaving the civic body authorities in a spot of bother.
The water scarcity has been sparked as the capacity of the feeder canal of Damodar river has reduced because of silt deposit, said an official of the Durgapur Municipal Corporation.
"We fetch water from the feeder canal and supply it to our water treatment plants in Durgapur. The water is then supplied across the town. But the water carrying capacity of the canal has reduced because of silt deposit," said Pabitra Chatterjee, mayor-in-council member in charge of water supply.
Engineers of the civic body said for the canal to fetch water from the Damodar it required a depth of 3 meters, but because of silt it had been reduced to almost two meters.
Sources said the Damodar Valley Corporation was responsible for maintaining the canal. Work to de-silt begun following repeated pleas of the civic body.
"We pay an yearly fee of Rs 12 crore to the DVC as maintenance and water charges but they do not maintain the canal properly," Chatterjee said.
DVC officials in Durgapur said they had started de-silting the feeder canal from Friday and it would take at least a week to finish the work.
"Siltation happens naturally in rivers and canals. However, encroachment along the banks of the canal and dumping of garbage by encroachers create more trouble," said a DVC official.
The civic body supplies around 20 million gallons per day (MGD) of water in the town for domestic and commercial use. At present, the supply has been reduced to half.
In Durgapur Steel Plant and Durgapur Projects Limited townships, the companies take care of the water supply. The situation in the industrial townships and the factories are also bad as the authorities have restricted the use of water.
'We are supposed to get tap water twice a day but now the civic body is supplying only once. As summer is approaching the demand for water is increasing,' said Tushar Das a local resident.
The feeder canal is part of Durgapur barrage and it's adjoining two irrigation canals constructed by DVC in 1959. The facility was later handed over to the state government.