Durgapur Barrage repairs 'over' after 30-hour effort
Water from Damodar Valley Corporation's Maithan and Panchet dams was expected to reach the structure later in the night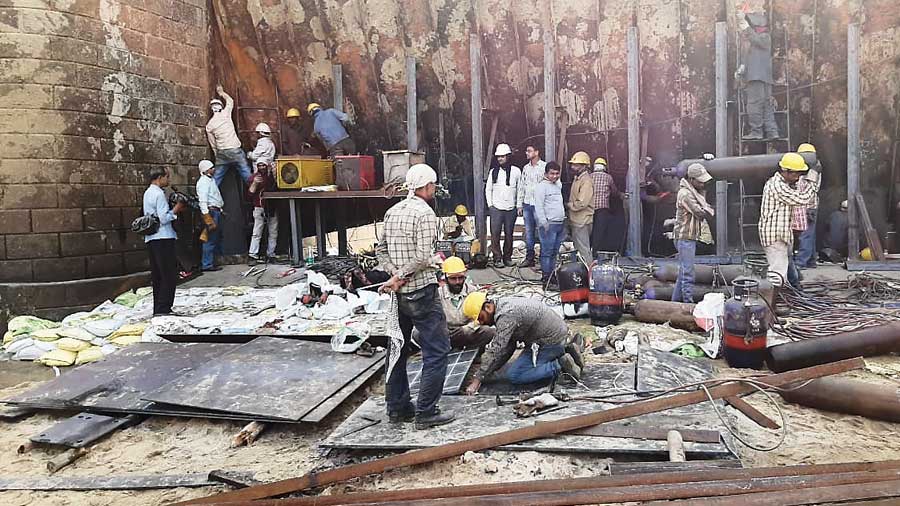 ---
Durgapur
|
Published 06.11.20, 12:33 AM
|
---
Work to restore the damaged sluice gate no. 31 of the Durgapur Barrage ended on Thursday evening after a 30-hour effort and irrigation department officials said water from Damodar Valley Corporation's Maithan and Panchet dams was expected to reach the barrage later in the night.
Though the state government had not come out with an official statement on the status of the repair till Thursday evening, officials in the irrigation department who did not want to be named said that the job was over and that in keeping with the restoration deadline the government had requested the DVC to release water from its Maithan and Panchet dams from 6am on Thursday. It takes over 12 hours for water to reach Durgapur Barrage from these two dams in Jharkhand.
Sluice gate No. 31 of the barrage got twisted on Saturday morning, resulting in water to gush out to the lower catchment area and severe water supply crisis and disruption in power generation.
"We fixed the damage and sealed the gaps in the gate with iron sheets. We added more iron sheets to the old gate to strengthen it," said an engineer of the irrigation department.
The irrigation department began repair of the gate on Wednesday after 100 hours went into trying to dry the riverbed.  The state government had assigned the job to repair the damaged gate to three private agencies with around 100 technicians and labourers working since Wednesday afternoon. Irrigation department officials and engineers of SAIL's Durgapur Steel Plant oversaw the process.
The engineers said as the gate had been sealed it would not be operational till the government decides otherwise during the proposed overhauling of the sluice gates, the date for which has not been decided upon.
In 2017, when the gate no. 1 of the utility was damaged in a similar incident the engineers had sealed it after strengthening it with additional iron sheets.
The 692-m-long Durgapur Barrage has 34 sluice gates. An irrigation department official said there would be no problem if gate nos. 1 and 31 – both located on two sides of the barrage — do not operate. 
During monsoon 10 gates are operated to release excess water that accumulates in the upper catchment area of Damodar river. The gates are opened to release the water to the lower catchment areas that constitutes East Burdwan, Hooghly and parts of Howrah.
DVC officials said that the Bengal government had requested them to release water from its dams in Maithan and Panchet so that the dry upper catchment area receives water. "We have released around 9,000 cusec of water from our two dams in Maithan and Panchet since Thursday morning," said a DVC official.