Durga returns in another form in north Bengal
A day after Dashami, the Rajbanshi community celebrates Bhandani Puja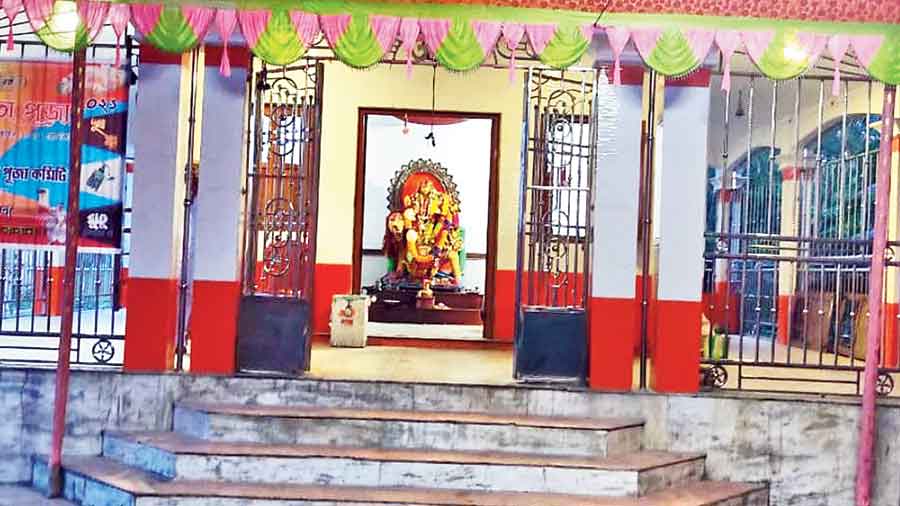 The idol of Buri Mata, whose puja will be held at Burirpat of Dinhata in Cooch Behar district on October 18.
Main Uddin Chisti
---
Cooch Behar
|
Published 17.10.21, 12:06 AM
|
---
Durga Puja may be over, but in several parts of north Bengal, the festivities continue.
A day after Dashami, the Rajbanshi community of north Bengal celebrates Bhandani Puja. Bhandani is believed to be a form of Durga. In all, over 100 such puja are held.
Ar Barnish of Maynaguri block in Jalpaiguri and in Kedarhat of Mathabhana-I block of Cooch Behar, the puja is being held for over a century now. Some other prominent pujas held a day after Dashami are Dakshin Ulladabri in Maynaguri and Purba Bholardabri in Alipurduar district.
According to Rajbanshi researchers, Bhandani is considered a goddess of prosperity. "It is believed that the Devi, while returning to her abode, had stayed here for a day and blessed the residents. That is why she is worshipped a day after Dashami. However, at a number of places, her mount is the tiger and not the lion and the demon is absent. The goddess is seen here with her children," said Umesh Sharma, a researcher in Jalpaiguri.
After Bhandani Puja, Rajbanshis in Burirpat in Dinhata subdivision of Cooch Behar, host the Buri Mata  (old mother) puja.  Here too, the goddess is seen as a form of Durga. The Buri Mata puja, to be held for the 137th time this year, is due on October 18.
"It started in 1884 and is yet another example of amity among Hindus and Muslims," said Mohammad Pyar Ali, president of the puja committee. Samanta Kumar Roy, the secretary, said three friends, Asmat Ali Mian, Srinath Roy Burma and Hemananda Bakshi, had started the puja in Burirpat. Since then, it is a celebration common to both communities. Here, the goddess is an old woman seen cradling a child while seated on a lion and holding a stick.
"The state gives Rs 50,000 each to clubs which organise Durga Puja. We too face financial challenges  due to the pandemic. It will be great if the state can gives us similar aid," said a representative of a puja committee of Maynaguri.
Sources said that the Kamtapur Progressive Party, a political party that has considerable clout among Rajbanshis, has approached the state government on the issue.