Durga Puja: Musical fundraiser for tribal kids' clothes
A group f six students raised around Rs 20,000 to give puja clothes to 78 children of two tribal hamlets of Santiniketan, Diganta Pally and Fuldanga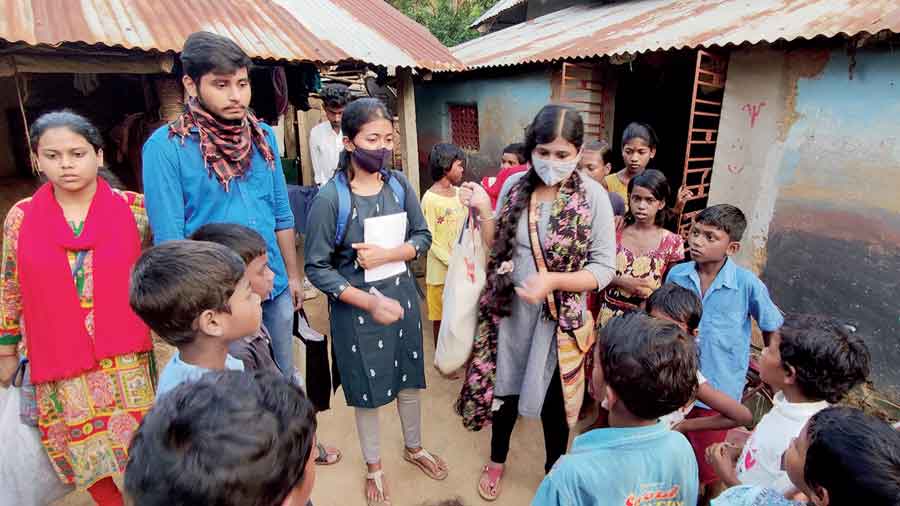 ---
Santiniketan
|
Published 15.10.21, 01:10 AM
|
---
A group of six students, including three school-goers, visited Sonajhurir Haat over five weekends to collect donations from tourists by entertaining them with their music, in order to celebrate a different Durga Puja this year.
The students raised around Rs 20,000 to give puja clothes to 78 children of two tribal hamlets of Santiniketan, Diganta Pally and Fuldanga.
Sonajhurir Haat, also known as Shonibareyr (Saturday's) Haat, is a rural market in Santiniketan where around a hundred local artisans sell their produce, and is deemed a must-visit spot for tourists.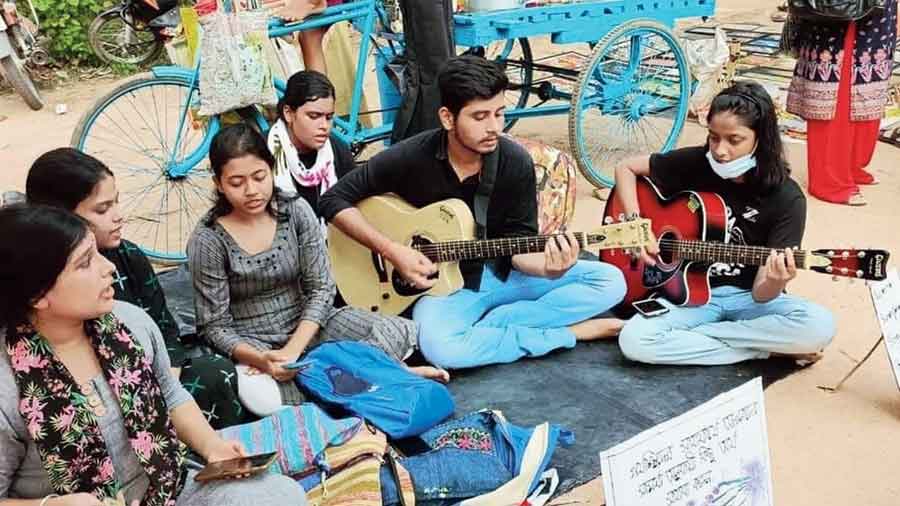 Although the footfall has declined considerably since the Covid-19 outbreak, the rural market remains fairly crowded on weekends.
"During our musical adda on the outskirts of Santiniketan, we saw a lot of children who would have otherwise had no new clothes during Durga Puja because their parents are unemployed right now. So we chalked out this plan to perform for tourists to raise funds," said Suranjana Das, a team member who is a third-year undergraduate student of rural studies in Visva-Bharati.
Her classmate Shreya Banerjee, second-year student of masters in Burdwan University Suparna Paddhan, Class XII student Aishi Ray and Class XI students Bhaswati Bhandari and Pousham Chakraborty are the other teammates, Suranjana said.
The youngsters said they initially tried to pool in their own money, but saw that they couldn't manage enough to buy gifts for more than five children. They tried asking people they knew for funds, but without much success.
"Then we thought that because we can sing or strum the guitar well, we could move to Sonajhurir Haat to target tourists for funds. We received a fabulous response. People were generous. We are happy that our gifts will put a smile on the faces of 78 children," said Suranjana.
Aishi was the only member of the group with past experience of raising funds and had provided dry food to the needy during the lockdown last year with her friends.
"It is not easy to sing or play an instrument in the open for hours (to raise funds). But we plan to continue it in future," said Aishi.
The group purchased clothes for 78 children from Diganta Pally and Phooldanga after taking details such as their size and age. They distributed the clothes among the children, aged between three and 13, over three days before Durga Puja.
Rabin Soren, secretary of Birbhum Adivasi Gaonta, a tribal outfit in Birbhum district, praised the group. "All six are very young, but they did a great job.... It is really heartening to see students coming forward to help the children."
Tanushree Banerjee, a state government employee from Calcutta who visited Santiniketan in the first weekend of October, had seen the performance of the six students. "It was really nice to see a set of young girls and a boy put up a performance to raise funds for poor kids."