Around 300 supporters of the INTTUC, the trade union of the Trinamul Congress, went on the rampage at the recently opened Inland Container Depot (ICD) near the New Jalpaiguri railway station here on Thursday, ransacking the offices of the private logistics company that runs the dry port and the Customs and vandalising cars, two-wheelers and equipment.
Chief minister Mamata Banerjee has purportedly instructed police and the local Trinamul leadership to act against the vandals.
The attackers included truck owners, drivers and workers who load and unload goods at the NJP station. They had been holding demonstrations near the dry port, demanding that they be engaged in cargo handling.
The depot was set up on a 29-acre-plot that had been taken on lease from the railways by the Siliguri Jalpaiguri Development Authority.
"The company that is running the facility is hiring dump-trucks and workers from outside. There are around 400 local trucks at the NJP and hundreds of drivers and workers are dependent on these vehicles. The company should engage local trucks and drivers in cargo operations," said Prasenjit Roy, an INTTUC leader at the NJP.
While operations were going on at the ICD on Thursday, hundreds of INTTUC supporters joined the protesters who had been holding demonstrations and shouting slogans for the past three days.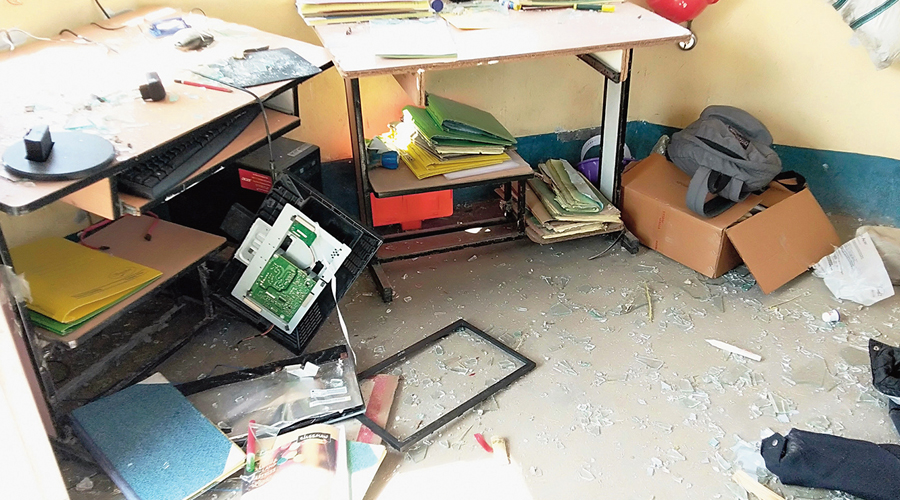 A room after the vandalism. Picture by Passang Yolmo
Roy, who was at the spot, alleged that some of the employees at the dry port had suddenly fired a few rounds in air to scare away the protesters. "The demonstrators were also pelted with stones and a number of our men suffered injuries," the INTTUC leader said.
Within minutes, hundreds of protesters barged into the depot and vandalised whatever they found on the premises. They damaged furniture, computers and window panes in the offices of the company and the Customs which handles the overseas cargo.
The vandals didn't spare flower pots on the premises either. Cars, two-wheelers and equipment like excavators and hydra machines were wrecked.
NJP police reached the spot and reinforcements were brought in to disperse the attackers. The police arrested five of them.
The vandalism brought the operations at the ICD to a grinding halt. Officials of the company that invested around
Rs 40 crore on the first private freight terminal in the region expressed concern over the security of their men and machines.
"We had communicated to police earlier that such an incident might happen and our apprehension turned out to be right.," said Aviral Jain, a director of Pristine Hindustan Infraprojects.