A water tanker rammed into the belly of a Qatar Airways aircraft at the city airport early on Thursday, ripping off a portion of the metal.
The Dreamliner Boeing 737-800 series aircraft had arrived from Doha around 2am and was hit by the tanker around 20 minutes later, airport officials said. All passengers and airline crew had disembarked by then.
The driver of the water tanker, Sanat Chowdhury, has told officials that the brake of the water tanker had malfunctioned, airport sources said.
The water tanker operated by Air India Air Transport Services, a subsidiary of Air India, was to refill the aircraft's water tanks when the collision occurred. Water tankers are allowed to go very close to aircraft because a pipe is used for refilling.
"The obstructer or the beacon light of the water tanker got stuck in the belly of the aircraft and the driver apparently tried to reverse the vehicle. But a a portion of the outer surface of the aircraft's belly got ripped off in the process," an airport official said.
Beacon lights are fitted to alert air traffic control officials on the tarmac as well as pilots about the movement of the vehicles.
The Dreamliner was to fly to Doha at 3.15am but the 101 passengers and 12 crew members had not yet boarded the plane at the time of the accident, airline officials said. The flight was cancelled.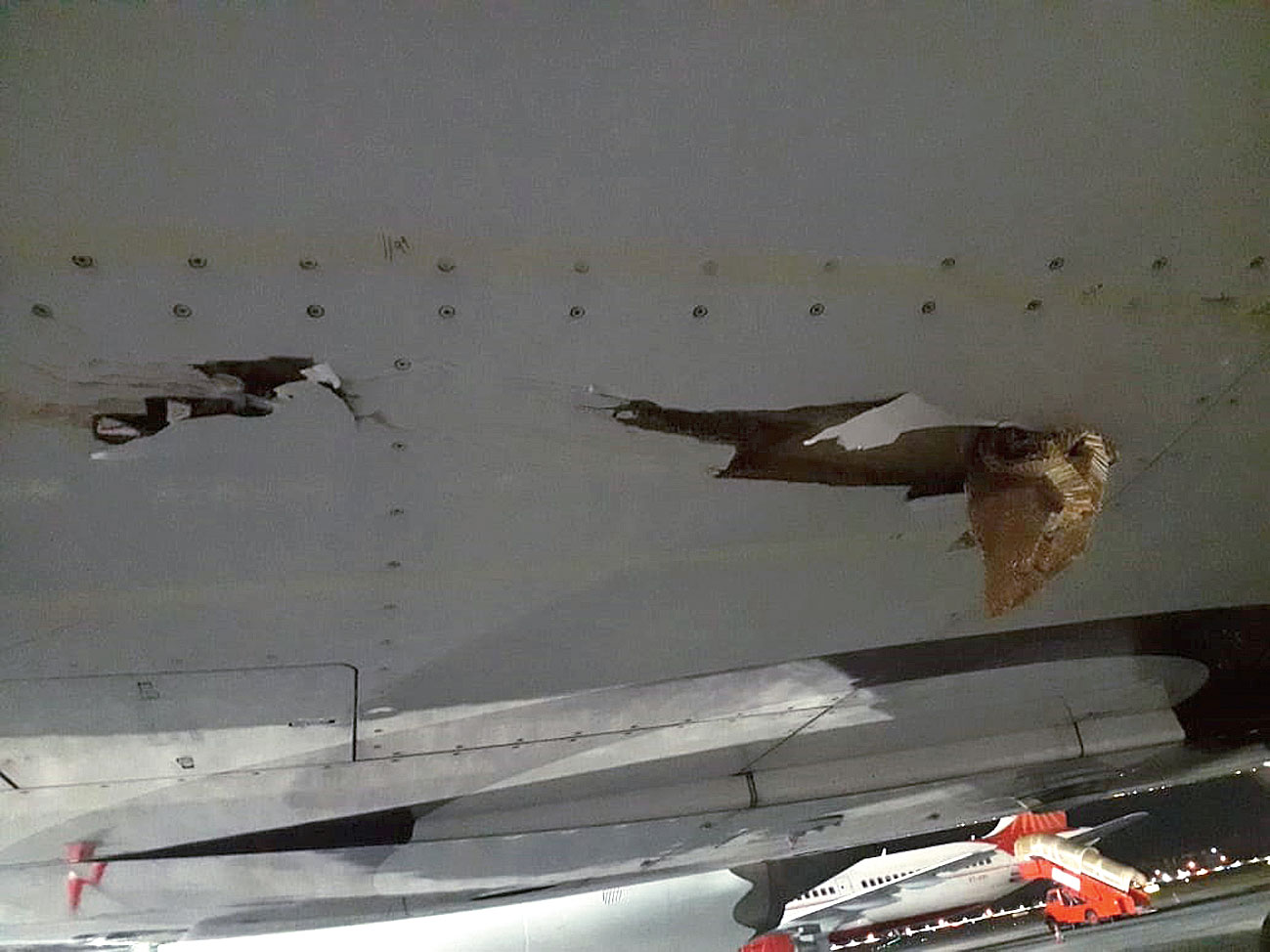 A ripped-off portion hangs from the point of impact Telegraph picture
"The aircraft has been grounded and the Directorate General of Civil Aviation (DGCA) has started an inquiry. All passengers who were supposed to take the flight to Doha were put up at a hotel," said a senior airport official.
A bigger aircraft was scheduled to arrive in Calcutta on Thursday night to take the stranded passengers. The aircraft will also fly in engineers and equipment to repair the damaged aircraft, airport officials said.
Qatar Airways was not available for comment. Its spokesperson didn't take calls.
Air India Air Transport Services is in charge of ground handling at Calcutta airport.
Driver Chowdhury, in his 50s, was taken for a breathalyser test but the results were negative. They said. He has, however, been suspended and an investigation ordered.
Airport sources said some of the vehicles operated by the government-run Air India Air Traffic Services were in poor condition. An Air India official denied the charge.