Door 'tolerance limit' said to be higher in Calcutta Metro, which increases risk
A source suggested it had been done to reduce delays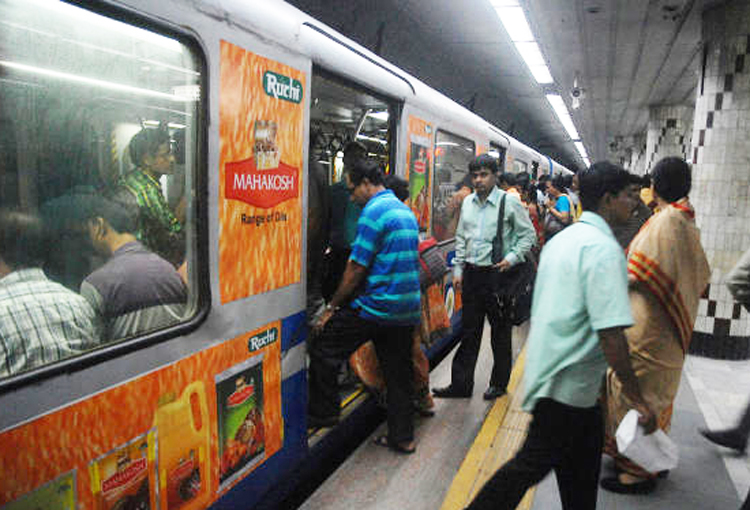 ---
|
Calcutta
|
Published 15.07.19, 10:56 PM
---
Metro Railway had increased the "tolerance limit" of the doors of the new air-conditioned coaches by 4mm to 19mm from the standard 15mm followed by other Metros in India, sources said on Monday.
The higher the tolerance limit, which allows a train to run despite the gap between the leaves or panels of a door, the greater the risk of the train moving with a part of a commuter's body or backpack stuck in a door while the person is on the platform.
It's not clear whether a difference of 4mm would have saved Sajal Kumar Kanjilal, who died after his hand got stuck in a train door at Park Street station on Saturday.
But till now, Metro had not revealed on its own or publicised that the tolerance limit had been increased from the standard followed by several similar utilities in the country.
Metro officials said that following Kanjilal's death, they were trying to develop a system of door sensors that would not only read the thickness of an object but also its "height".
For instance, an official explained, a door with two fingers of an adult stuck in it would still count as closed, allowing the train to move, but not if three fingers got stuck.
"It's easier to pull two fingers out than the entire palm," the official said. "So we are discussing whether the software can be tweaked so that the system can read the height of the object causing the infringement."
Once finalised, the design would be given to the German firm that developed the software for the doors. The rakes have been made by the Integral Coach factory, Perambur, which is railway-owned.
The commissioner of railway safety (Metro circle) has paid a visit from Delhi to start a probe and enquired about the tolerance limit of the doors.
"The tolerance level was found to be 19mm. Trials had earlier been conducted with a 19mm tolerance level," an official said.
He said the Research Designs and Standard Organisation, Lucknow, which is under the railway ministry, recommends a tolerance level between 10mm and 30mm.
"However, the standard limit followed by most Metro rail operators in India is 15mm," said an official of another Metro. For the yet-to-be commissioned East West line in Calcutta, the tolerance limit would be 15mm, he added.
Metro officials did not explain why the tolerance limit had been raised for the new AC rake doors. "It's within the permissible limits," an official said.
A source suggested it had been done to reduce delays. Some passengers tend to put their hands between closing doors. "A delay of a few seconds at several stations can accumulate and affect a train's punctuality," the source said.