Doctors' strike: Voices outside NRS Hospital
Medical professionals and non-medicos from around the city assembled in support of the safety of doctors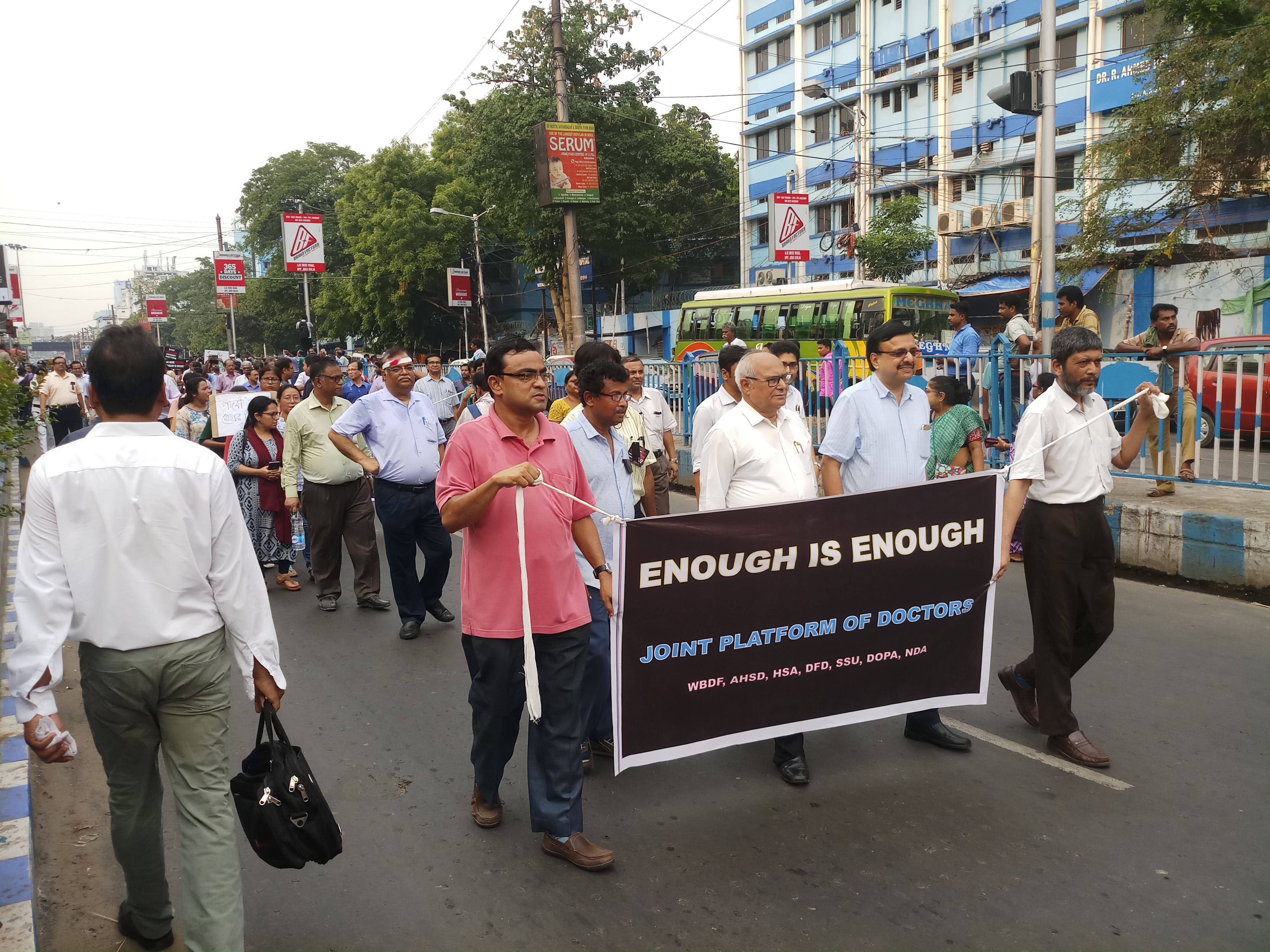 ---
---
Hundreds of medical students and doctors from medical colleges and hospitals across the city gathered at Nil Ratan Sircar Medical College and Hospital (NRSMCH) on Friday in a mass protest against violence towards doctors.
This website spoke to doctors and those who had come out to support them at NRS Hospital.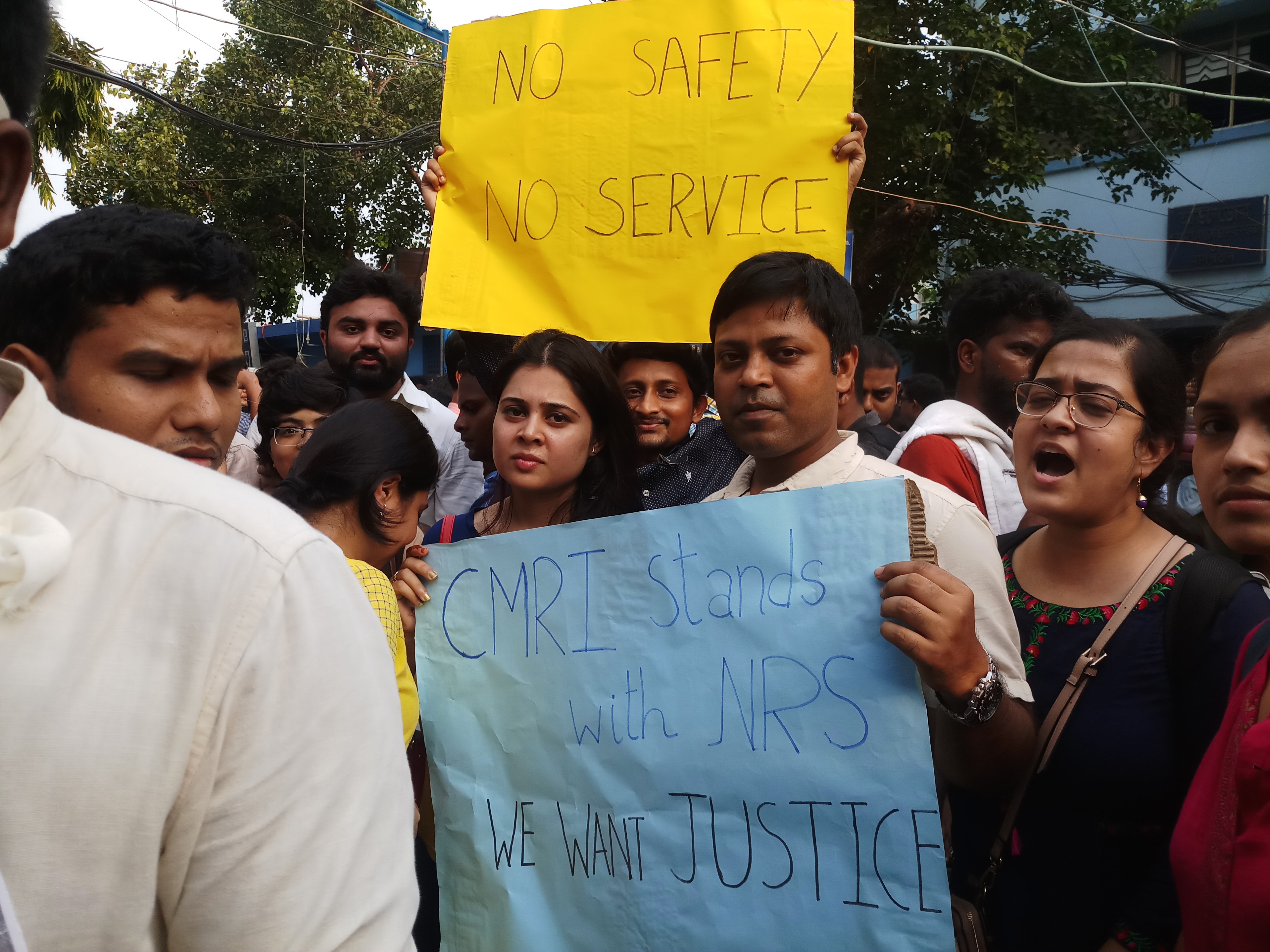 Dr. Rashmi Chakraborty, postgraduate trainee at Calcutta Medical Research Institute
Since the time we think about taking up medicine, we always think it is a noble profession. We want to serve the people, and do something good for them. We have seen our friends working with channels and salines for 72 hours at a stretch, and at the end of it, the conclusion is "daktar ra dakaat (doctors are goons)", "daaktarra churi korchhe, bhul treatment korchhe (doctors are thieves, they aren't treating patients properly)".
We get these baseless complaints from people and get beaten up unnecessarily. Five per cent of any society cannot be responsible for the 95 per cent of it! Whatever is happening, dividing doctors based on seniority, religion, private and government will not work this time. We are all united all over India and we will show everyone the power of doctors.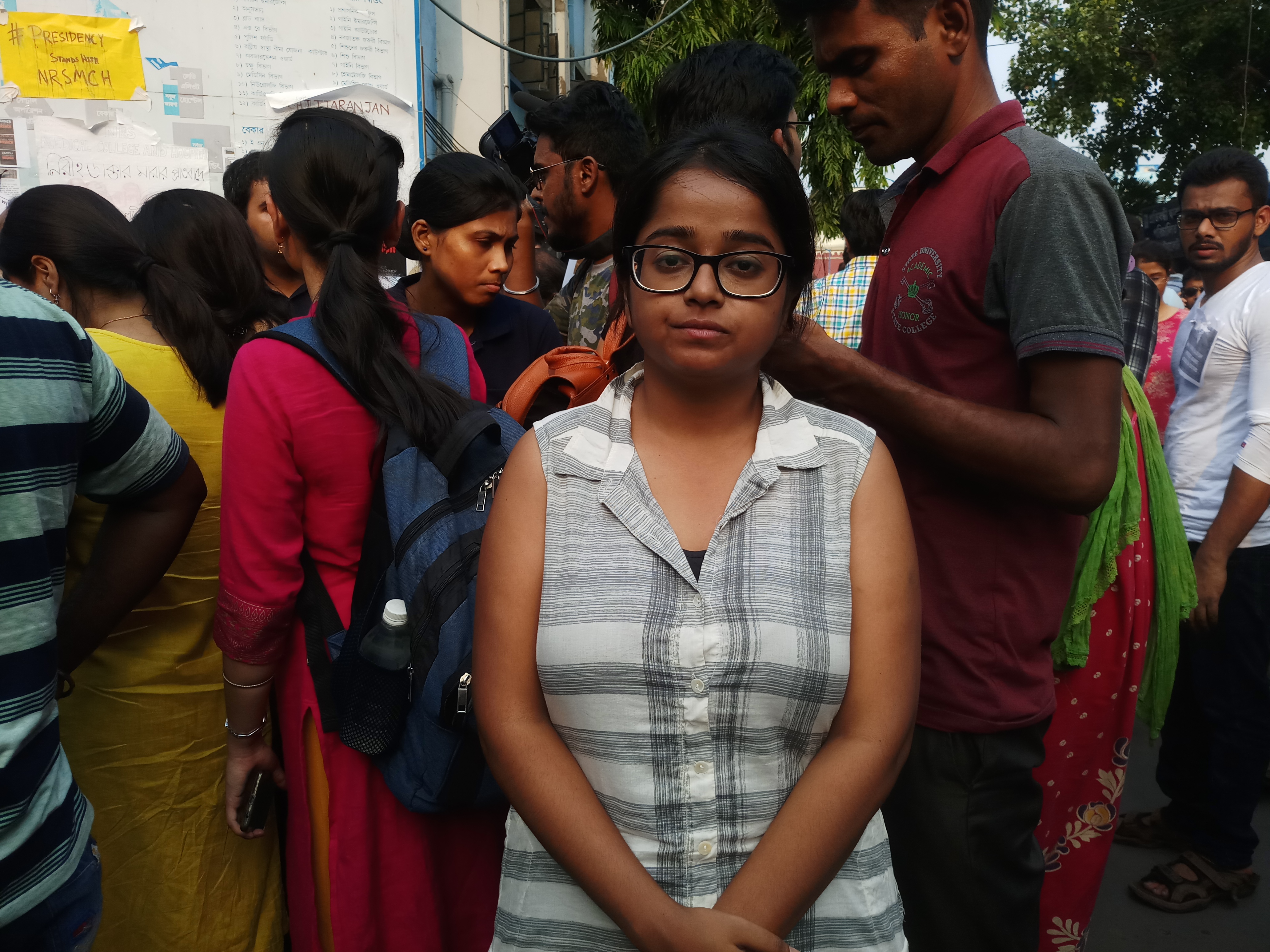 Dr. Sanchari Pal, junior doctor at NRS Medical College and Hospital
We want the government to take strict steps against this continuous state-wide violence. Every state, every medical college is part of this. We want the government to actively intervene, we want arrests and exemplary punishment to the culprits. We are no longer satisfied with paperwork, because that has been happening for too many years now. And just to add, emergency services are still being provided to serious cases. We are not inhuman and we can't leave a patient to die. However, we are on cease work.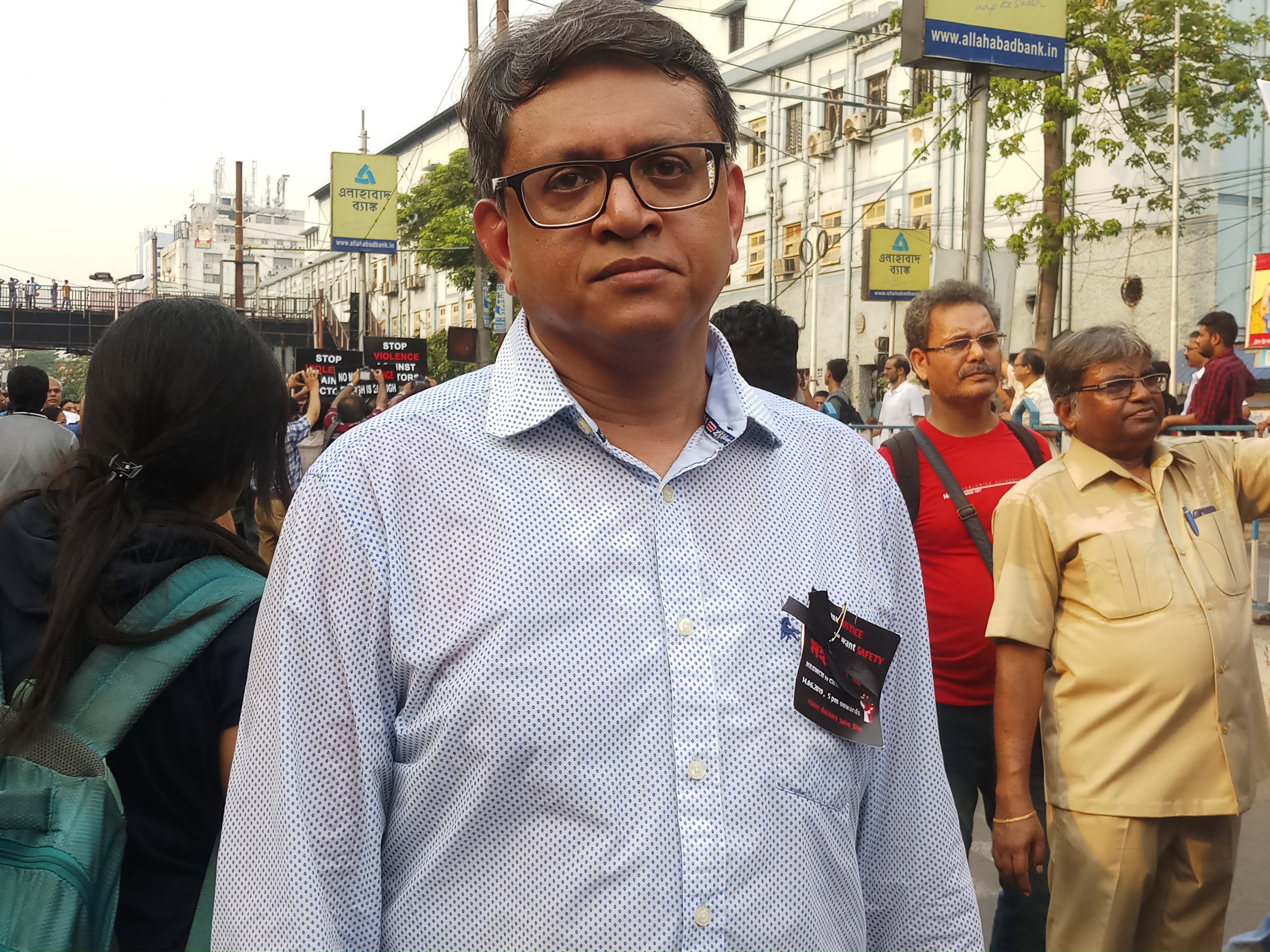 Dr. Arnab Basak, senior consultant at Apollo Gleneagles Hospital
We, doctors, know only one thing. To treat patients. We don't discriminate against patients. We don't think about cast and creed and religion. But it is very unfortunate that the leader we look up to, her statements and demeanour are completely unbecoming of a leader, first of all, and a CM of a state.
My head hangs in shame when from all over the country people ask me, what are you guys doing? But we are still doctors and will continue to treat patients. Today, I treated patients while wearing a black badge. And today I am here to stand in solidarity with our junior colleagues. Please project what is right in the media. Please don't go by narratives. We don't need political parties. We don't need anybody. We can fight our own battle.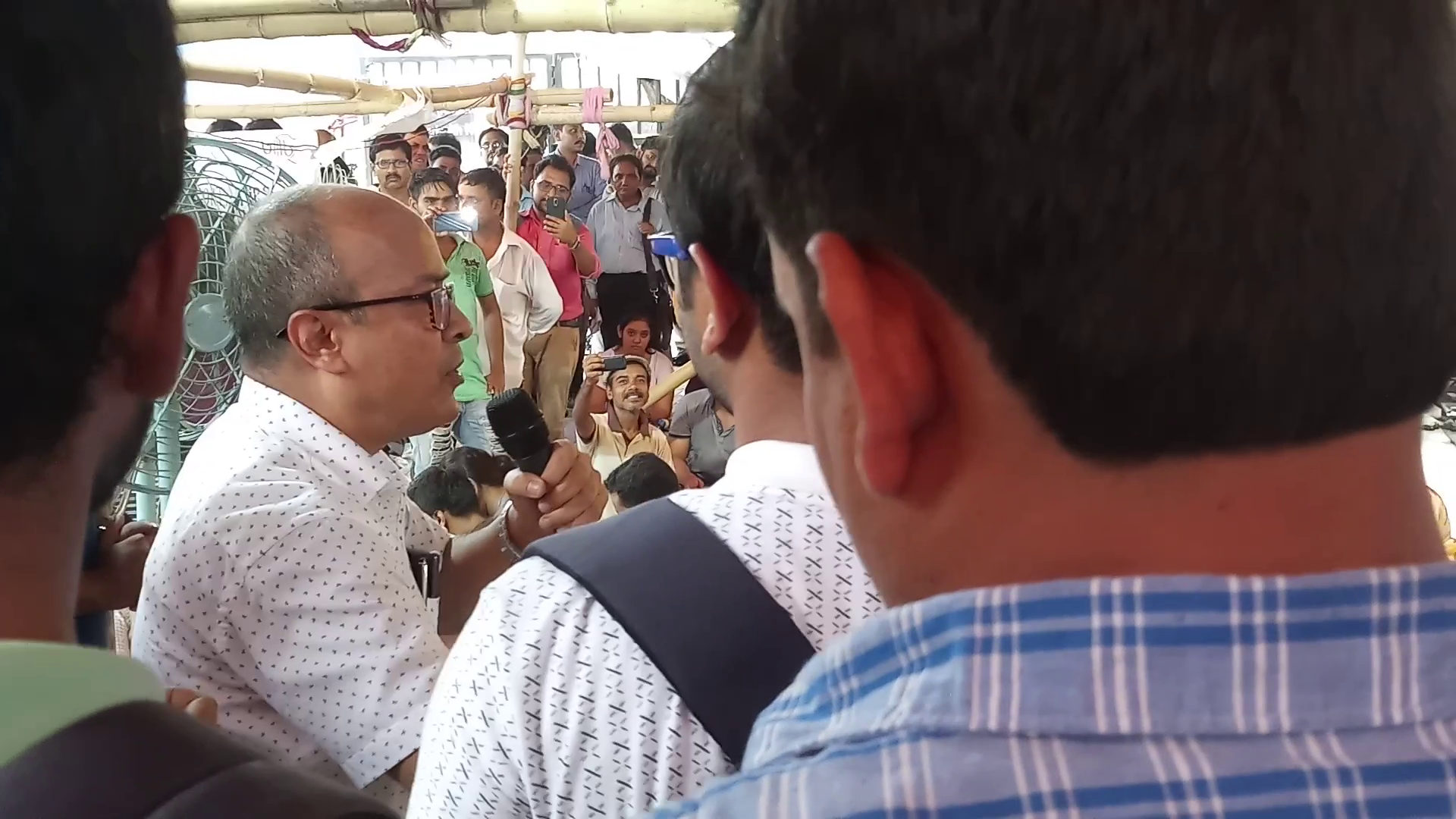 Dr. Aniruddha Dam from the Chittaranjan National Cancer Institute, Calcutta
I feel that the time has come to do justice to society. You cannot run away from that responsibility. Doctors never run away from responsibility. They are living up to their responsibility to better a system, but it is being twisted.
Standing in the sun and protesting is very tough for us. We are not like the army or the navy, and we are not used to this. We sit indoors and see our patients and talk quietly. All this is not to harass society. I know, as a senior doctor, how much patients are suffering. Patients come to the hospital for chemotherapy and their helplessness brings tears to our eyes. But at times we have to correct things.
An unsafe doctor will never be able to treat anyone. The administration cannot uphold such barbarism (against doctors). This is an anger that is growing. It gives me strength to know that I am not alone. The fact that doctors have to take to the streets and shout and scream, why should this happen? We are actually doing this so that patients can be treated well. Patients. We are with you, not with anyone else.