Doctors' strike: Protest sites turn OPDs
Makeshift outpatient departments on the seventh and the final day of the movement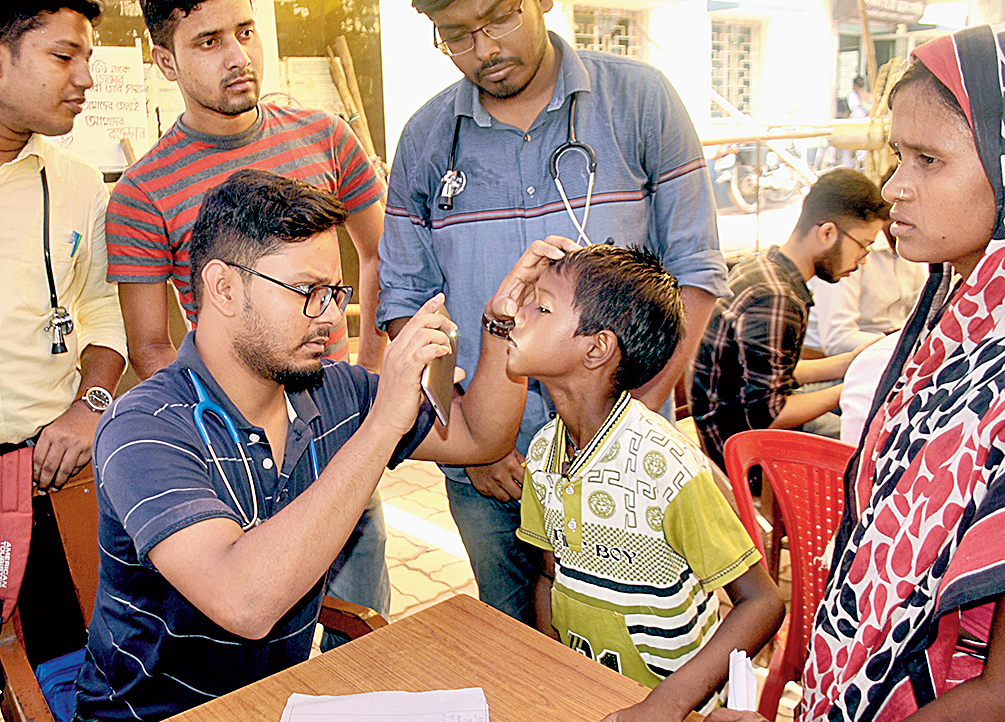 ---
|
Suri
|
Published 17.06.19, 09:02 PM
---
Agitating junior doctors at several south Bengal medical colleges on Monday examined patients at makeshift outpatient departments set up near their dharna sites, providing relief to thousands on the seventh and the final day of the movement.
However, OPDs were shut at several private and government hospitals as part of a nationwide cease-work called by the Indian Medical Association on Monday.
The junior doctors at Bankura Sammiloni Medical College and Hospital arranged chairs and tables to set up an OPD and treated patients.
"The primary objective of our agitation is not to harass patients but to ensure the security of the on-duty doctors at hospitals. We are today treating patients who have come from far-flung areas of Bankura and neighbouring districts," said a junior doctor.
"Our OPD is closed but the emergency section is open. The junior and senior doctors are attending to patients and we are performing surgeries on a priority basis. Relevant emergency medicines are also being supplied," said Gautam Narayan Sarkar, the superintendent of the hospital.
The scene was also the same at the Asansol district hospital in West Burdwan. The senior and junior doctors treated patients under a makeshift pandal on the campus.
At the Burdwan Medical College and Hospital, the doctors attended to OPD patients from the emergency ward. The junior doctors treated patients at makeshift OPDs.
"The junior doctors took our permission before attending to patients," said medical superintendent, Utpal Dawn.
A section of doctors at the Bankura medical college and Asansol district hospital donated blood on Monday after attending to patients at makeshift OPDs which were closed at 2pm.
At the Rampurhat health district hospital, doctors set up a temporary OPD with three tables near the emergency ward of the hospital.
Around 350 patients were treated by 24 doctors on Monday.
Sujay Mistri, the medical superintendent, said: "It is true that the OPD was closed today but it was just a token ceasework. Over two dozen doctors were at the temporary OPD and treated hundreds of patients."
Although OPD was shut at the Purulia Deben Mahato district hospital, doctors treated patients in the emergency department. Radharani Mahato, a woman from Purulia's Kotshila who came with her newborn baby for a check-up at the OPD, said: "When I came to the hospital, I found the OPD closed. I was about to go back when an employee informed me about a parallel OPD at the emergency. I am very happy that the doctors here examined my baby."