Diamond Harbour cop on 'central deputation' shifted
The transfer was an indication of admitting the security lapse during Nadda's visit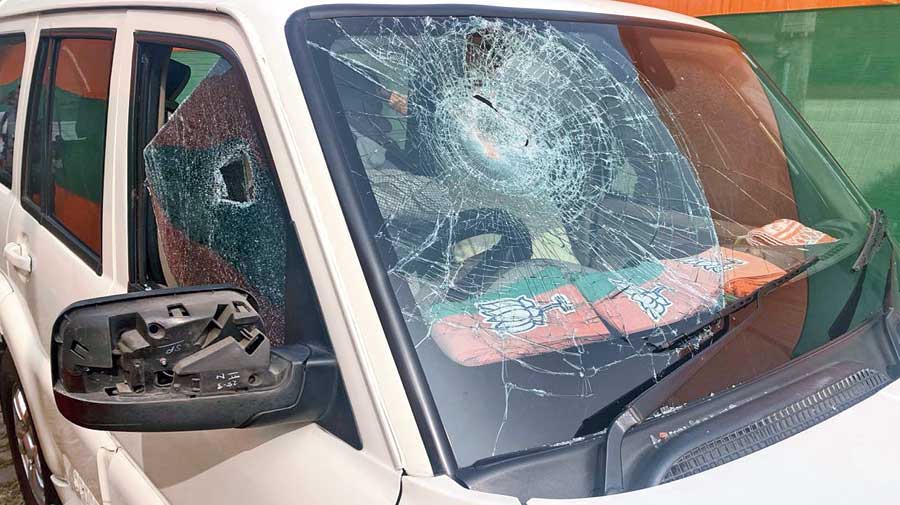 A damaged windscreen of a car in Nadda's convoy near Diamond Harbour.
File picture
---
Calcutta
|
Published 29.12.20, 01:56 AM
|
---
Diamond Harbour SP, Bholanath Pandey, who was one of the three IPS officers roped in by the Union government for central deputation after BJP president J.P. Nadda's convoy had been attacked during his recent Bengal visit, was on Monday posted as SP Homeguard — a post considered to be of relatively lesser importance. 
Sources in the state home department said although the state government had ruled out the possibility of giving concurrence to the three IPS officers' central deputation, the transfer of was an indication of admitting the security lapse during Nadda's visit.
The two other IPS officers, Rajeev Mishra and Praveen Tripathi — who were also asked to serve on central deputation — have, however, been spared the rod. 
On the contrary, inspector general, south Bengal, Rajeev Mishra — a 1996 batch officer — was elevated to the rank of additional director general of police, along with the rest of his batchmates on Monday as a part of the annual promotion protocol. There was no change in the post of Tripathi, DIG, Presidency range.
"This is a clear indication that only the SP has been found to have been at fault. This also means the state is still holding its ground of not allowing any of the three officers to serve on central deputation," said a senior bureaucrat.
Traditionally and ethically, IPS officers are called on central deputation by the Centre only after consulting the state. That's the ground on which the Bengal government objected to the Centre's unilateral attachment of the IPS trio. 
Pandey, a 2011-batch officer, has been posted as senior staff officer, Homeguard organisation — a post equivalent to SP homeguard.
Avijit Banerjee, who was posted as SP of the Barasat police district, has replaced Pandey in Diamond Harbour.