Dhabas & dhobis under air scan
Environment day programme stresses on measures to control air pollution in Calcutta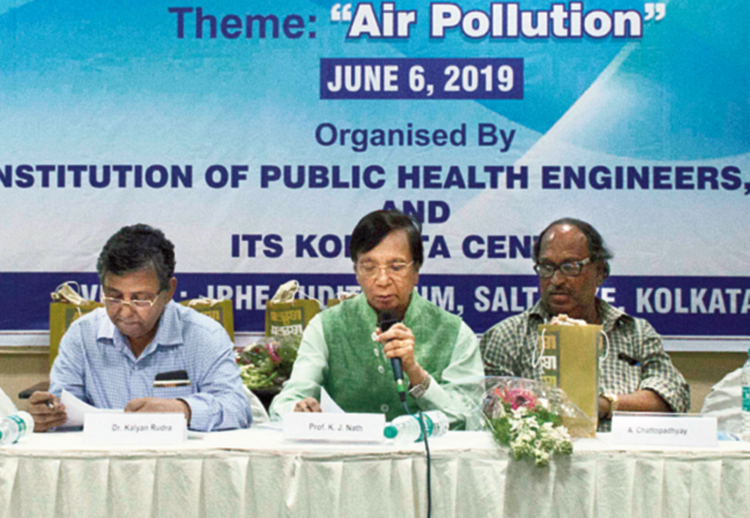 (L to R) Pollution Control Board chairman Kalyan Rudra, IPHE president K.J. Nath and A. Chatterjee of Central Pollution Control Board, Calcutta at the seminar.
(The Telegraph picture)
---
Calcutta
|
Published 14.06.19, 01:31 AM
|
---
The roadside eateries (dhabas) and cloth ironing set-ups of dhobis across Calcutta and surrounding areas, including Salt Lake and Rajarhat, are under the scanner for contributing a significant proportion of highly toxic ultra-fine particulates, formally named as PM 2.5, said a senior state government official during an environment day celebration in Salt Lake. Many other experts, however, singled out vehicular pollution as the main cause behind the foul air.
"We have assigned National Environmental Engineering Research Institute (NEERI) to find out the contribution of various sources of the city's air pollution. As per their primary report about 30 per cent of the city's PM 2.5 pollution comes from coal burning in roadside eateries and cloth ironing units," said Kalyan Rudra, chairman of state pollution control board, during an environment day programme by Institution of Public Health Engineers (IPHE) in CK Block.
Rudra said that the government was considering giving a subsidy to owners of roadside eateries and iron press units to shift from coal to gas or electric systems. On the vehicular pollution front, Rudra said eco-friendly car fuel, like compressed natural gas (CNG), was expected to reach the region in two years. At present, Calcutta and Bidhannagar Municipal Corporation areas are diesel-driven zones where diesel fuels over 95 per cent of the commercial vehicles plying, and thus polluting.
Other experts, present in the meeting, identified vehicular pollution as the main culprit. "An analysis of the official air quality index (AQI) data of different metro cities indicates the critical situation of Calcutta. The city seems to be vying with Beijing and New Delhi for the global topper's status among the major cities in air pollution," observed K.J. Nath, IPHE president and a public health expert.
"Successive state governments have done little to arrest the rise in pollution from transport, particularly commercial vehicles. Despite clear judicial verdicts and government norms, old vehicles are continually plying and polluting the city as there is no effective monitoring and enforcement," added Nath. The expert showed how the number of private buses, and hence their passengers, has been reduced over the years leading to more private cars on roads, triggering air pollution.
Abhijit Chattapadhyay, a Calcutta-based official of the central pollution control board, stressed on better coordination among all departments concerned which contribute to air pollution.
"We definitely need more emphasis on mass transport modes, like trams and water transport. There should be better implementation of norms to curb air pollution from various sources," stated an expert on the sidelines of the meeting. "As air pollution-related violations happen at various points; people should complain to the authority whenever they come across such violations and put pressure for remedial action," observed another.
Clean & green measures

Ensure effective public transport, safe infrastructure for walkers, cyclists
Time-bound enforcement of regulation to control emission from old, polluting vehicles
Introduce electric buses and expand tram and water transport
Increase open space and green coverage; mark 'no go' areas for motorised transport
Encourage people to use public transport, walk or cycle for shorter distances
Conduct awareness campaigns on the impact of air pollution on health