Deocha-Pachami coal Mine protesters stop BJP 'hijack'
Resistance to entry of BJP leaders comes two days after Calcutta High Court granted anticipatory bail to five accused booked for protesting against project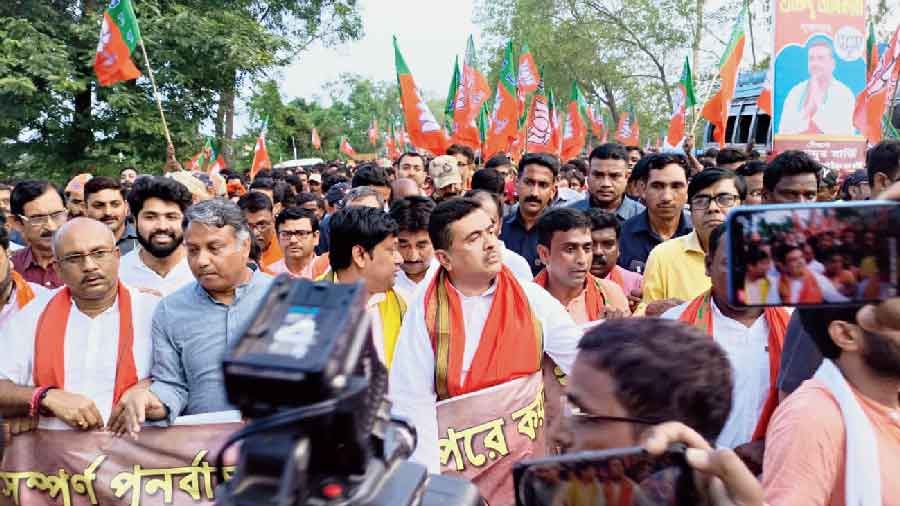 Suvendu Adhikari near Deocha on Thursday
Himadri Mondal
---
Calcutta
|
Published 13.05.22, 02:02 AM
|
---
Over 1,000 tribal people opposed to the Deocha-Pachami coal mine on Thursday came with black flags and traditional weapons to set up a barricade to deter a BJP rally led by leader of Opposition Suvendu Adhikari and BJP state unit president Sukanta Majumdar, from entering the core project area in Deocha.
This was the second time since April 20 that protesting tribal villagers got together to ensure that politicians stayed away from their movement against the coal mine.
On April 20, BJP leader Suvendu and Congress leader Adhir Ranjan Chowdhury had come on separate missions to meet protesters but had to return following resistance.
On Thursday, tribal villagers blocked all roads leading to the proposed coal mine. Armed with black flags and bows and arrows, villagers asked Suvendu to return, chanting "go back" slogans.
The resistance to the entry of BJP leaders comes two days after Calcutta High Court granted anticipatory bail to five accused persons booked by Birbhum police for protesting against the project.
Nine activists, including economist Prasenjit Bose, were arrested in Birbhum in February this year for protesting against the state government's Deocha-Pachami coal mine project. A Birbhum court granted bail to Bose and others in one of the two cases lodged by police.
Denied entry, the BJP leaders, including Suvendu and Majumdar, took out a procession on NH14 for 3km from Raipur to Deocha.
At a meeting at Deocha More, Suvendu said: A group of Leftist people tried to stop a large number of people from coming to our meeting. They are doing so as they would become irrelevant if the BJP, which is fighting against Trinamul's corruption, becomes a part of the movement,." 
Suvendu also slammed Mamata for forgetting her role in Singur and Nandigram when it came to "acquiring land for the Deocha project". He hinted at "violent resistance" similar to Nandigram if her government went ahead with the mine.
Majumdar said: "We are with tribal people protesting (apolitically) and we protested to show our solidarity with them. If protesters have objection to political parties, we are ready to be part of their movement without our party flag."
He blamed Trinamul and "some separatist groups" for provoking villagers against the BJP.
Bose said that the BJP leaders were indulging in political tourism. "Where were the BJP leaders when the movement started in January this year? If Suvendu Adhikari is bothered about the tribal people, why is he not asking Prime Minister Narendra Modi to cancel the coal block allotted to the Bengal government?" asked Bose.
Condemning BJP's bid to politicise the protest, tribal protester Shiblal Soren said: "There is no Left, no separatist force behind our movement. BJP leaders are trying to malign our movement. People of 36 villages are fighting protect land, lives and livelihoods."