Debt drives popular dhaba under hammer
State Bank to conduct auction on December 20 to recover dues of Rs 2.3 crore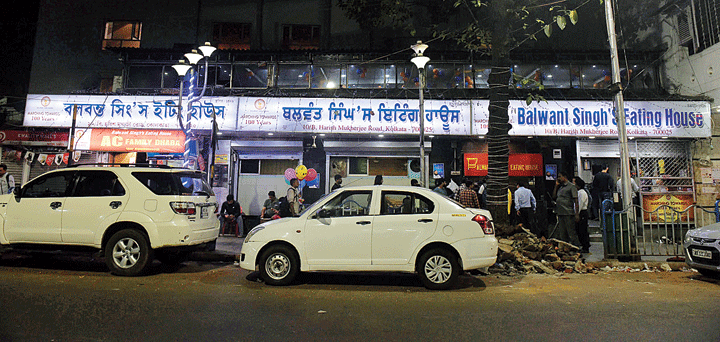 ---
---
Balwant Singh's Eating House, the much-loved Bhowanipore dhaba popular among morning walkers and nightbirds alike, is on the block.
The eatery, which is on course to complete 100 years in existence, has been taken over by the State Bank of India (SBI) for loan default. SBI, India's largest bank, plans to auction the property where the dhaba is located, to recover its dues.
Loved by generations of the Sikh community living in Calcutta and the rest of the city for its tea and vegetarian fare, the eatery owes Rs 2.31 crore to SBI.
The bank has taken over the plot, measuring 3 cottah 6 chitacks 12 square feet, with a covered area of 1,900 square feet, attached to a gurdwara at the crossing of Elgin Road and Harish Mukherjee Road.
Even though the eating house, which remains open round the clock, continued to serve customers under the existing owners when Metro visited it on Wednesday, the property is now in "symbolic possession" of the bank.
The title of the property is in the name of Lakhvinder Singh, son of late Balwant Singh, and Manish Singh, son of Inderjit Singh, according to information available with the bank.
Officials of the stressed asset recovery branch said the property demarcated for auction is separate from the gurdwara premises and any interested party can participate in the auction on December 20.
"The bank is not selling the company but this particular property which is mortgaged. The auction proceeds will go towards the repayment of debt," said an official, who stressed that taking over the property would not be an issue even though it is attached to a religious institution.
"The eatery and the gurdwara are two separate premises and are demarcated. That will not affect the auction," the official said.
SBI sources said the bank had moved for attachment of assets under Sarfaesi (Securitisation and Reconstruction of Financial Assets and Enforcement of Security Interest) Act. The auction reserve price has been kept at Rs 2.09 crore with an earnest money deposit of
Rs 20.97 lakh and a bid increment amount of Rs 20,000.
"The property is under the bank's symbolic possession. We have already made a petition with the district magistrate and an order is expected soon. According to a Calcutta High Court directive, the bank can auction if it holds symbolic possession," the official quoted above said.
Prospective buyers are solicited by the bank to make a physical inspection of the property early next month, following which interested parties need to fill in the form and make the payment electronically through RTGS or by cheque or draft.