Darjeeling teacher John West dies at 80
Many refer to him as the 'father of computers for hill schools'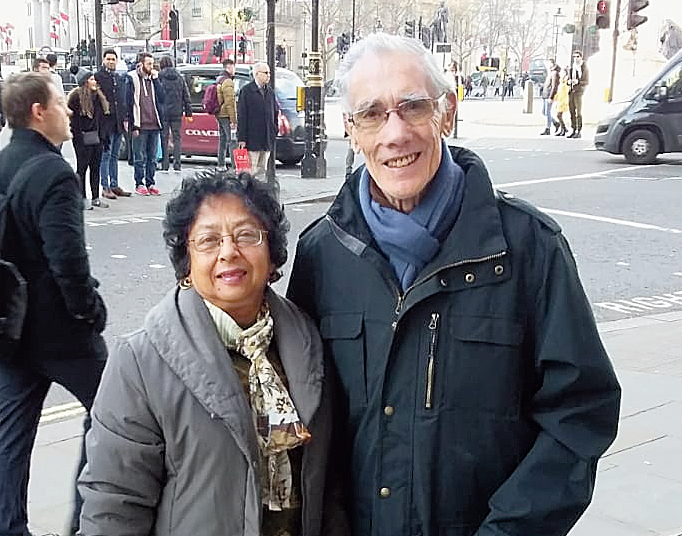 ---
---
John West, 80, who showed that academics of small towns could leave a mark in the country's education system, breathed his last at his home in Darjeeling early on Wednesday morning.
"John suffered a massive cardiac arrest early this morning. It lasted for less than five seconds and I thought he was simply having a bad dream," said John's wife Neena.
The funeral service will start from CNI Worship Centre, below Darjeeling B.Ed college, at 11.30am on Thursday.
Following a missionary call, John had come to Darjeeling from London in 1968.
He taught Chemistry and Mathematics at Mount Hermon School till 1982 before joining St Joseph's School (North Point) the same year to retire in 2000.
West, an educationist par excellence, wrote Chemistry textbooks which are used by ICSE schools across the country and abroad even today. He was also the chief examiner of chemistry for ICSE board.
"He was a thorough gentleman, respected by all, and despite his vast knowledge, he never bragged about it. We at the Rotary Club used to call him as the knowledge bank of our club," said Uday Mani Pradhan, a colleague at Rotary.
Many refer to him as the "father of computers for hill schools". "He introduced computers to hill school. I remember for sure that he was the one to bring BBC mircro computers to St Joseph's all the way from London," said Sajid Ahmed, who took over as the computer teacher from West at North Point school in the mid-90s.
Rajesh Chhetri, a lawyer and a close friend of West, termed the educationist a man who had excelled wearing different hats because of his "very curious mind".
"He was a great teacher and a pioneer in many ways because of his very curious mind. He was a quiet and dedicated person who believed in contributing to the society silently," said Chhetri.
West was an excellent footballer and a tennis player as well.
"He used to be the stopper and I can still remember his football exploits," said Poonam Kumar Sharma, a lawyer in Darjeeling.
Old-timers fondly remembered him as "haddi (bones)" at the football ground as West was lanky and lean.