Darjeeling Mail to go to Haldibari from I-Day
Residents of the small neighbouring town of Jalpaiguri also expect this decision to benefit them economically and make travel for tourists to the region more convenient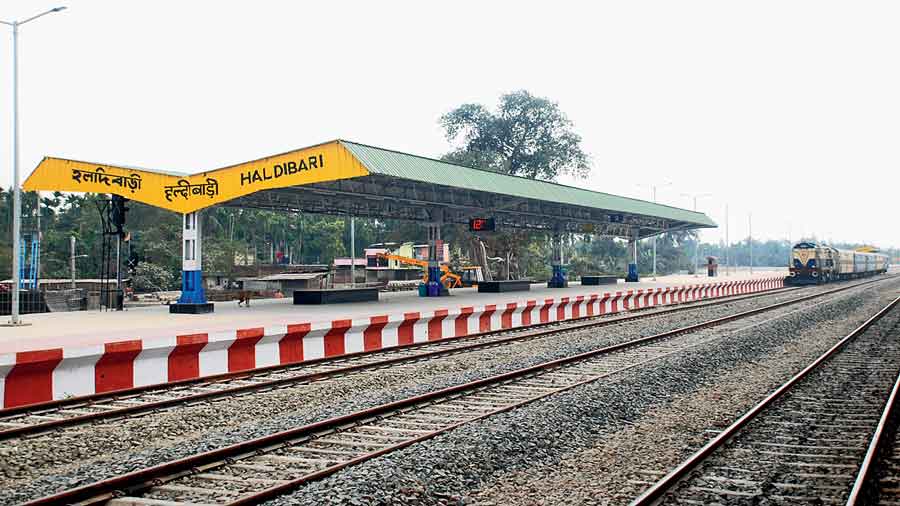 Haldibari railway station in Cooch Behar district.
File picture
---
Jalpaiguri
|
Published 10.08.22, 12:44 AM
|
---
 Darjeeling Mail, one of the most popular passenger trains between Calcutta and New Jalpaiguri (NJP), will be extended to Haldibari station from August 15.
Haldibari is in Cooch Behar district, around 21km from Jalpaiguri."Darjeeling Mail will start from Haldibari daily at 6pm. It will reach Jalpaiguri at 6.20pm and after a halt of two minutes, leave Jalpaiguri and reach NJP station by 7.35pm. The train will leave NJP by 8pm and arrive at Sealdah next day by 6am," Vivek Sinha, the deputy director, Railway Board (coaching) said.
Until the pandemic in 2020, an AC and a non-AC coach will be attached to the Haldibari-NJP passenger train. These two coaches would then be attached to the Darjeeling Mail.During the Covid-19 pandemic phase Darjeeling Mail was withdrawn and only one "Covid Special Train" used to run between Alipurduar and Sealdah between May 2020 and February 2022, giving Haldibari a miss.
"Once the train service normalised and all passenger trains resumed their regular services, a large section of people from Jalpaiguri and Haldibari made an appeal to extend Darjeeling Mail up to Haldibari," said Jayanta Roy, the BJP MP of Jalpaiguri.
"I discussed the issue and placed the demand with the Union ministry of railway and Indian Railway Board and I am happy the service has been extended. I will be present at Haldibari station on Independence Day, when Darjeeling Mail will start from Haldibari," said Roy.
Residents of Jalpaiguri and Haldibari were jubilant after the extension was confirmed.Sitanshu Mallik, a lawyer from Haldibari, said: "We are very happy with the extension of Darjeeling Mail which is a daily service train. Till now, we had to travel to NJP, which is a distance of 66km from  here, to avail trains as the Haldibari-Kolkata superfast express plies only three days a week."
Residents of the small neighbouring town of Jalpaiguri also expect this decision to benefit them economically and make travel for tourists to the region more convenient.
"The authorities have finally agreed to our many memorandums to extend the train, which is an achievement of our long-standing demand," Sabyasachi Roy, the secretary of Jalpaiguri Tour Operators Welfare Association, said.Saikat Chatterjee, the president of Trinamul's Jalpaiguri district committee, also claimed credit. "We had held a series of movements against the deprivation by residents for the residents of the region. The decision is an outcome of our movement."