The air quality of Darjeeling has been found to be below the average national standard during summer and winter, with the results of a 13-year-long research busting the myth that the hill air is always pollution-free.
The study spanned from 2009 to 2021 and was undertaken by Abhijit Chatterjee, an associate professor at the Bose Institute, Calcutta; Abhinandan Ghosh, project post-doctoral fellow at IIT Kanpur; and Monami Dutta, a PhD scholar with the Bose Institute. Their research has warned that PM10 pollution in Darjeeling could surpass the national ambient air quality standard as early as next year. PM10 are small pollutant particles found in dust and smoke that can affect the heart and lungs.
The researchers studied 620 sets of samples and focused on PM10 levels in Darjeeling during pre-monsoon (summer), monsoon, post-monsoon and winter.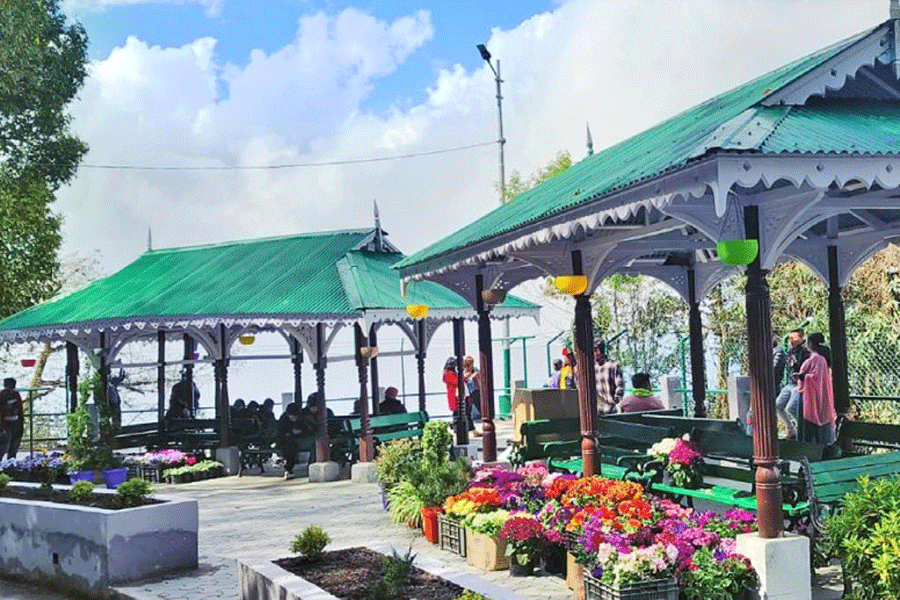 Mall Road in Darjeeling. File picture
Their study revealed that the air pollutant concentration exceeded 70 micrograms per cubic metre of air during March-May and December-February, surpassing the safe Indian standard of 60 micrograms per cubic metre.
However, the annual average concentration of composite PM10 aerosols over Darjeeling has not yet exceeded the national reference value.
"During the two seasons (winter and summer), the PM10 levels are so high that there is a possibility of (Darjeeling) surpassing the national average," said Chatterjee, speaking over the phone from Calcutta.
The rush of tourists is high during March-May. "The massive influence of tourist activities", the study published in the journal Atmospheric Environment says, referring to vehicular pollution and fossil fuel and biomass burning by hotels, and polluting winds from the plains making their way up to the hills contribute to the pre-monsoon aerosol pollution.
Vehicular emission has been identified as one of the major sources of air pollution in Darjeeling.
High precipitation during monsoon and post-monsoon is known to wash off the ground-level aerosols, bringing down the PM10 concentration.
The presence of pollutants during winters has been attributed to biomass burning, low wind speed as well as thermal inversion and frequent occurrence of ground-level clouds.
"High wind speed helps in clearing the pollutants from a specific region. Also, clouds are known to trap aerosols," Chatterjee said.
The researchers have forecast that the annual PM10 pollution in Darjeeling will surpass the national ambient air quality standard in 2024, reaching approximately 63 micrograms per cubic meter of air. The study says the region may soon become a non-attainment zone whose air quality fails to fulfil the national ambient air quality criteria for at least five years.
Now, there are six such cities in Bengal where the levels of air pollutants are much higher than the national standard — Asansol, Durgapur, Calcutta, Howrah, Haldia and Barrackpore.