Didi shock treatment for CESC
Each time Mamata mentioned CESC, she referred to the Left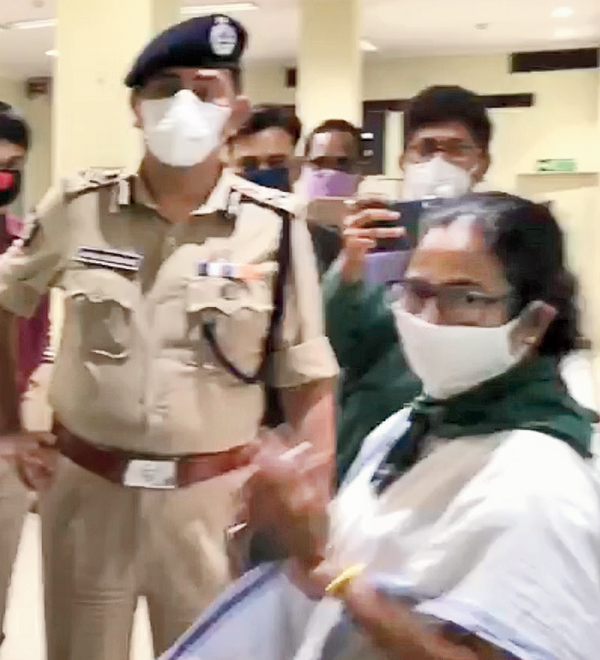 ---
|
Calcutta
|
Published 23.05.20, 11:22 PM
---
CM hears at Victoria House: 'Nishchoi, madam... direction din'

The following are excerpts from conversations between chief minister Mamata Banerjee and CESC officials at the power utility's headquarters at Victoria House in Esplanade. The conversations were sourced from multiple video clips.
Mamata: Ki service? Kikore chole gelo sabai, eto lok? Jakge, dekhe nin, ki kore restoration of power kora jay, setai… (What service? How come so many people have left? Anyway, please see how the power can be restored.)
CESC official 1: (Tries to say something)
Mamata: Can you understand people's…. Even while coming out of the airport, I have never faced this in my life. People are extremely angry with CESC.
CESC official 2: Madam, direction din (please give us direction.)
Mamata: This does not feel good. We are arranging for some generators, you also try to arrange. At least pumping stations and the areas near them should have at least two lights and two fans per family. This has to be arranged immediately.
CESC official 2: We are doing, Ma'am, as you are saying.
Mamata: You can see what is the condition of people in Kolkata.
CESC official 3: (Official 1 introduces CM to another senior official whose phone falls with a loud thud.)
Mamata: Please take all care. I want to see how you are operating. (Pointing towards city police commissioner Anuj Sharma) They are also working all the time.
CESC senior official: Madam, we are so obliged, so obliged (folds hands)
A voice: The command centre is that side
Mamata: (Walking into an office room) You all continue to work according to your duty.
A CESC official: Entire Calcutta's system is here.
Mamata: Mapping? Start with the mapping part….
But my point is, please do the restoration. The public is extremely angry with you. They are not listening to anything.
CESC official: Madam, we are trying to start some pumping stations with DG sets. And some….
Mamata: (Interrupting) But the situation in Howrah is extremely bad.
CESC official: Because of Covid…
Mamata: (Interrupting) People have forgotten Covid now.
CESC officials: (In unison) Yes.
Mamata: People's focus is only on power now, keep this in mind.
CESC official: Correct, correct. Because from that only they are getting water and other things.
Mamata: People suffer if they do not get water, isn't it?
CESC official: Yes, they suffer. Then we are trying to restore the pumping stations and some areas.
Mamata: Just ensure that work is done with generators, you also try, we are also trying.
CESC official: (Tries to say something with folded hands)
Mamata: We are also…. with 150 generators
CESC official: (Says something about someone having called him)
Mamata: You need not mention all that, I know that. OK? Do the work properly.
CESC official: Nishchoi, Madam (Of course, Madam)
Mamata: Thank you, bhai, sabai ke. Ektu dekhun sabai-ke bhalo kore korte hobe. (Thank you all, Please see… all have to work properly)
CESC official: Nishchoi Madam, amra kore debo (Of course, Madam, we will do it.)
Mamata: If needed, if these people work properly — pointing towards other staff — if they do overtime, you should help them too. Workers and employees can also do. If you need manpower, engage local manpower. There are many organisations that have these manpower, who know this type of work.
CESC official: Yes, Madam. (Asks something.)
Mamata: This you will know better.
CESC official: Thik achhe Sir…er Madam (Ok Sir, er Madam)
Mamata: We are helping to some extent, but for the rest, you will know better, those who understand the technical part.
COMPILED BY MONALISA CHAUDHURI
Chief minister Mamata Banerjee on Saturday underscored more than once that CESC was a private utility enjoying a virtual monopoly since the Left era over the area it served, and that her hands were tied. She capped her comments with a surprise visit to the company headquarters.
"Calcutta and its neighbourhood is under CESC, not under our utilities. CESC is a separate company. They have been in Calcutta for 30 years," she said.
"They have been here on the basis of a central law since the CPM era. There is no other organisation here through whom I could have got it done (restored power). Our hands are tied. Right now, there is no alternative," the chief minister said.
Mamata's comments came on a day public anger mounted over the continuing power outage in some places since Wednesday afternoon, when Cyclone Amphan struck. CESC serves 3.3 million consumers in Calcutta, Howrah and parts of Hooghly and North and South 24-Parganas.
Mamata brought CESC up thrice on Saturday. First, at a gathering of protesters outside the CESC office in Taratala whom she encountered on her way to an administrative review meeting in Kakdwip.
Second, at the review meeting itself, and finally at a news conference at the state secretariat.
In the evening, the chief minister, accompanied by city police chief Anuj Sharma, dropped in at the CESC headquarters at Victoria House in Esplanade. Sources said she told the CESC top brass to do more to restore power.
Mamata said she and chief secretary Rajiva Sinha had been speaking repeatedly to CESC chairman Sanjiv Goenka.
"They have told us, 'Yes, we have a bit of a problem because we lack the manpower, because many have gone out'. Despite that, we said, 'We don't want to listen to anything; power has to be restored immediately'," the chief minister said.
"I felt genuinely hurt (because of the protests against the delay in restoring normalcy). They can behead me if they don't like me. For three months, we have been constantly working (to combat the pandemic), working almost without any sleep."
A government source told this newspaper: "We are flooded with complaints that subscribers could not contact CESC officials. The lack of communication created law-and-order problems at several places. When police tried to contact CESC officials, even they failed. This lack of communication compounded the problems."
The source said that an assessment had revealed that the power utility needed around 250 teams to respond to the complaints reaching it, but had only 70 teams on hand. The lack of manpower delayed the restoration process, he said.
Other sources said CESC had attributed the inadequate manpower to personnel leaving for home because of the Covid-19 lockdown.
Nabanna has asked the state-owned power distribution company to lend manpower to CESC to address the crisis.
"The restoration process cannot wait indefinitely," the government source said.
Each time Mamata mentioned CESC during the day, she referred to the Left, too.
Sources close to her said Mamata was "livid" at CESC's inability to restore power by Thursday night, 24 hours after the cyclone had struck the city.
On Saturday, Mamata said in Nabanna: "Only they (CESC) know. The cables are theirs, the infrastructure is theirs, they are the ones supplying electricity. What do I do at this moment? At this moment, do I go and beat them up? Or do I, at this moment, mollycoddle them into getting the work done?"
Addressing the protesters at Taratala, she had said earlier in the day: "I myself haven't had power at home. No cellphone or Internet connectivity — which are handled by the Centre — either. No television. Have been living like a ghost."
In a statement on Saturday evening, CESC vice-president (distribution services) Avijit Ghosh said: "This super cyclone's effect has been very damaging for us."
He added: "Overhead (cable) areas and outdoor instalments (outside the core city areas) have been heavily impacted. Poles have been felled, cables torn.... Compared with usual storms and rain, this has been a lot, lot (worse). (For) a large number of consumers, their supply remains affected…. Whatever reports we have received so far, it (the devastation) is quite huge."
The roots CESC started providing electricity to Calcuttans from April 17, 1899, during British rule.
Since then, it has been the only power supplier in the city and some of its immediate neighbourhoods. Starting with a licensed area of 14.44sqkm and serving a few hundred consumers a century ago, CESC now operates over an area of 567sqkm, serving over 3.3 million consumers. It generates and distributes around 2,400MW power.
CESC had been granted a licence as The Indian Electric Company. The name was changed to Calcutta Electric Supply Corporation in 1978. In 1987, the state-run utility was renamed CESC Ltd, two years before the then RPG Group acquired it when CPM leader Jyoti Basu was chief minister.
Monopoly question
"The question has often been raised why the company should enjoy a monopoly over Calcutta and its neighbourhood. The chief minister herself used to ask the same question when she was in the Opposition, but she chose not to change the arrangement after coming to power. After this crisis, the government has every right to think of an alternative arrangement," a retired power department official. "It's time to act."
For Mamata, the immediate priority is to get power restored. The chief minister said CESC had promised to deploy 150 generators — she said she had given the company the idea — and that the state government would provide another 100-odd generators of its own, besides renting more from private enterprises, to ensure temporary power supply till full restoration.
Unfair and sad: CESC
On Saturday evening, CESC said it had been able to restore power to 85 per cent of its consumer base of 3.3 million, adding that the recovery would have been much faster had it not been for the pandemic.
The company has about 140 teams trained to fix disruptions in supply. However, only half the teams were operational when Cyclone Amphan hit. The rest had left for their home states of Bihar and Uttar Pradesh during the lockdown, company officials said.
The scale of destruction, especially the number of fallen trees, compounded the problem, they added.
"Frankly, it's a remarkable achievement under the circumstances. On one hand, you have only 50 per cent of the workforce and on the other, a scale of disruption not seen before, not even during Aila. The restoration of power to 85 per cent of the consumers within three days demonstrates why CESC is rated one of the best in the business in the country," a member of the company's board of directors said.
"We have spent Rs 10,000 crore on distribution over the past five years. This has gone into making the system robust and upgrading transformers and new cables. Power cuts have become a thing of the past. Had it not been for Covid-19, we would have restored power to 95 per cent of the consumers by now."
The cost factor
Asked whether there was a lesson to be learnt from the Amphan mayhem, the board member said it was possible to further strengthen the system but that entailed additional costs.
"The company can employ another 1,000 people but they may not have any work except for two or three days a year. Keeping them idle will have a cost, which will have to be passed on to the customers. Hopefully, there will not be a Covid-19 next time," he said.
He added that the disruption in the telecommunication network had affected CESC's customer care number and, therefore, its service delivery.
Asked whether CESC would consider putting the entire network underground, he said it was possible. "But again, it's a matter of the cost. If the consumers are willing to pay, we can certainly do it."
Monopoly answer
On the monopoly question, he said: "If there is to be more competition, we will welcome it. There will at least be no burden of being a monopoly."
The board member said he was pained at the brickbats being thrown at the utility. "I don't see recognition, only criticism. It's unfair and makes one a tad sad. The company has become a favourite whipping boy for both sides of the aisle," he said.
Additional reporting by Sambit Saha