Generators help tackle outage in city, villages
Fighting darkness in south Bengal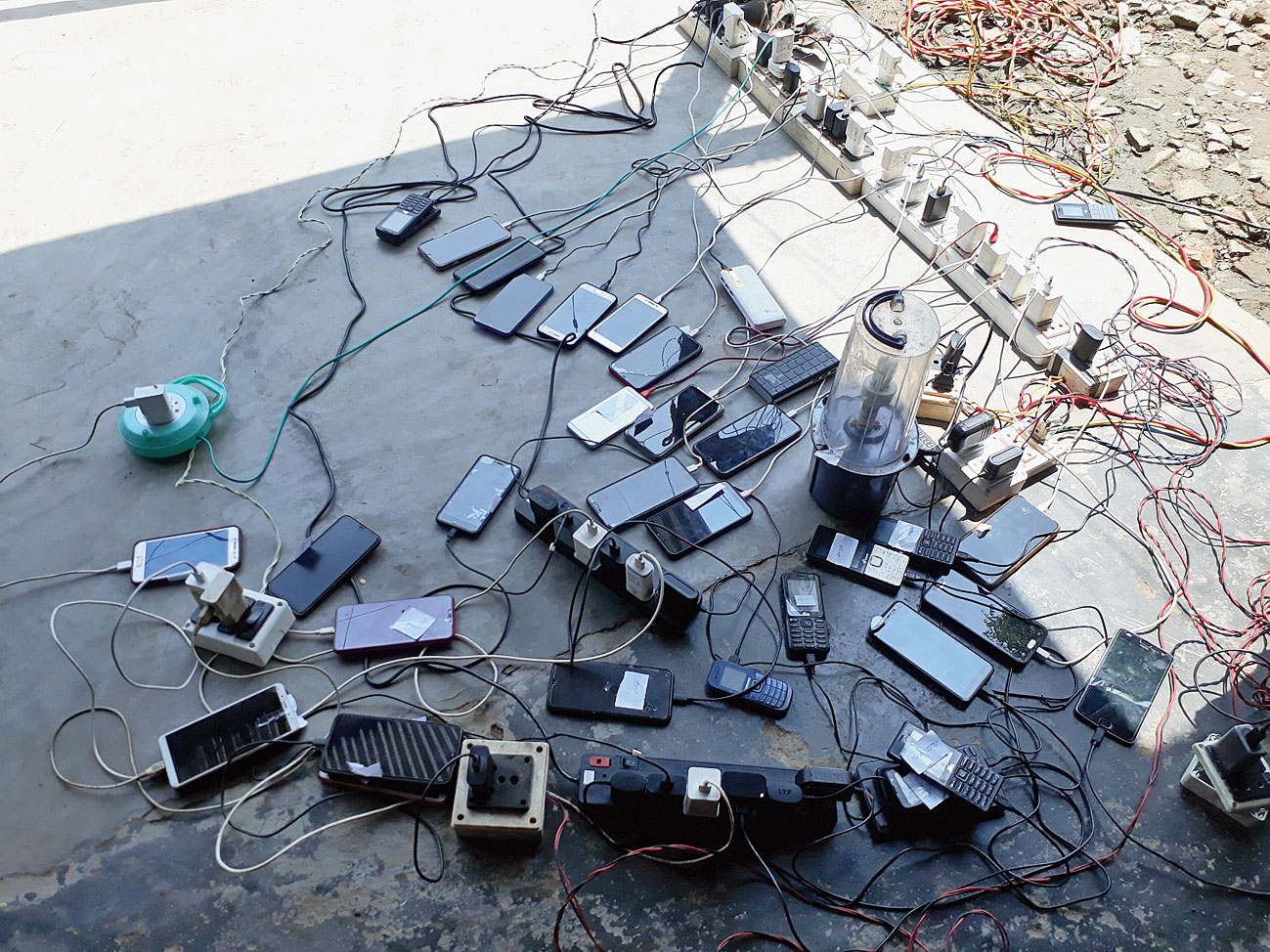 Cellphones being charged with a generator at Santipur.
Picture by Abhi Ghosh
---
Tamluk(EastMidnapore)
|
Published 22.05.20, 10:02 PM
|
---
Power outage engendered by Cyclone Amphan in large parts of East Midnapore, Nadia and North 24-Parganas has come as an opportunity for generator operators who have mounted the equipments on mini trucks and vans to take them to the doorsteps of customers who to shell out money to get electricity for a fixed period.
After Amphan struck and its fierce strength took down tress, high-tension lines and electricity poles, large swatches of south Bengal have been literally left in the dark.
Deprived of electricity, thousands of people in several districts cannot operate water pumps, charge mobile phones or keep electrical gadgets like fridges running.
Armed with eight generators, ranging between one kilowatt and five kilowatt, businessman Uttam Das of Tamluk's Dimari has been delivering home service to people at five villages to run their critical gadgets.
"The generators are going to the doorsteps of residents and helping them run water pumps. Some are also using the facility to charge their mobile phones," Das said and added that he was charging between Rs 300 and Rs 500 per an hour.
"People who have their fridges stocked with essentials are using the service for an hour or two," he said.
In Nandigram, among the worst-hit areas, sources estimated that 95 per cent of electricity connections were down. "You can see how many electricity poles are lying on the roads," said deputy gram pradhan Abu Taher. He lauded the efforts of local businessmen and mechanics to provide generator services to the villagers.
Sonachura resident Animesh Pradhan said the generator service had come as a big relief. "We can finally drink water and bathe. We are immensely grateful," the Nandigram villager said, adding that a single hour of generator use had benefited nearly 50 families in the area.
Asked when power supply would be restored, regional director WBSEDL, Shyamal Hazra, said: "Most high-tension wires have been destroyed in the area. We are still working on removing fallen trees before we can erect new poles."
In Nadia's Santipur, Satyajit Karmakar, 45, an electrical goods mechanic, has hired a generator set to charge mobile handsets at his shop.
"I had an inverter at my shop and people were coming with requests to charge their phones. I had helped a few people initially, but as the number swelled, I decided to hire a generator for Rs 600 a day. I don't intend to make profit but rather help the people. So, I have been charging people Rs 5 for half recharge and Rs 10 for full recharge to meet the expenses. I will continue the service till power supply is restored," he said.
Calcutta residents, who have been without running water and electricity, are also rushing to hire generator sets.
Shyamal Biswas a resident of Rajpur in Calcutta, said his house had been without power since the afternoon of May 20. "Let alone drinking water, we don't even have water left for cooking or washing utensils," said Biswas.
On Friday morning, Biswas went to the local decorator and told him that he wanted a generator on hire.
The man charged Biswas Rs 1500 as hire charges for and took Rs 1000 for diesel.
"I had no option but to pay up as I desperately needed water and electricity for the day," said Biswas who lives with his parents who are in their seventies.
Additional reporting by Subhasish Chaudhuri and Snehal Sengupta