Cyclone Amphan breaks lockdown patience
Migrant workers forced by disturbing TV visuals to walk home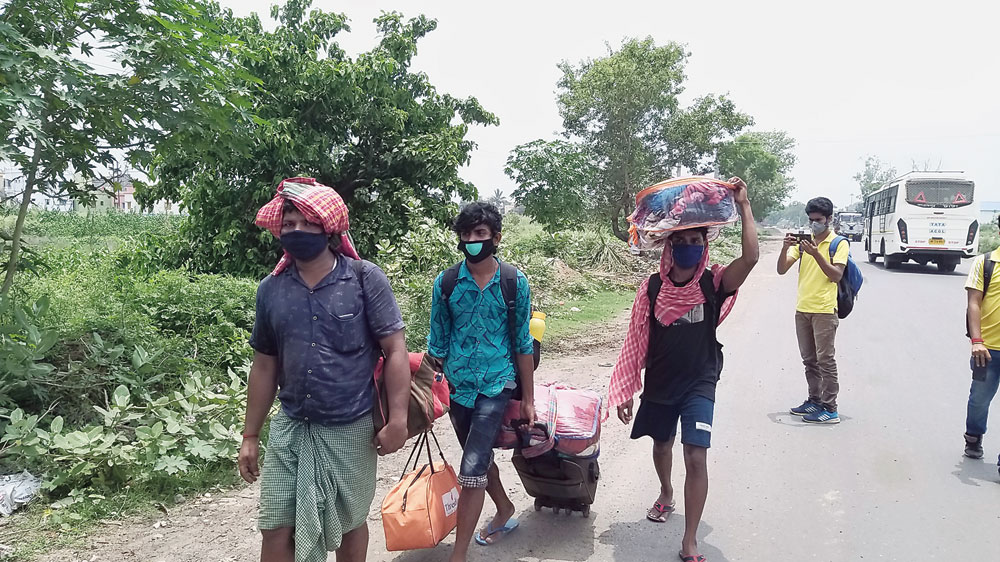 ---
Suri
|
Published 23.05.20, 08:41 PM
|
---
They braved the lockdown but the devastation caused by Cyclone Amphan was too much to bear.
Disturbing visuals of a ravaged South 24-Parganas beamed continuously on television have forced a dozen migrant workers to decide to walk home even though they did not leave their workplace in Jharkhand's Deoghar amid the lockdown.
The migrants, who work in a rice mill, left Deoghar on May 21 and walked 450km for three days to approach their homes in Patharpratima and Kakdwip. The group had gone to Deoghar five months ago to work in a rice mill.
The group hitched a ride on a truck from Deoghar for the first 10km. "After the truck dropped us, we did not get any vehicle. So, we started walking," a worker said.
However, the workers were detained at a relief centre after a team from Birbhum police spotted them on Friday afternoon. The police have promised to send them home.
"During the lockdown we had thought on several occasions that we would return home but cancelled our plans after seeing the plight of other migrants. But when we saw on TV what devastation Amphan had caused to our region, we wanted to return home to be with our families," said Samir Pattanaik, one of the migrant labourers and a resident of Radhakrishnapur village in South 24-Parganas' Patharpratima.
"I have an 11-month-old son at home. I don't know how he is as I have not been able to contact my family," he said.
The labourers said the images shook them as it looked far worse than when cyclones Aila and Bulbul had struck the region.
"I have come to know that most mud houses, including mine, have been severely damaged. So, we decided to return," said Manoj Bag, another labourer from Kakdwip.
Two of the 12 labourers could contact their family members on the mobile phone of a neighbour who informed them that everything had been devastated in the cyclone.
"Our family members have taken shelter in a school as the house has been ruined. How can we stay back in Jharkhand?" said a labourer.