Amphan batters life and livelihood
Breached dykes submerge villages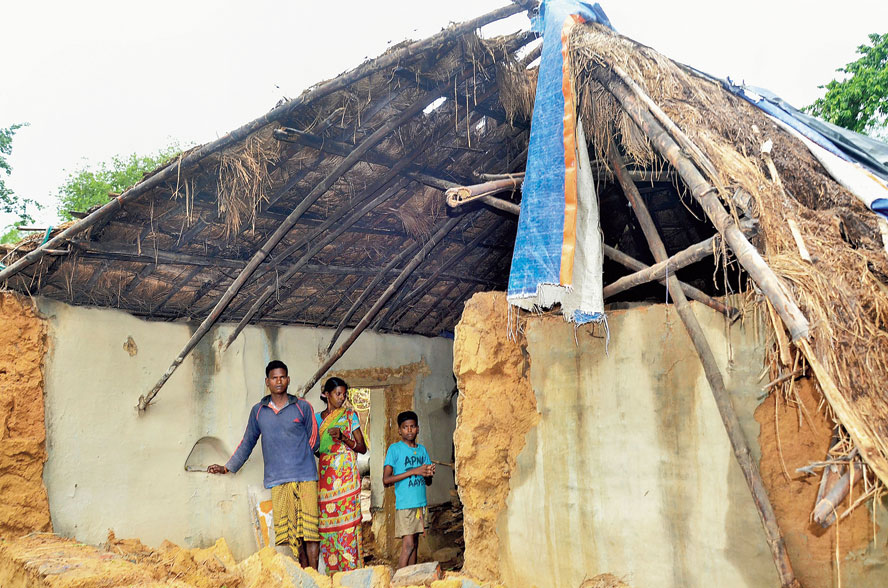 Members of a family at their house damaged in the cyclone at Kharagpur in West Midnapore district.
(PTI)
---
Calcutta
|
Published 21.05.20, 09:28 PM
|
---
A total of 60km of river embankments were breached in South 24-Parganas and North 24-Parganas in the Cyclone Amphan, leaving a number of villages inundated as water through the breaches sipped into remote settlements mostly in the Sunderbans.
The extent of the damage was revealed in a preliminary report of the state irrigation department.
"We are yet to compile a detailed report as ground level officials posted at faraway places in the Sunderbans could not be contacted since the cyclone had hit this part of the state. But primary reports based on available information suggest the damage is deep and about 60km of embankment were breached," said a senior irrigation department official.
Sources said ground reports suggested that embankments of at least 25 rivers in the Sunderbans had been breached and over 200 villages inundated so far.
"Water is still sipping through the breaches and if urgent temporary repairs are not carried out, more villages could be submerged. Moreover, a large tract of farmland could turn infertile as saline water started sipping into the fields," another official said.
Majority of the breaches were reported from areas like Kakdwip, Patharpratima, Canning and Gosaba in South 24-Parganas and Basirhat and Hingalganj in North 24-Parganas.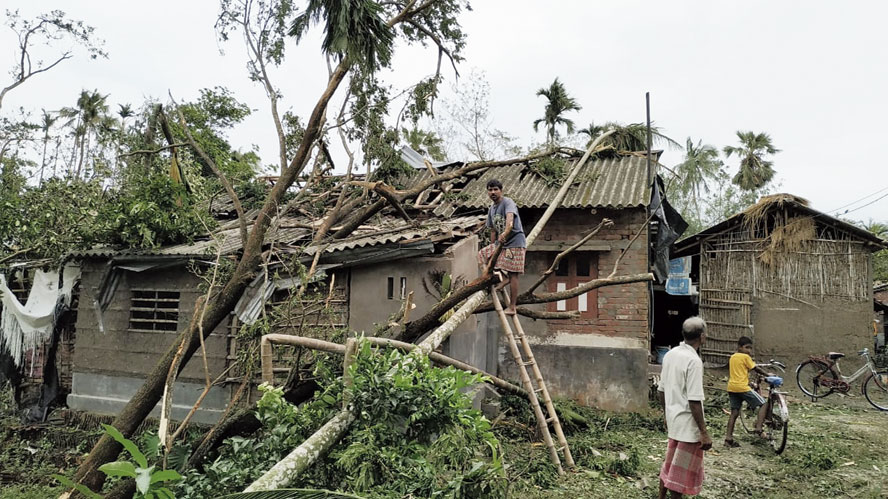 According to the primary assessment, the temporary repairs would require at least Rs 50 crore, but a few hundred crores will be needed to fix the breaches.
"We need to undertake the temporary repairs as we have to stop water flow through the breached embankments to the villages. Later on, proper repairs could be undertaken as it is a time-taking affair," said a source.
The sources pointed out all the embankments where breaches had been reported were of earth and those which were repaired after Aila in 2009 remained intact.
"Soon after Aila, we had constructed concrete embankments of about 100km in the vulnerable areas of the Sunderbans with the funds allotted by the Centre. These embankments stood firm and minimised the damage this time," said another official.
State government officials said the damage in the agriculture sector would also be high even though harvesting of boro crop was almost complete.
"The cyclone has apparently taken a toll on the vegetables as the affected areas of South 24-Parganas and North 24-Parganas are known for their farming," said an agriculture department official.
The sources said the reports were being compiled at the block level. It would take five-six days to compile the entire report.
"Within seven days, the agriculture department has to place the detailed damage report to the top brass of the government," said the official.