Cushion protects Metro pillar
Crash barrier, made of reinforced concrete, prevents damage to Metro Railway pillar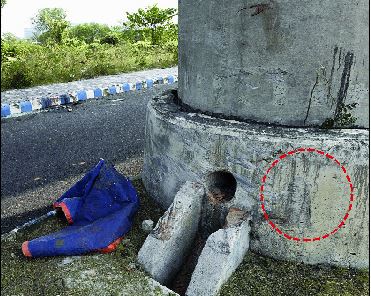 ---
|
Calcutta
|
Published 15.11.19, 08:55 PM
---
The Metro Railway pillar that was hit by a Honda City in New Town on Tuesday, resulting in the death of three teenagers, did not suffer any damage because of a cushion, engineers said.
The cushion being referred to is a crash barrier, made of reinforced concrete, at the base of the pillars of the New Garia-Airport Metro corridor.
"The barriers act as shock absorbers. A gap of 40mm between each barrier and its pillar does not allow the stress resulting from a crash to pass on to the pillar," a railway engineer said.
"Pier 594L (which the car rammed into), near Kalakshetra station, has not suffered any damage. Thanks to the crash barrier, the main pillar only had a few scratches."
The engineer was speaking following an inspection of the pillar by Rail Vikas Nigam Ltd (RVNL).
Metro spoke to engineers to find out how crash barriers protect pillars
The barrier
The crash barriers, at the base of the pillars, rise 1.5 metre from the ground.
"The shape of the crash barrier is similar to that of the pillar. If the pillar is square, the barrier will be square, too," said an engineer involved in the New Garia-Airport Metro project.
"Even if a speeding, fully loaded truck rams into a crash barrier, the structure will absorb all the impact and keep the pillar safe. The barrier is built in such a way that the bumper of a crashing truck will hit it, not the pillar," he said.
The safety gap
Each barrier is separated from its pillar by a 40mm gap, which engineers say prevents the impact of a crash from being transmitted to the pillar.
"The gap cannot be seen from outside. It has been kept to cushion the pillar from any collision-induced stress," the engineer said.
"It is like two people standing side by side. If they touch each other, one will fall after the other is pushed. But if there is a gap between the two, the second person may remain unaffected."
What if it's not there
"If a pillar without the crash barrier is directly hit by a vehicle, the bearing of the viaduct can shift under the impact and that can lead to collapse of the bridge," the engineer said.
The bearings in the viaduct, made of rubber and mild steel shims, act as a resting surface between the piers and the bridge deck. They allow controlled contraction and expansion of the main structure — caused by the change in weather and movement of train — thereby reducing the stress.
Another engineer said each pier was built to take a load of around 1,700 tonnes but an accident could make it vulnerable.