Covid: Land Port Authority accused of 'non-cooperation' in ensuring safety at work
'Clearing agents and labourers are frontline workers who have been continuing export and import activities despite health threats'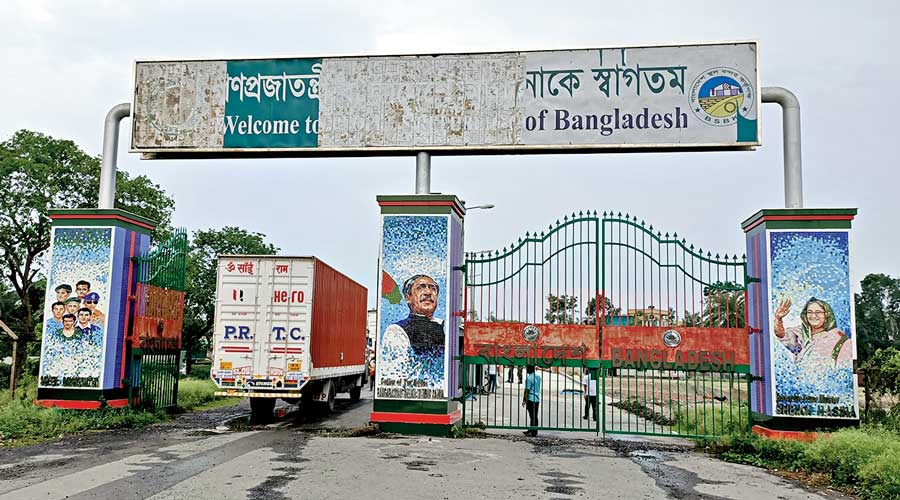 The Petrapole land port in North 24-Parganas.
Chanchal Pal
---
Petrapole
|
Published 10.05.21, 12:54 AM
|
---
An organisation of clearing agents and labourers who work for exporters and importers at the Petrapole land port in North 24-Parganas have written to Prime Minister Narendra Modi, accusing the Land Port Authority of India (LPAI) of "non-cooperation" in ensuring their safety at work amid the pandemic.
Members of the Petrapole Clearing Agents' Staff Welfare Association said that during last year's lockdown, the LPAI had offered "commendable" support and ensured hygienic protocols. But safety initiatives for workers, including vaccination drive, mask distribution and temperature checks with thermal guns, are missing in the second wave of Covid-19, they alleged.
"Clearing agents and labourers are frontline workers in this Covid situation, and they have been continuing export and import activities despite health threats. Unfortunately, the LPAI has been ignoring their security (in terms of health)," said Kartick Chakraborty, secretary of the Petrapole Clearing Agents' Staff Welfare Association.
"The LPAI officials have not arranged sanitisation measures…There is no protection for about 800 labourers who work at the port daily," Chakraborty said, alleging that even masks were not handed out to them.
Members of the staff welfare association, however, said they would not call for ceasework as that would create a survival crisis for some 1,000 families and adversely impact the country's economy as well.
Sources said that the labourers, clearing agents, and drivers of exporting and importing vehicles had panicked after a number of officials attached to the Customs, BSF, Central Warehousing Corporation and parking tested positive for Covid.
"There was a sanitisation bay at the entrance of the Customs office, which is missing this time. Authorities have not taken precautions despite its officials testing Covid positive," a clearing agent said.
In the letter to Modi, the organisation said, "....unfortunately so far we have not received any cooperation."
The manager of LPAI, Petrapole, Kamalesh Saini, however sought to refute these allegations and instead accused labourers and clearing agents of violating Covid safety norms.
"We have been strictly maintaining Covid protocols. But labourers and clearing people often try to enter the premises without masks, which we don't allow" he said.
Claiming the LPAI gives masks, sanitisers and PPE kits, Saini said they also sanitise exporting vehicles on their return and had written to the North 24-Parganas district magistrate for the vaccination of workers.