Covid hits candidates in Siliguri ahead of civic polls, parties redraw campaign plans
Trinamul Congress nominees, including former minister Gautam Deb, Kamal Agarwal and Bikash Ranjan Sarkar, a dissident Trinamul leader, have tested positive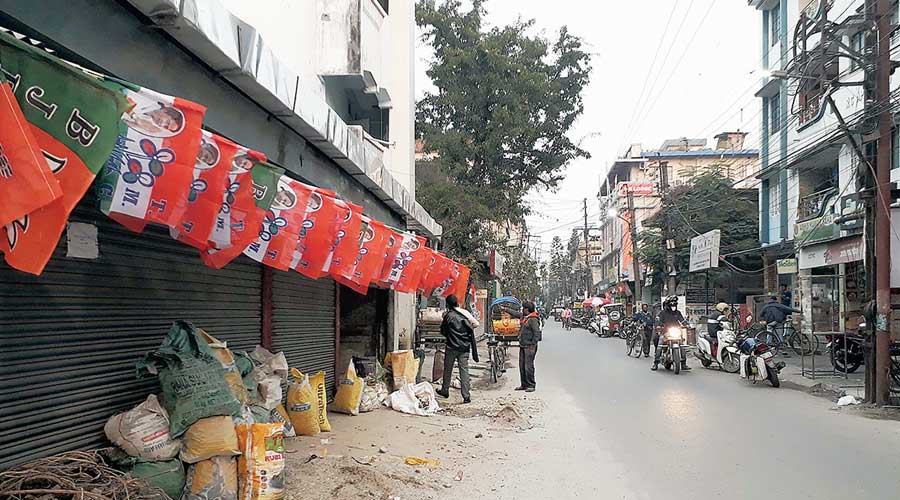 Flags of different political parties planted in Siliguri ahead of the civic elections.
Passang Yolmo
---
Siliguri
|
Published 20.01.22, 02:10 AM
|
---
A number of candidates contesting the civic polls in Siliguri and Chandernagore have been infected by Covid-19, much to the concern of their parties and supporters who have to redraw campaign plan as they have the option to reach out to people till February 10.
In Siliguri, Trinamul Congress nominees, including former minister Gautam Deb, who is contesting from ward 33, and Kamal Agarwal fielded in ward 10, have tested positive.
Bikash Ranjan Sarkar, a dissident Trinamul leader who is contesting as an Independent in ward 24, is also down with the disease.
"Gautam Deb is the most prominent face of our party in Siliguri. Since Monday evening, he has gone into isolation and is under treatment at a private nursing home. His sudden absence in the campaign has made us draw fresh plans as we have to continue the campaign for another 20-odd days. Also, it would take at least another seven days or so for him (Deb) to join the campaign," said a party insider.
Unlike other candidates, Deb is campaigning across the city in all 47 wards in support of the party's candidates.
After he was detected positive with the contagion ê he has got infected for the second time, a few days after he took booster dose of the vaccine — a number of other leaders, like Papiya Ghosh, the Trinamul president of Darjeeling (plains) district, who had been into campaign with him, have also gone into isolation.
Sources also revealed that some BJP candidates in Siliguri have also got infected with the contagion. They are also in isolation.
It may be mentioned that in Siliguri, around 1,400 new Covid cases have been reported from January 12 to January 18.
"The case count is going high in Darjeeling district, especially in and around Siliguri. In such a situation, it is obviously a challenge to continue the campaign. A considerable section of voters are reluctant to meet physically these days. We are exploring alternative options to reach them, including social media," said a CPM leader.
Similar is the situation in Chandernagore, where elections would be held in 33 wards next month.
At least two BJP candidates, contesting from wards 4 and 22, have got infected with Covid 19.
"Also, at least half a dozen other leaders, who might not be candidates but play important roles in the civic polls, have also got infected. The sudden surge in cases has obviously made us draw new plans for the campaign," said Suresh Shaw, president of BJP's youth wing in Hooghly district.
The Left and Trinamul leaders however, have claimed that none of their candidates have got infected with the contagion in recent weeks.
"We are taking all precautions. We are also using the various digital platforms to reach the voters," said Gopal Shukla, a CPM leader of the town who is also contesting in the polls.
Unlike these two civic areas, not a single candidate of Asansol Municipal Corporation has been infected with Covid 19 till now. In Asansol, elections would be held in 106 wards.
Additional reporting by Snehamoy Chakraborty in Hooghly and Abhijeet Banerjee in Asansol