Covid: Birbhum village achieves 100% first jab feat
Some 4,800 people at Papuri voluntarily turned up at the vaccination centre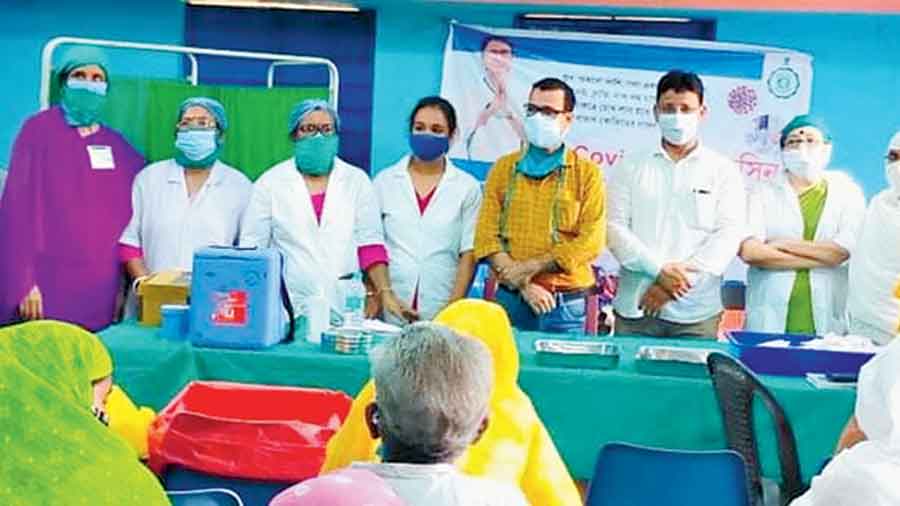 ---
Bolpur(Birbhum)
|
Published 14.07.21, 01:14 AM
|
---
Papuri, a remote village in Birbhum, has achieved the distinction of vaccinating all villagers aged 18 and above with at least one dose, at a time the national rate of Covid inoculation is around 7 per cent.
A source in the health department said Papuri was possibly the only village in the state to have achieved the tag of being "completely vaccinated". He added that the village had a minority population of 75 per cent and literacy rate under 50 per cent.
Like most people in rural belts, Papuri residents were also reluctant to take the jab, fearing side effects. A systematic two-month campaign led by Trinamul's Nanoor block working committee president Sheikh Kajal, however, took care of the misgivings of the village, 15km from Bolpur.
Some 4,800 people at Papuri voluntarily turned up for jabs at the vaccination centre.
"The process was a challenge as initially villagers did not want the jab, fearing harmful side-effects. That's when a group of village youths came forward to convince villagers about the need to take the vaccine to protect themselves from Covid-19," said Kajal, who led the team.
To convince villagers, Kajal led by example. He convinced his 84-year-old mother with several comorbidities to become the first person from the village to take the vaccine.
"Then the group of youths as well as I took the jab. I have two stents in my heart," he said.
These real-life examples made others confident.
Salia Biwi, 45, a kidney patient, said she was initially reluctant to take the jab but was won over.
To recognise the feat, the local Charkalgram gram panchayat held a programme attended by senior district health officials on Tuesday.
"The village is the first in the district where all villagers aged 18 years and above have been vaccinated with at least one dose. We hope the village will inspire others to overcome the hurdles of superstition that health officials are facing in rural pockets in the vaccination process," said Jayanta Sukul, a deputy chief medical officer.
Sources added Bengal has around 7.3 crore people eligible for the vaccine. According to data with the state health department till Tuesday evening, 2.45 crore people were vaccinated with at least one dose.
Sources in the health department said the percentage of vaccination was always high in cities or towns but low in rural belts. Health department data say around 68.5 per cent people have been vaccinated in Calcutta, but the corresponding figure is 65 in Bolpur.
"In rural areas, vaccination is very slow and in some pockets the number of people vaccinated is below 10 per cent," said a senior state health official.
Kajal said there were 200 villagers who occasionally visit Papuri as they work outside. They will also get vaccinated when they come next, he added.
A villager said they were cautious about migrants who come back home.
"We have a primary school that was used as a quarantine centre during the first wave of the pandemic. We have requested those who work outside to first quarantine themselves at the school before their first jab," he said.