Coronavirus scare boosts Bengal surgical mask trade
Manufacturers flooded with orders from asian countries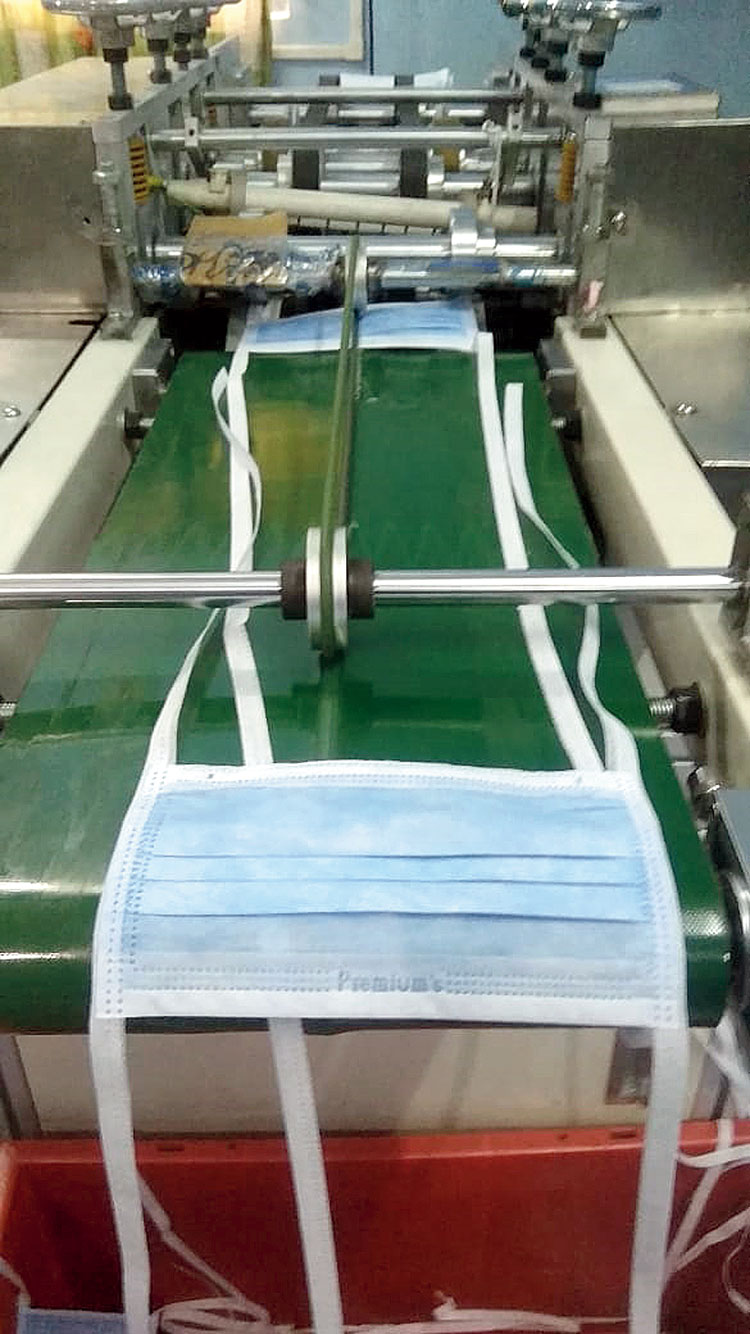 Masks being manufactured at an Asansol unit of a company
Telegraph picture
---
Calcutta
|
Published 26.02.20, 08:37 PM
|
---
The coronavirus scare across the world has given a boost to the surgical mask manufacturing trade in Bengal with many makers receiving huge export orders.
A businessman based in Thailand has sent messages to his friends in Calcutta, asking where he could buy the respiratory protective devices, the demand for which has been on the rise in that country following the scare.
A distributor of medical equipment, who also runs a business of surgical masks, has been getting calls from exporters who have never dealt in such items, asking whether he could provide one lakh pieces.
The mask manufacturers Metro spoke to said they were getting bulk orders from China, Thailand, Taiwan, South Korea and Japan, the countries where they said the stock of respiratory protective devices was fast drying up.
Ashok Shaw, a manufacturer of medical equipment, struggled for several years to get an export order for surgical masks. Now, he has hired around 15 additional hands to meet the demands of importers from south-east and far-east Asian countries.
"Earlier, I could not export any mask. But over the last fortnight, I have been getting orders of about 50,000 masks every day," said Shaw, director, Premium Healthcare Disposables Pvt Ltd, a Calcutta-based company that has its manufacturing unit in Asansol.
Shaw would earlier produce about 3.5 lakh masks a month to cater to the market in and around Calcutta.
"The production machines would hum for a week and lay idle for the rest of the month. But now, the machines are working almost 24 hours a day," Shaw said.
Before the outbreak of coronavirus, he was unable to make any headway in export because of competitive prices of masks produced by Chinese manufacturers.
"We have to import a special fabric, the main raw material for surgical masks, from China. The machines are also imported from that country. So, our production costs are higher than that of the Chinese manufacturers," Shaw said. "I tried to sell the products in Bangladesh and Myanmar but could not do so because of the price factor."
But now, with Chinese manufacturers struggling to produce enough masks, Indian makers have been able to enter the market.
The prices have also gone up. In the export market each mask is fetching almost 10 times the price at which it is sold in Calcutta's medicine stores. "The price of the raw material imported from China has gone up and so has the demand. So, the prices are up," said an exporter who did not want to be named.
The masks that are being exported are not N95 respirator, which are believed to filter out at least 95 per cent of very small (0.3 micron) particles. In January, India had put a ban on the exports of N95 respirators, surgical masks and gloves.
Later, it lifted the ban on surgical masks and gloves but the restriction on N95 respirators still continue, said exporters.