Relief photo ire at MLA
Sengupta's opponents alleged that the MLA was trying to extract political dividend in the hour of crisis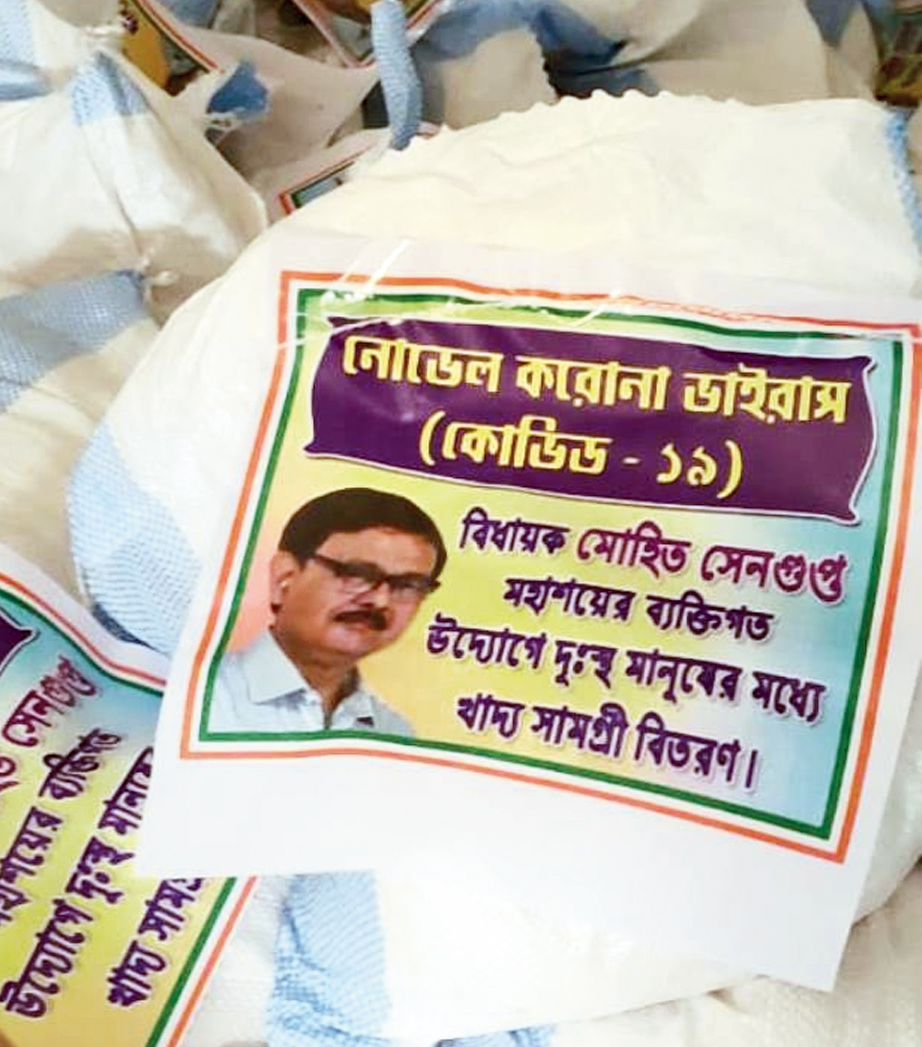 One of the food packets with the MLA's name and photo.
Picture by Kousik Sen
---
Raiganj
|
Published 17.04.20, 10:42 PM
|
---
Local Congress MLA Mohit Sengupta's decision to label lockdown-related food packets with his name and photo has invited sharp criticism from his political opponents.
Sengupta, also the Congress chief of North Dinajpur, brushed aside the accusations, saying he was paying from his own pocket for the items and there was no harm in putting his photo on the packets.
The MLA, sources said, has planned to initially distribute around 5,000 packets among people in his Assembly constituency Raiganj. Each packet has 5kg rice, 2kg potatoes, 1kg soybean and pouches of edible oil and salt.
Sengupta began distributing the packets on Friday.
A sticker pasted on each packet, along with the leader's photo, says: "Bidhayak Mohit Sengupta mahashayer byaktigata uddyoge dushthya manusher moddhe khadya samagri bitoron (Distribution of foodgrains among people on the personal initiative of MLA Mohit Sengupta).
Sengupta's opponents alleged that the MLA was trying to extract political dividend in the hour of crisis.
"The MLA and his party became irrelevant in the political arena of Raiganj, and North Dinajpur as a whole. That is why, it seems, he has put his photo and name on relief packets to try and extract some political gains. It is a cheap trick and will never work for him or the Congress," said Kanaialal Agarwala, the Trinamul president of North Dinajpur.
A BJP leader said on the condition of anonymity: "Had he been sincere in reaching out to his electorate, he would have done it silently and not with so much pomp and show. The MLA seems to be… keen to get publicity."
Sengupta scoffed at such claims. "I have arranged for the relief materials on my own and have not utilised any government money or even funds of my party. There is nothing wrong in putting the sticker on the packets."