Mild Covid? Home isolation prescribed
Focus on non-serious patients with own room, toilet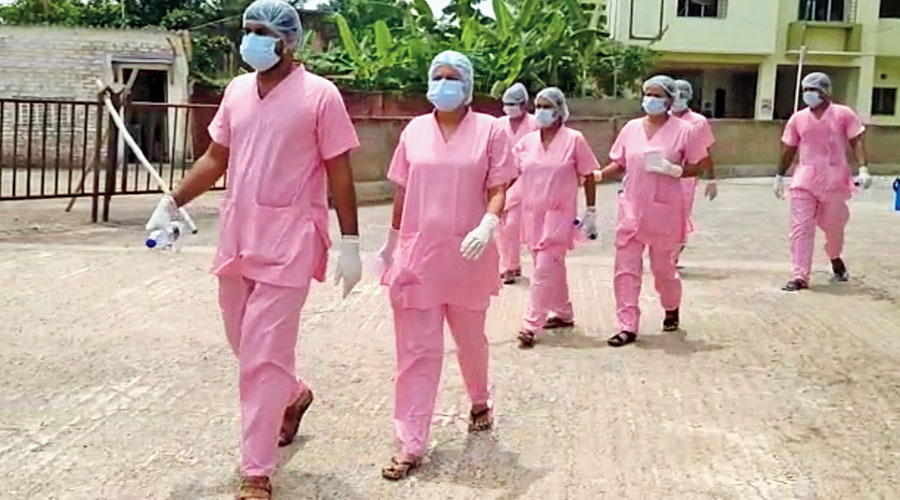 ---
---
The East Midnapore administration on Friday announced that around 80 per cent of its Covid-19 patients — asymptomatic and mildly symptomatic — would be kept in home isolation in the wake of a notable spike in infections in the district in July.
East Midnapore till date has recorded 1,518 Covid cases of which 1,099 have recovered. However, 85 new cases were reported on Friday alone, and sources said that more than half of all the cases in the district were reported in July.
"We have ramped up testing in containment zones…We do not see the need to hospitalise all Covid positive patients as more than 80 per cent are asymptomatic or have mild symptoms. The first option will be to keep patients with adequate infrastructure (a separate room and toilet) in home isolation. The second option is safe homes for patients whose homes don't offer isolation facilities," said district magistrate Partha Ghosh, adding hospitals were priority for serious patients.
Ghosh added there were 300-odd beds in the district's Covid-dedicated hospitals in Panskura, Contai and Chandipur. The district also has 150 beds at state-run safe homes in Haldia and Moyna.
Ghosh, along with chief medical officer Nitai Mondal and SP Sunil Kumar Yadav, on Friday evening spoke to the media on the district's rising patient count, averaging 50 new cases a day in the last week. "We are looking at limiting hospital admissions to 20 per cent of all cases. The rest will stay at home and be moved to safe homes or hospitals if their condition worsens," said Mondal.
As part of Covid protocol, a patient in home isolation is monitored over phone by health officials twice a day. A health worker with pulse oximeter keeps a tab on the patient's oxygen level daily. The patient gets medical kits, including medicines.
"But only 45 persons are in official home isolation as of this week. The number needs to increase dramatically," said an official.
Senior Nabanna officials said it was a state-wide policy to keep asymptomatic patients and patients with mild symptoms at home to decongent hospitals for serious patients.
He however pointed out that all asymptomatic and mildly symptomatic patients could not stay at home isolation because their homes did not have the required infrastructure. "The problem is acute in rural Bengal. So, we have to augment safe home facilities too," the official added.
Another official said district authorities had been instructed to develop safe homes in those places that initially were quarantine centres for migrant workers.
A source in the health department said social ostracism was a major cause behind a number of people avoiding home isolation. "Stigma and rumour-mongering kicks up a frenzy of humiliation and bullying. That's why many patients are reluctant to accept home isolation," the source said. "We are looking at awareness campaigns in areas where there are people in home isolation."