Bengal govt staff battle Covid stress
District authorities and civic bodies to seek the help of counsellors to build their confidence and keep public services running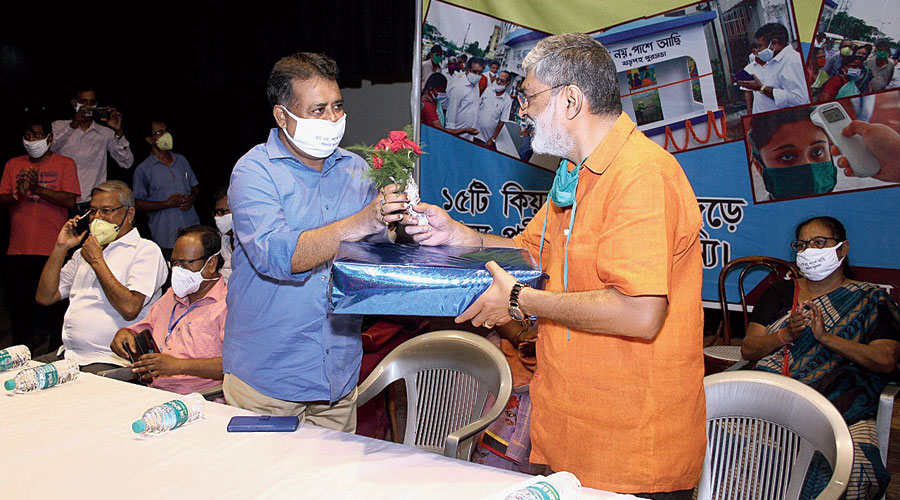 ---
---
The rise in Covid-19 infections appears to have affected the mental health of several Bengal government employees, including frontline workers, prompting district authorities and civic bodies to seek the help of counsellors to build their confidence and keep public services running.
A government source said on Thursday that chief secretary Rajiva Sinha had asked district magistrates during a video conference to focus on measures to build the confidence of officials working on the frontlines to combat the pandemic.
"Reports of infection among officials, police personnel, health staff and other frontline workers are coming in from across the state. It is a challenge for us to provide services to the people amid the pandemic. The government wants to concentrate on confidence-building measures for employees. The chief secretary has advised us on similar lines," said a state government official.
Taking the lead on Thursday, Khardah Municipality in North 24-Parganas organised a workshop addressed by psychiatrist Kedar Ranjan Banerjee. As many as 400 employees and other frontline Covid workers, including health staff and personnel involved in cremation, took part.
"After the continuous spike in Covid-19 cases, we observed that most of our employees were stressed while handling their assignments. To address this, we decided to organise the workshop as the role of our employees is critical in the pandemic," said Kajal Sinha, chairperson of board of administrators in Khardah Municipality.
At the workshop, Banerjee asked workers to concentrate on their work, avoid rumours and focus less on Covid-19 statistics. "The intervention was very helpful. The psychiatrist addressed real issues of our stress and panic," said a municipal employee who attended the workshop.
Municipalities at Serampore in Hooghly and Rampurhat in Birbhum have also planned sessions for their employees with counsellors.
In Birbhum, Hooghly, Purulia and East Burdwan, senior officials said they had noticed rising instances of stress among employees in government offices and among the police personnel.
"Most employees, including senior officers, are coming to me and talking about their anxiety about working during a pandemic situation. As a superior, I am in a spot as I can't guarantee that they won't get infected," said a district magistrate of south Bengal.
In Purulia and East Burdwan, district authorities have advised all staff involved in the fight against Covid-19 to undergo tests. Senior officials have been asked to share in their official social media group reports about people who have recovered from the disease.
"We have directed all of our staff down to the ground level to undergo Covid tests, and this will be a continuous process. We are also sharing information about many people who have recovered," said Purulia district magistrate Rahul Majumdar.
Majumder's Birbhum counterpart Moumita Godara Basu said taking care of the employees' morale was "high on our priority list" and counselling sessions for government employees have been lined up.