Siliguri wholesale hub locked down
The grocery market will stay closed till July 22; shops selling essentials to remain open on a staggered basis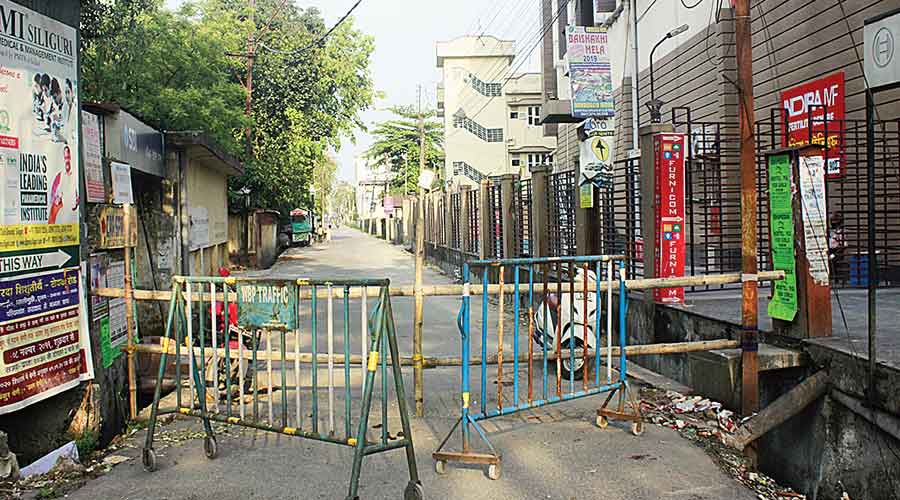 In Siliguri, around 900 infections were reported so far and in Malda, it crossed 1,500. 
File picture
---
Siliguri
|
Published 19.07.20, 01:43 AM
|
---
The spike in Covid-19 cases across north Bengal, especially Siliguri subdivision in Darjeeling district and Malda district, despite the ongoing lockdown led to the closure of wholesale grocery in Siliguri from Saturday.
In Siliguri, around 900 infections were reported so far and in Malda, it crossed 1,500. 
"The wholesale grocery market at Nayabazar in Khalpara will stay closed till July 22. Shops selling essentials will remain open but on a staggered basis. It is necessary to close this market to prevent the further spread of the pandemic as hundreds of trucks from other states and districts enter this market daily," said a wholesale merchant.
In Malda, though the lockdown has been enforced in urban areas, absence of stringent curbs is aggravating the situation in rural areas, said sources in the district administration. "In Gazole block, some employees at the BDO office have been tested positive. That's why we decided to enforce lockdown in the block," said an official.
"There are indications that lockdown will be announced in Alipurduar town and some areas of South Dinajpur from next week," a health department source said.  
Sikkim zones
Fourteen more places in East and West districts of Sikkim, mostly housing paramilitary and Border Road Organisation (BRO) facilities, were declared containment zones till July 25 in view of the rise in the number of Covid-19 cases in the state. even as the first positive case of a person without travel history and any known contact with a patient was detected on Saturday. Sikkim chief minister P.S. Tamang (Golay), who chaired a review meeting of his administration on Saturday, said a decision was taken to identify facilities to house Covid cases from the SSB, BRO and ITBP. "Their (the personnel of the three organisations) movement outside the camps will be strictly restricted," he said. Almost half of the 254 positive cases in the state till Friday are from Rongli Bazar and Rhenock Bazar in East Sikkim. As many as 145 are linked to the BRO and paramilitary forces. A woman employee of the state agriculture department, who had gone to Rangpo to attend a family event earlier this month, tested positive on Saturday.
Brown sugar
Acting on a tip-off, police arrested Ismail Sheikh from Narayanpur of Kaliachak police station on Friday night with 805gm of brown sugar (an adulterated form of heroin), worth nearly Rs 1 crore, on him.
Police said he was carrying the substance in two plastic packets and was detained from Sultanganj, also under Kaliachak police station.
His cell phone and two-wheeler have also been seized.