Quarantine space in mosque
'Religion teaches brotherhood'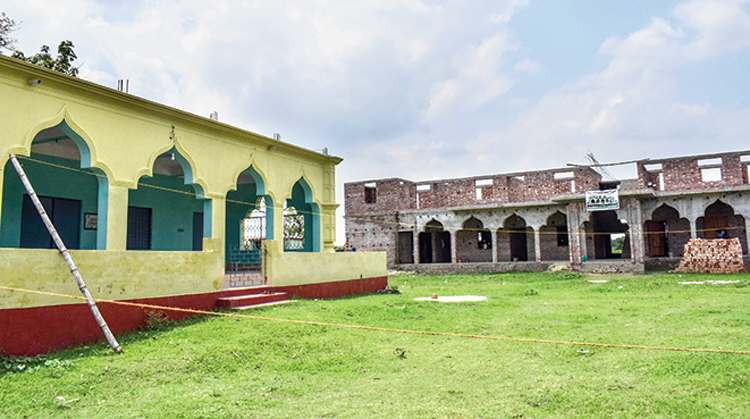 ---
|
Kaliganj
|
Published 30.05.20, 11:10 PM
---
A Nadia village has thrown open its madarsa hostel and the adjoining mosque as a quarantine centre for all its returning migrant labourers, regardless of religion, saying "religion teaches brotherhood".
The gesture by Muslim-majority Bhaga village in Kaliganj block, and its Darul Uloom Madarsa, comes at a time efforts have been made by vested interests to stigmatise the minority community in the name of the coronavirus.
The secretary of the village committee, which took the decision, said the initiative was not just a timely step against the virus's spread but a gesture of togetherness that was sorely needed.
"We have so far accommodated 21 youths who have returned from Covid-hit states such as Maharashtra, Punjab, Karnataka and Rajasthan. We didn't ask their religion," Abdul Hannan Mandal said.
Told the village had set an example for all, committee president Mahiddin Mondal waved the praise away with dry humour.
"There are necessary barriers now anyway, like distancing and the PPE. We can at least do away with the unnecessary ones," he joked.
The quarantine centre, which can accommodate 50 people, was opened on May 21 when the village received its first batch of returning migrants.
Sources said the village committee, which has both Muslim and Hindu members, had dipped into its own pocket to provide the quarantined youths with three meals and two snacks a day, the food including egg, fish and chicken. It's also providing personal protection equipment and sanitisers.
"Their families are only providing mattresses and bed sheets, on the understanding that these would be burned if their users test positive," Bachchu Mandal, committee and panchayat member, said.
Mahiddin, the committee president, said having a quarantine centre at a safe distance from the village homes – a condition the madarsa satisfied -- had become an imperative.
"Most houses here are crowded and small. If the youths come home carrying the virus it could be disastrous for everyone," he said.
"Such a fear had already been expressed in this village, so we approached the madarsa authorities well in advance. Fortunately, they granted us the use of their premises for the greater good."
Chief minister Mamata Banerjee had on Friday said the railways' rushed return of the migrants was spreading panic in the countryside, with the villagers saying: "See, Corona Express is coming! Run, run!"
Of the around 400 families in Bhaga, 155km from Calcutta, four in five are Muslim. Nearly 100 youths from the village work as construction labourers in states such as Maharashtra, Odisha, Kerala, Karnataka, Delhi, Punjab and Rajasthan.
The same crisis that has inspired Bhaga's initiative of unity had earlier spurred a countrywide campaign to paint a mid-March Tablighi Jamaat gathering in Delhi --- and Muslims in general --- as deliberate purveyors of the coronavirus.
Ripples had been felt even in parts of Bengal, such as Howrah and Hooghly, with some people exploiting the pandemic to divide people.
Villagers and committee members in Bhaga, however, had stayed vigilant and have now responded the best way they can.
Madarsa authorities said their assent to the initiative was a "given".
"Religion teaches humanity and brotherhood. How could we have even thought of saying 'no'?" head teacher Maulana Sharafat said.
"This was a great idea. The madarsa was the perfect place for quarantining people. We are lucky they (madarsa authorities) gave the nod," committee member Dhananjay Karmakar said.
Assistant secretary Rintu Mandal said: "Many families across the country are refusing entry to their own migrant sons. We could never have been so inhuman, so we took a step in time."
Kaliganj block development officer Nazir Hossain, who visited the quarantine centre on Friday, said: "The villagers have taken a great initiative. We have promised medical support. More such initiatives may help eradicate prejudices about the disease."