Helpline clues to vulnerable spots
Calls come in handy at a time officials plan to launch aggressive testing to contain the spread of the pandemic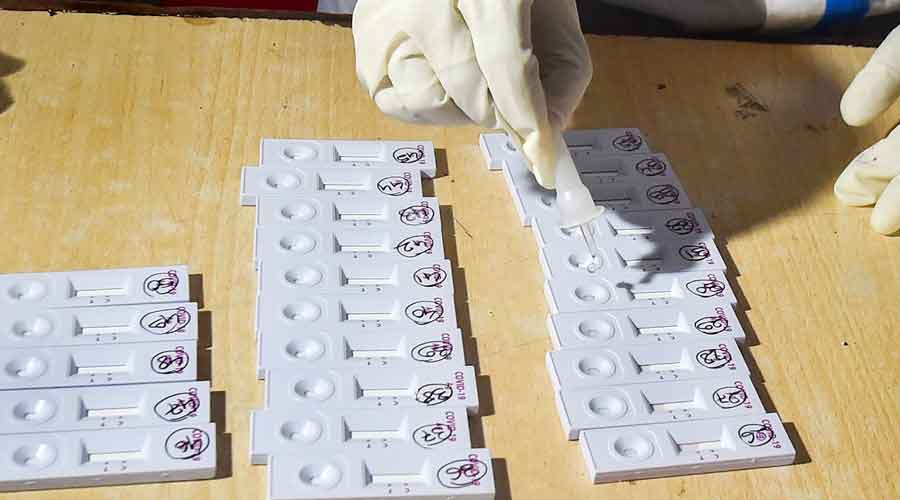 ---
|
Calcutta
|
Published 01.08.20, 02:14 AM
---
The Bengal government's toll-free helpline for all Covid-19-related issues has come in handy for authorities to identify vulnerable areas at a time they plan to launch aggressive testing to contain the spread of the pandemic.
"On an average, more than 1,500 calls are received by the helpline number (1800 313 444 222) everyday. About 450 calls are for information on hospitalisation facilities. Some calls are coming in from areas, which were not on our radar so far. This is helping us find out areas where strict vigil should be maintained," said a senior health department official.
Sources said the launch of the helpline 10 days back was bringing in twin benefits for the government.
First, people are getting real-time assistance and advice, which is helping in reducing the panic among them. "The government is gaining people's confidence as the helpline has given them the assurance that someone is there in case of an emergency. This trust factor seems to have reduced the panic," said an official.
Rolling out numbers on the effectiveness of the helpline, the official said the government response system had on July 28 arranged for ambulances for 120 callers and assisted 459 people in getting admission to hospitals. "Besides, we addressed queries from 1200-odd callers, who sought general information about the pandemic," he added.
The second and more important benefit of the helpline, multiple health department sources said, was identification of vulnerable areas that were not on government radar.
For example, two persons — one from Calcutta and another from North 24-Parganas — had called up a few days ago and informed that they had symptoms similar to those of Covid-19.
"We had not found any Covid-19 case in those areas so far. So, those were clean areas according to our records. The calls helped us draw up a plan and send teams of health workers to conduct a survey in the areas to assess the situation," said an official.
The sources have said such information is extremely important at a time the state government is planning to launch an aggressive testing to find out positive cases.
"So far, only suspected Covid-19 patients, primarily visiting the hospitals, were being tested. The time has come to go for an aggressive testing to contain the spread as tracking contacts of positive patients has become almost impossible," said another official.
The official said the government had decided to go for aggressive testing from either the first or second week of August when daily testing capacity in the state would touch the targeted 25,000-mark.
"We will conduct tests randomly. These will be in addition to tests on those who have symptoms in areas which have already got positive patients… We can't wait for another patient to visit hospitals with symptoms," the official added.
"If we can conduct random tests in the suspected areas, we will be able to isolate more positive patients. This will help us contain the spread of the disease," he added.