Community youth clubs to fight Covid in East Midnapore
These organisations have received gadgets to create a physical space for a check-up; they are also to create awareness among society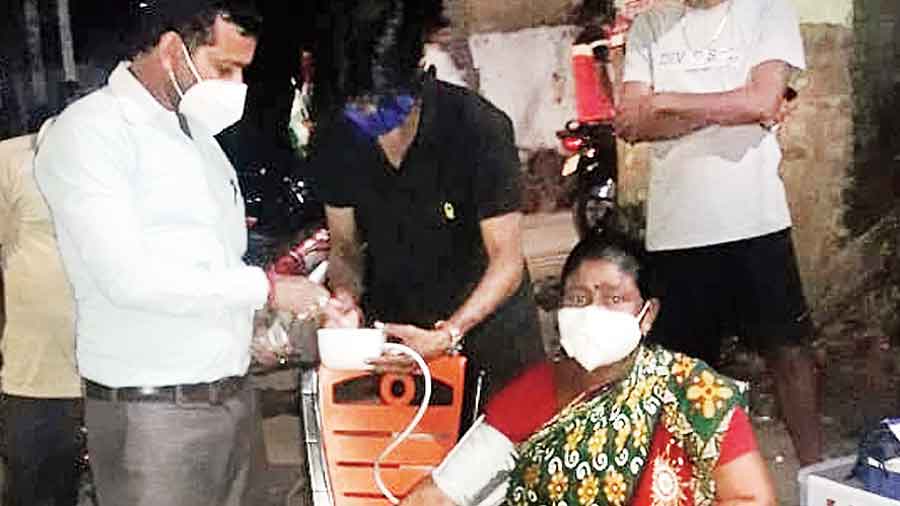 ---
---
The East Midnapore health department, assisted by a Haldia NGO, has started a health equipment distribution drive among 300-odd youth clubs in the district to enlist "responsible youths" in the community to fight Covid-19.
Starting August 14, the clubs spread across 25 blocks and five municipalities started receiving a pulse oximeter, a blood pressure monitoring machine and a digital thermometer each from the Satish Samanta Welfare Trust.
"In addition to creating a physical space where people can go for a check-up, youths can spread the word on symptoms, monitoring and the importance of rapid testing," said an NGO official.
The move by the health department comes in the wake of a spike in Covid-19 cases in July in the district. As of this week, the daily average of new cases stood close to 200, a near 100 per cent spike since early July. District cases stood at 3,662 as of this week, with active cases at 1,384. On Sunday alone, 173 cases were recorded.
NGO officials are training youths to use the gadgets.
"Our district is facing rising Covid numbers and we are trying our best to ramp up rapid testing. People need to realise the importance of tests when they suspect symptoms and we hope clubs help us in this," said chief medical officer (health) Nitai Mondal, thanking the NGO for its help.
The Bengal government dispenses Rs 2 lakh a year to each of the selected clubs for "health and sports activities".
Trinamul MLA in Ramnagar Akhil Giri lauded the decision, calling it "wise".
Gopal Samanta, secretary of Khelaghar Club in Tamluk, said: "We espouse social causes along with sports, and these equipment will help us play a bigger role in community health."
A senior citizen from Panskura welcomed including youth clubs in the Covid fight. "These equipment aren't normally available at people's homes, so we are grateful that we can access them now at nearby clubs," Sunil Kar said.