Coronavirus outbreak: Bengal crosses 50,000 infections
Thirty-four patients died on Thursday, taking the toll to 1,255 but at the same time, 2,006 recovered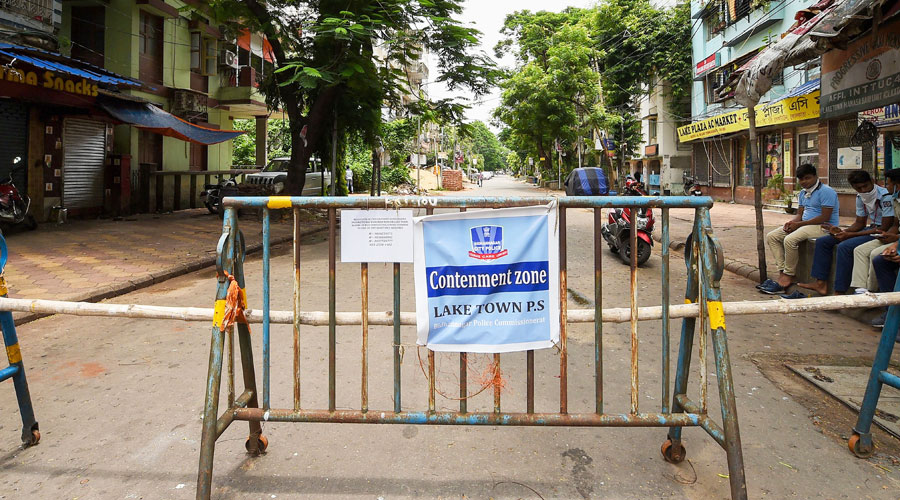 ---
|
Calcutta
|
Published 24.07.20, 02:42 AM
---
Bengal crossed 50,000 Covid-19 cases on Thursday, with 2,436 infections in the 24-hour window till 9am, the highest in a day so far.
In all, 51,757 have been infected in Bengal so far of whom 31,656 have recovered.
Thirty-four patients died on Thursday, taking the toll to 1,255. Nineteen died in Calcutta alone on Thursday, but at the same time, across Bengal, 2,006 patients recovered and 14,558 people were tested.
Prior to this, the highest single-day rise in cases was 2,291 and in tests was 14,040, both on Wednesday. The most recoveries prior to this were the 1,617 reported on Tuesday.
"In just a week, there have been nearly 16,000 new cases. In the 28-day period of rise (since June 26), there have been over 36,000 new cases," said a minister. "In a silver lining, there have also been over 10,000 recoveries in a week and nearly 22,000 in these 28 days."
Bengal's recovery rate is now 61.16 per cent on Thursday. The national recovery rate is now 63.43 per cent.
The state's test count is now 7.58 lakh, at 8,423 per million.
Of the 2,436 new cases, over 78 per cent were reported from Calcutta, Howrah, Hooghly and North and South 24-Parganas. The city reported 795 cases on Thursday.
"These five districts added over 28,000 new cases in 28 days, over 54 per cent of all cases in Bengal since the start of the pandemic," said the minister.
Of the 1,255 deaths reported so far, 1,061 or 84.5 per cent were deaths with comorbidity "present".
Hypertension remains the most lethal comorbidity, causing over 21 per cent of male deaths and nearly 25 per cent of female deaths.
Block development officer of Goghat I, Hooghly, Surasree Pal, who was prevented by residents from entering her rented house on Sunday in Arambagh, tested positive for Covid-19 on Thursday evening.