Tragedy on tracks averted in Birbhum
Train driver applies brakes on time, 20 migrants walking back to Jharkhand saved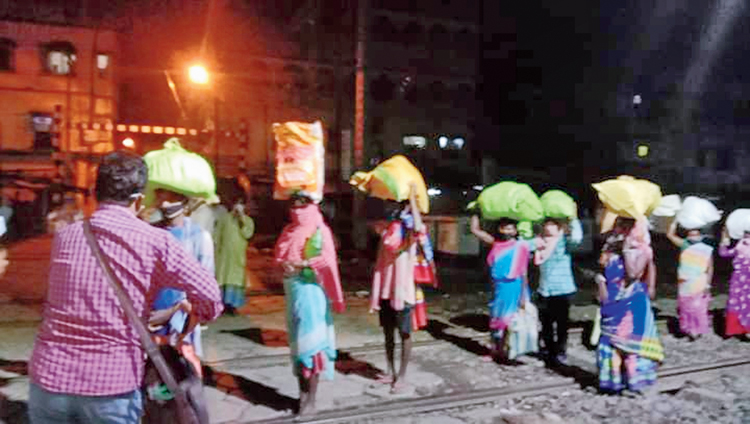 The migrant labourers who were saved from an accident at Nalhati station on Friday night
Telegraph picture
---
Bolpur(Birbhum)
|
Published 09.05.20, 09:37 PM
|
---
A re-run of Friday's massacre on tracks in Maharashtra's Aurangabad was averted hours later near Nalhati railway station in Birbhum thanks to an alert train driver who pressed the emergency brakes on time and saved the lives of 20 migrant workers, including 13 women and two children.
Government Railway Police (GRP) sources said the group comprising farm labourers and their children had been walking on the tracks while returning home 280km away in Jharkhand's Sahibganj from their workplace in East Burdwan.
They had started for home on Monday and late on Friday night the group was walking on the tracks near the Brahmani river bridge, between Swadinpur and Nalhati stations, when an inspection train carrying engineers and railway officials was returning to Rampurhat from Jharkhand's Pakur.
The driver suddenly spotted the group walking on the same track near the bridge and pulled the emergency brakes.
"The driver used the emergency brakes and the train was stopped within hundred metres of the group. The officials informed us about the labourers and we rescued them," said Prabir Kumar Gupta, the in-charge of the RPF post in Nalhati.
Railway officials said if the driver had not pulled the brakes in time it would have been a repeat of the incident in Aurangabad, where a freight train mowed down 16 tired migrant labourers who were sleeping on the tracks early on Friday.
The RPF officers informed the local administration and a government team took away the migrants from Nalhati station on Friday night.
The labourers said they didn't realise that a train had been approaching them on the same tracks as they were exhausted from the long walk.
"We could not spot the train. The train stopped in front of us. We immediately jumped off the tracks. I can't imagine what would have happened to us had the driver not spotted us," said Joseph Murmu, one of the labourers.
The labourers were sent to a state government relief camp. They will be sent home after a health check-up, said Jagadish Prasad Barui, the BDO of Nalhati I block.