Swim across Hooghly to float aloft in lockdown
Unable to witness his parents in pain, Sanjay took the plunge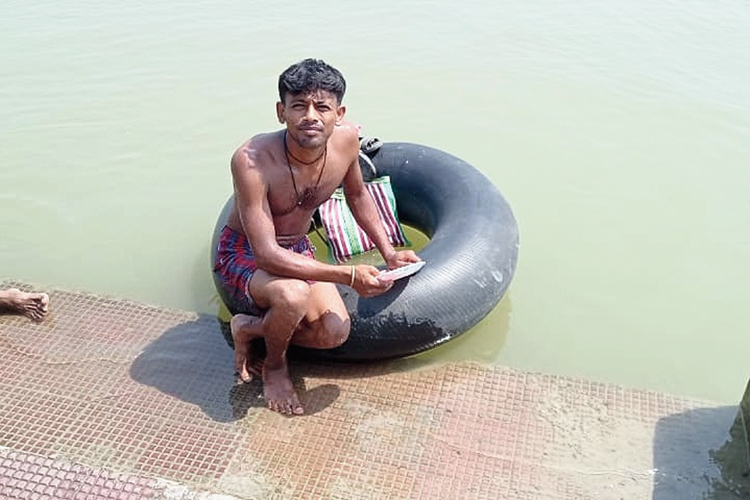 Sanjay with the tube.
Picture by Abhi Ghosh
---
Santipur
|
Published 20.05.20, 12:14 AM
|
---
A young goldsmith living on the bank of the Hooghly in East Burdwan's Kalna has taken the plunge to swim past financial hardships that lockdown has brought on him and his ailing parents.
Sanjay Pal, 28, a resident of Kalna's Japatpara, runs a small jewellery shop across the river near Santipur's Nrisinhapur ghat in Nadia. Every day, he used to take the ferry from Kalna to travel to the jetty across the river. With lockdown, the ferry service stopped and Sanjay was forced to stay back home as opening of shops was also prohibited.
As he ran out of his meagre savings, Sanjay struggled to provide medicines that his ailing parents, both heart patients, required. Unable to witness his parents in pain, Sanjay decided to take the plunge and work behind the closed doors of his shop and earn to help stay afloat during lockdown.
But the 700m wide river stood between him and his desperation to reach the shop. To overcome the hurdle, Sanjay took a loan of Rs 500 from a neighbour and bought an old tube used in trucks.
Since the first week of April, every day at 9am, Sanjay reaches river bank in Kalna, leaves a set of clothes at a friend's house and jumps into the river with the inflated tube. He then places himself on the tube and holds a plastic plate in each hand to use them as oars.
"It takes around 30 minutes, unless there is heavy tidal wave, to reach the Nrisinhapur ghat in Santipur, where I change my clothes and walk to my shop," he told The Telegraph.
"I had no option but to work behind closed doors of my shop and complete pending orders. This is helping me earn Rs 150 every day," said Sanjay and added the money helps buy medicine for his parents.
"Initially, I decided to end my life in frustration, but later changed mind and decided not to leave my parents who are dependent on me. It was then I took a loan and bought the tube for Rs 500. Initially I tried to make a raft using a banana tree but it did not work," he said.
A shop owner at Santipur's Nrisinhapur ghat said: "Financial compulsion has forced Sanjay to risk his life and swim to earn something. He is an example of how marginal people have been hit by unplanned lockdown."
The relaxation announced on May 5 allows Sanjay to open shop as it is not located in a containment zones. However, Sanjay will have to swim to reach his shop till the ferry service resumes.