'Situation more critical in tea belt due to closed gardens'
Jobless workers mull return to cities
'The situation is more critical in the tea belt, particularly because of closed gardens'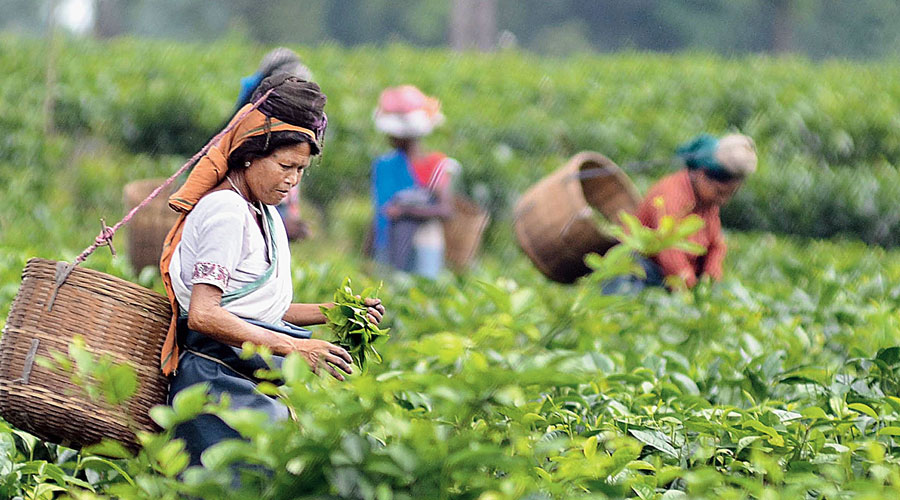 ---
---
Hardly any job opportunity and the spectre of far lower wages than what they had been accustomed to getting have prompted many migrant workers who returned to the tea gardens in the Dooars and Cooch Behar villages during the lockdown to start making plans to go back to cities.
As the Covid-19 pandemic locked down the country in March-end, migrant workers, fearing starvation, returned in droves to their villages in home states in buses, trains, hired vehicles, bicycles and even on foot.
But many, including those who came back home to the Dooars and Cooch Behar, realised they were hardly left with any job opportunity back home.
"The situation is more critical in the tea belt, particularly because of closed gardens. These people had migrated to Calcutta or cities in other states only because jobs were not available in tea plantations. Years have passed by but the situation has remained unchanged back home. So returnees are left with no other option but to try and go back to the cities for their livelihood," pointed out Soumen Nag, a tea researcher in Siliguri.
The Telegraph spoke to many returnee migrant workers with similar tales of woe: no work or low pay at home.
Nikhil Oraon and Bunu Khati who hail from the closed Madhu tea estate in Kalchini block of Alipurduar, worked at garment factories in Calcutta and made Rs 18,000 a month.
"I came back home in May-end but found out no job is available in and around the tea garden. I definitely will go back to Calcutta and try to get my old job back," Nikhil told The Telegraph.
Bunu said though his parents wanted him to stay at home, he knew it would not be feasible in the long run. "Where are the jobs? My family depends on my earnings," he said.
Sukhni Lohar, who had been staying in Delhi with her son and making around Rs 20,000 a month as a domestic help, is now frantically calling up the families she used to be employed with.
Her husband is ill and stays at the workers' quarters in Madhu tea estate with their 13-year-old daughter, she said.
"Every month, I used to send money to my husband. Like many others, I also returned home during the lockdown but now it seems it would have been better if I had stayed back in Delhi. I can never make Rs 20,000 a month here, no matter how hard I work as a domestic help," she said. "The rates are much lower here compared to Delhi."
Kartick Burman of Dighaltari and Rashidul Haque of Alokjhari, both villages of Dinhata subdivision in Cooch Behar, are planning to buy train tickets to return to Maharastra and Delhi, respectively.
Kartick said he was a textile mill worker who made Rs 30,000 a month in Maharashtra. Rashidul, a mason, made close to Rs 20,000 a month at construction sites in Delhi.
"Even if I get a job under the 100-days-work scheme at home, my earnings will be no match to what I used to earn in Maharashtra. What quality of life can I give my family?" asked Kartick. "I simply want to go back to Maharashtra."