Help for 7 returnees in Hooghly's Arambagh
Gram panchayat chief offers the seven migrant workers 2 packets of puffed rice, 7 packets of biscuits and 7 masks each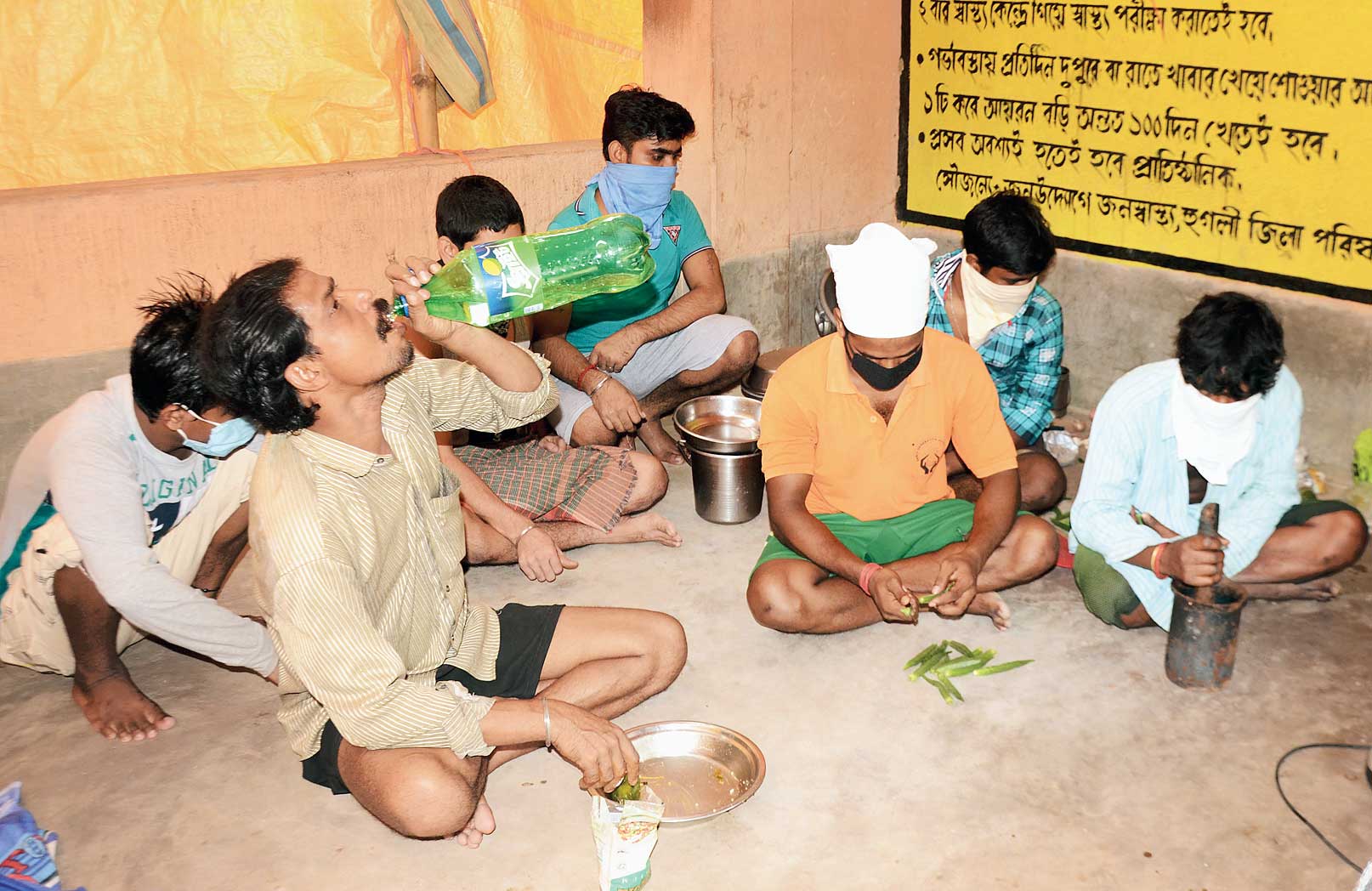 ---
---
A team from Harinkola gram panchayat, headed by its chief and his deputy, on Monday met seven migrant workers who had been spending their quarantine in the veranda of an ICDS centre in Hooghly's Arambagh after a squall destroyed their tent on Wednesday.
The seven who were disallowed from entering their village in Arambagh by local people said they had turned down the panchayat's offer to transfer them to the local high school for the remaining period of the quarantine.
"We managed to spend 10 days on our own after returning from Punjab. So, we see no point in causing an inconvenience now. We are happy as long as no one has to suffer the same fate after us," said Ujjwal Ghorai, referring to the group's plight of having to stay in the tent for a week before it was destroyed in the squall.
On Monday, The Telegraph reported that the migrant workers had since been sleeping under a tarpaulin at the Tajpur ICDS centre.
Jayanti Pratihar, the chief of the gram panchayat, along with deputy chief Sheikh Kutubuddin, on Monday offered them two packets of puffed rice, seven packets of biscuits and seven masks each.
"This is the first time an official offered us food. We are really grateful to them. But while we were staying at a tent, no one came to attend to us," another worker said.
Sources had said the local administration had pleaded helplessness when that villagers had prevented the youths from entering their homes for the quarantine.
"We contacted the local headmaster and block officials after seeing the plight of the migrants, but nothing was possible because there was no order to allow them to the school. But, today we got an order to use it," said Dilip Manna, husband of local gram panchayat member Bula Manna.