Food providers starved of cash
At least 2,500 organisations had been working and helping people according to their financial strength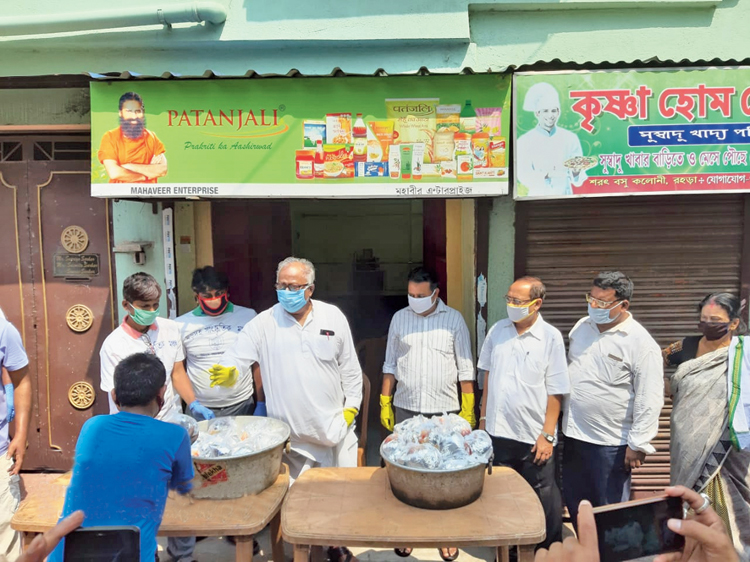 ---
Bolpur(Birbhum)
|
Published 29.04.20, 12:05 AM
|
---
Lakhs of poor people in Bengal are staring at an uncertain future as several social and political organisations, which started distributing relief since the lockdown started, are facing acute shortfall of resources after running the humanitarian programmes for over a month.
After the lockdown was declared, a large number of social, cultural and political organisations across the state swung into action to stand by the poor people, mainly the families of day wage earners, farm and construction labourers.
A senior state government official said at least 2,500 such organisations had been working and helping people according to their financial strength. In few cases, the organisations were distributing dry food materials like rice, pulses and potatoes while some started arranging cooked food.
But many of these organisations think carrying on with the effort will be easier said than done.
Bangla Sanskriti Mancha, a social organisation that works for migrant workers, had started a dozen community kitchens in Birbhum and South 24-Parganas, but the organisers are facing a fund crunch and wondering how to carry on with the initiative.
"The members of this organisation are teachers of school and colleges who donated their share from salaries. But the budget for a day to run the activities is over Rs 60,000 and we are facing hurdles to arrange the money," said Samirul Islam, president of the organisation.
Similar concerns were heard at Khardah in North 24-Parganas, where Khardah Sanskritik Mancha, a social organisation, is running nine community kitchens to feed over 6,000 people everyday.
Kajal Sinha, a Trinamul leader heading the organisation, said it had resources to run the kitchens for a few more days.
"We had started the initiative since the lockdown was declared on April 24 and it is continued till today. We are spending around Rs 2 lakh per day and the money was used from the savings of our cultural wings," said Sinha.
According to him, though people are helping by taking part in the relief operation, very few are pledging financial support as they are worried about their own future. "We need help to run the initiative, but don't know how to generate resources."
The Paschimbanga Pragatishil Nagarik Samaj, a Birbhum-based social organisation, has sent a letter to Prime Minister Narendra Modi asking him to deposit money in the accounts of people who have no income in the lockdown.
"These people were depending on help from different NGOs and organisations. As lockdown is getting extended, the help will come down... So, we wrote to the PM requesting him to give at least Rs 10,000 in the accounts of such people," said Siddhartha Roy, general secretary of the outfit.
Varsity VC plea
Visva-Bharati vice-chancellor Bidyut Chakraborty on Tuesday issued a notice, requesting people to help the varsity's Seva Sakha (which carries out social works) by providing money and materials to the organisation.
Officials said the varsity had already reached out to 1,000 poor and tribal families with relief but they needed more funds.