Toll 3, two weeks very, very vital: Mamata
'There is no room for panic, but we must stop this in Bengal before we reach Stage III (community transmission)'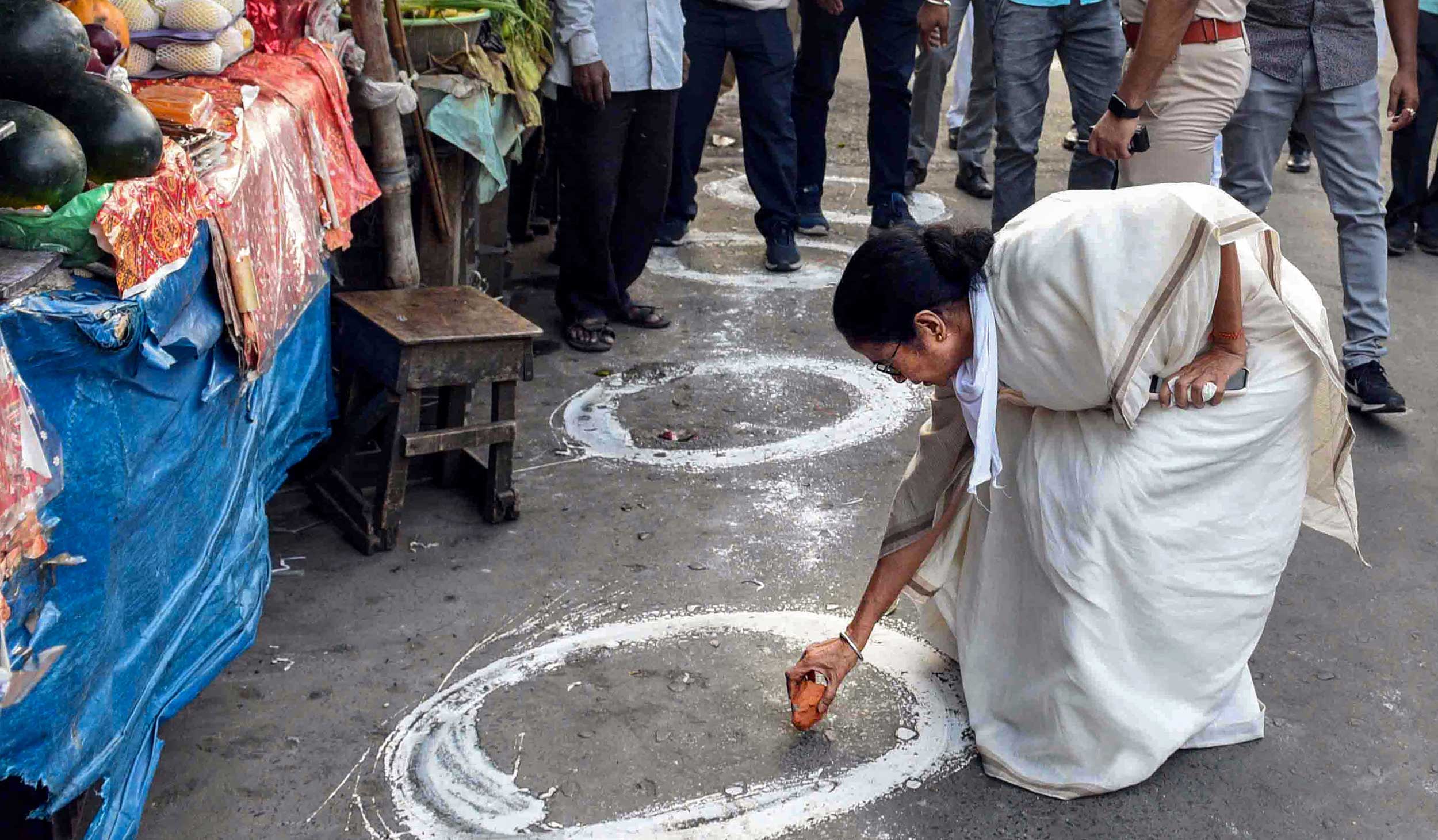 With a broken brick, Mamata draws a social-distancing circle for shoppers at a market in Calcutta on Thursday.
PTI
---
Calcutta
|
Published 01.04.20, 09:28 PM
|
---
Chief minister Mamata Banerjee on Wednesday put the death toll from Covid-19 in Bengal at three, saying figures were being included by a section of the media without confirmation.
Later in the evening, the state health department's bulletin on the status of Covid-19 in Bengal put the toll at three. The bulletin added that three more people had died on Wednesday with "all having severe acute respiratory illness".
The bulletin said: "Two male persons both aged 57 years and one male person aged 62 years all having severe acute respiratory illness expired." It did not confirm that the three deaths on Wednesday were from Covid-19.
In the space reserved for the number of deaths on Wednesday, there were two hash signs. At the bottom, the hash signs were explained. The three people who died on Wednesday "had all reportedly tested positive, which is subject to confirmation". "One of them had chronic renal failure, another had respiratory failure and the third had hypertension and other comorbid conditions".
Comorbid conditions are pre-existing health disorders — such as high blood pressure, cardiovascular diseases or kidney damage. Coronavirus patients with such underlying disorders are at greater risk of developing severe disease.
Earlier, the chief minister had said the number of confirmed Covid-19 patients in Bengal, as of 4pm on Wednesday, was 37, of whom three had recovered.
She said the death toll in Bengal from Covid-19 stood at three and that one of the three had died from bronchial pneumonia. She underscored that 13 of the cases were family members of four people who had got infected.
"Anyone is saying whatever they like, without confirmation, without evidence... will you show (any evidence)?" she asked.
The chief minister underscored the importance of the next two weeks in containing the damage and the spread of the virus.
"We must take the utmost care; the next two weeks are very, very, very, very vital. I cannot overstate the significance of that window. Very, very sensitive," she said.
"There is no room for panic, but we must stop this in Bengal before we reach Stage III (community transmission). The Centre's lockdown must be made a complete success."
Mamata rued that even on Wednesday she had received reports of violations of the lockdown and advised people against trivialising the threat.
"People have been roaming the streets, playing outdoors, playing carom, engaging in adda (chats) in groups…. There will be a lot of scope for adda for the rest of your lives. Please don't misunderstand me, listen to me like you would listen to a sister, a daughter in your homes. For the next two weeks, please isolate yourselves, stay at home. Ninety-nine per cent of the cases are curable," she said.
The chief minister repeatedly asserted that Bengal was doing a lot better compared to other states in keeping the lifelines of essential services and commodities unhindered through the lockdown, and questioned the need for the lockdown violations.
"Of course, being confined to one's home is problematic. Does it not affect me? Of course it does. But what can we do, tell me? There are compulsions.... The population of Bengal is 10 crore; the population density is very high; these things you must understand," she said.
"What have I been eating at home? There is nobody at home to look after me now. I have not allowed anybody to come. I live alone," she added.
"Two girls live in the household. What they eat, I don't even eat that. Am I in a great deal of sorrow? I have to adjust…. I have puffed rice, I have been having a spoonful of rice, boiled lentils, boiled potatoes. That's enough for me. Why must we do latshahebi (self-indulgence) now?"
Mamata said that of those in home quarantine in Bengal, 2,856 people had been released while over 57,000 people were being monitored daily.
She said her government had already distributed to hospitals 111,394 sets of personal protective equipment, 42,296 N95 masks, over 160,000 second-layer masks, 18,363 litres of sanitisers and 3,200 thermal guns over and above what had been given to other first responders, such as the police.