Cool weekend before wet spell
The cool phase would last till the weekend and rain is expected from Monday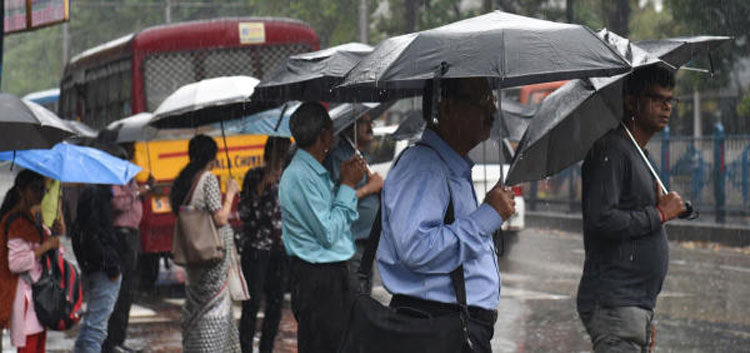 The minimum was well below normal in all the places through which the northwesterly wind was blowing
Picture by Pradip Sanyal
---
Calcutta
|
Published 01.03.19, 10:40 PM
|
---
Sweaters and stoles made an untimely appearance on Friday as a clear sky after four days of rain let cold winds from the northwest blow freely across south Bengal.
The weather department said the cool phase would last till the weekend and rain is expected from Monday.
The city's minimum temperature on Friday read 17.1 degrees Celsius, three notches below normal. It is expected to fall further to between 16 and 17 degrees on Saturday and Sunday.
In contrast, the minimum temperature in Calcutta on March 2 in 2018, 2017 and 2016 was 22.5, 21.7 degrees and 23.1 degrees Celsius, respectively.
"A few days ago we were switching on the fan at night. But last night we needed blankets. It felt cold indoors even during the daytime.... I can't remember feeling this cold in March," said Nabamita Ghosh, a resident of Deshapriya Park.
According to Met records, the northwesterly wind blew at an average speed of 10 to 15kmph throughout the day, clocking a maximum speed of 20kmph.
"The northwesterly wind emanating from Kashmir is still pretty cold. But moisture in the air in eastern India was preventing it from reaching Calcutta last week. With the rain over the past four days flushing out the moisture, the wind has started reaching the city again, dragging down the minimum temperature," a Met department official said.
The minimum was well below normal in all the places through which the northwesterly wind was blowing. Srinagar recorded a minimum temperature of 0.2 degrees, a notch below normal. The minimum in Delhi, Lucknow and Ranchi was 6.8 (-6), 9.1 (-3) and 10.5 (-4), respectively.
The cool phase, however, is likely to be shortlived. "The weekend should be cool in Calcutta. Clouding is likely to start on Sunday afternoon and under its effect the minimum temperature will rise. We expect rain on Monday and Tuesday," said Sanjib Bandyopadhyay, deputy director general, India Meteorological Department, Calcutta.
The rainfall in Calcutta should be light, the weather department said.
A Western Disturbance, an extra-tropical storm that generates in the Mediterranean region, is over Pakistan and is moving eastwards.
"It would lead to the formation of a low-pressure zone, which will draw moisture towards Calcutta and result in the wet spell," a weather scientist said.