Congress seeks to boost base in tea gardens
It is highlighting the failure of the Narendra Modi government to fulfil promises for the tea industry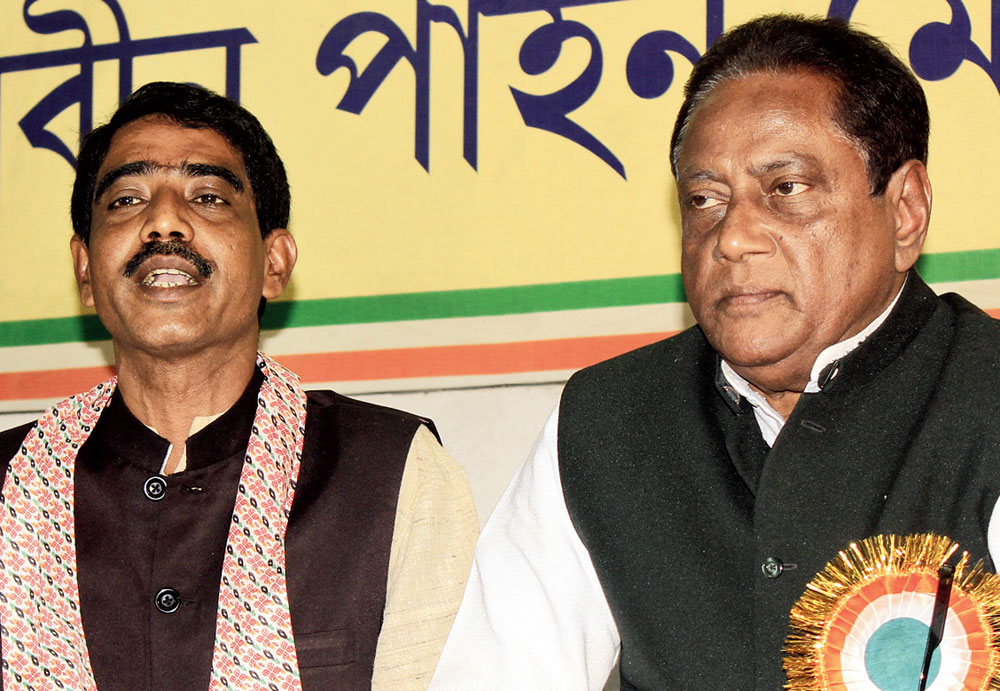 Sankar Malakar (right) in Siliguri on Sunday.
Picture by Passang Yolmo
---
Siliguri
|
Published 09.12.18, 08:34 PM
|
---
The Congress has launched a campaign in the tea belt of north Bengal to build up the support base by highlighting the alleged failure of the Narendra Modi government to fulfil promises for the industry.
Sankar Malakar, a working president of the Bengal unit of the Congress, said on Sunday that there were around four-and-a-half lakh workers in 275 tea gardens in north Bengal.
"Along with their dependants, the total population in the tea belt is around 20 lakh. But in the past four-and-a-half years, the central government has done nothing for them other than making empty promises. Narendra Modi himself was in the region in 2014 and in 2016 and had asserted that the Centre would look into the issues of tea workers and their families. But nothing has changed," said Malakar.
Malakar, who is also the Darjeeling district chief of the Congress, said the party had already assembled conventions of tea garden workers.
In the past three days, the conventions were held at Batasi in the Kharibari block of Darjeeling district and Banarhat of Jalpaiguri district.
"More such conventions would be held in due course. We want to remind the tea workers how the central government has ignored their plight," said the Congress leader.
The Congress's trade union, INTUC, enjoys considerable support among tea garden dwellers. The party has made a bid to cement its base in the tea belt after Somen Mitra took charge as the state Congress chief.
"The Intuc is a constituent of the Joint Forum (apex body of 24 tea trade unions) and still enjoys the support of a sizeable portion of tea workers in the Dooars and the Terai. They are huge vote banks in the Parliament constituencies of Darjeeling, Jalpaiguri and Alipurduar," said an observer.
Alok Chakraborty, a state general secretary of the Intuc who is based in Siliguri, said the party was also highlighting the delay by the Mamata Banerjee government in fixing minimum wages for the tea workers. "A meeting on the minimum wage will be held in Siliguri on December 13. If no decision comes up, we will launch an extensive agitation across the state from January," said Chakraborty.