Confine Kalimpong from GTA, demands MLA
During Lepcha's hour-long statement, he gave an impression that the town has to politically stand on its own feet and not depend on Darjeeling leadership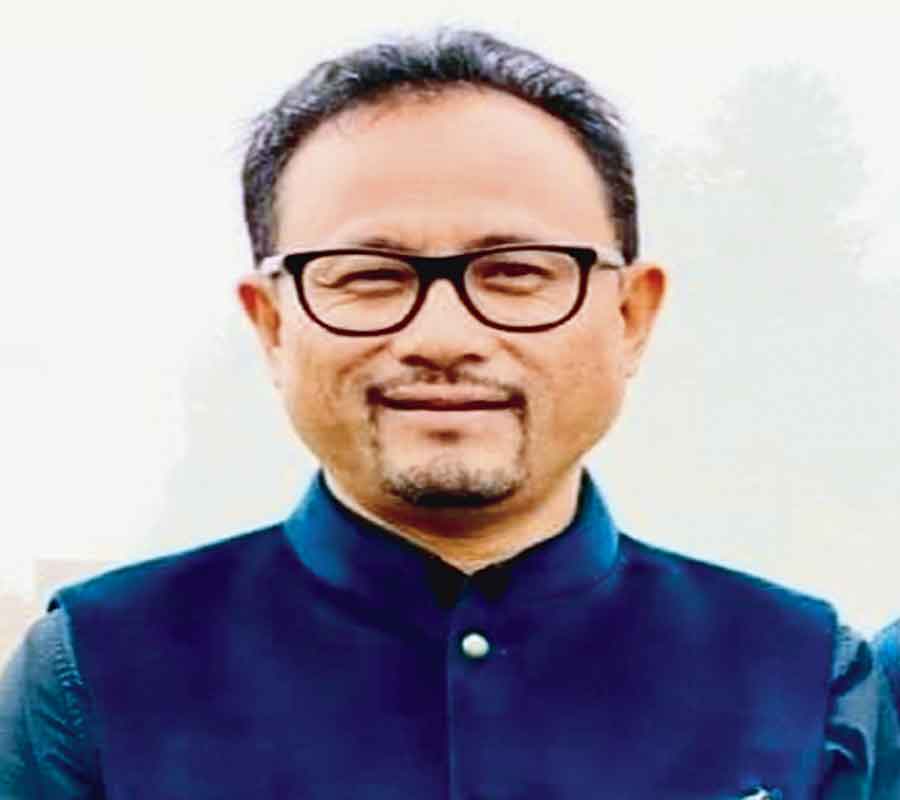 Ruden Sada Lepcha.
File photo
---
Darjeeling
|
Published 20.03.22, 01:33 AM
|
---
Kalimpong MLA Ruden Sada Lepcha of the Bharatiya Gorkha Prajatantik Morcha (BGPM) stirred a hornets' nest in hill politics on Friday by demanding that the Gorkhaland Territorial Administration (GTA) be confined to only the hill areas of Darjeeling district and not Kalimpong district.
Lepcha told journalists that instead of the GTA, he wanted a three-tier panchayat system in this relatively new Kalimpong district formed in 2017.
During Lepcha's hour-long statement, he gave an impression that Kalimpong has to politically stand on its own feet and not depend on Darjeeling leadership. There were hints that Lepcha had not disclosed the contents of his statements to even Anit Thapa, the president of his party.
"Let the GTA be for Darjeeling district but not for Kalimpong district... Let there be a three-tier panchayat system for Kalimpong," said Lepcha.
The Kalimpong MLA's basic premise centred on his thought that the GTA and even the earlier Darjeeling Gorkha Hill Council (DGHC) were mere extensions of zilla parishad and that Kalimpong despite being carved a new district still has to "administratively" depend on Darjeeling (GTA).
Every district in Bengal is entitled to a three-tier panchayat system, comprising gram panchayat, panchayat samiti and zilla parishad.
An exception, however, had been made for Darjeeling, Kurseong and Kalimpong subdivisions through a constitutional amendment in 1992. Lepcha is of the opinion that since Kalimpong is now a separate district, the three-tier panchayat system can be implemented here.
Thapa and party's general secretary, Amar Lama, however, issued statements supporting Lepcha's "legitimate demand of a three-tier panchayat" but did not issue a clear statement endorsing Lepcha's stand that the GTA should be confined only to the hill areas of Darjeeling district.
Many political leaders cutting across political lines supported Lepcha's demand for a "three tier panchayat" in the district, with some even stating that the same system should be implemented in Darjeeling district, too.
However, most of the leaders and political observers did not endorse Lepcha's demand to confine the GTA only to hill areas of Darjeeling district.
Many said that the GTA or even the DGHC provides a "distinct administrative identity" for the region. "Lepcha's demand to discard the GTA is going backwards... No one will be against implementing the three-tier system but many will have reservations on completely abolishing the separate autonomous body (GTA) for this place," said an observer.
The DGHC was formed in 1988 after a 28-month-long protest for statehood while the GTA was established in 2012 after a 44-month-long agitation.
The DGHC had been the first such model in the country, which was later adopted in Ladakh.
Ladakh despite being declared a Union territory, has a functional autonomous council and also a two-tier panchayat system till date.