Conditions that trigger north storms
Gusty winds and weather conditions likely to remain same in north Bengal and Sikkim in the next few days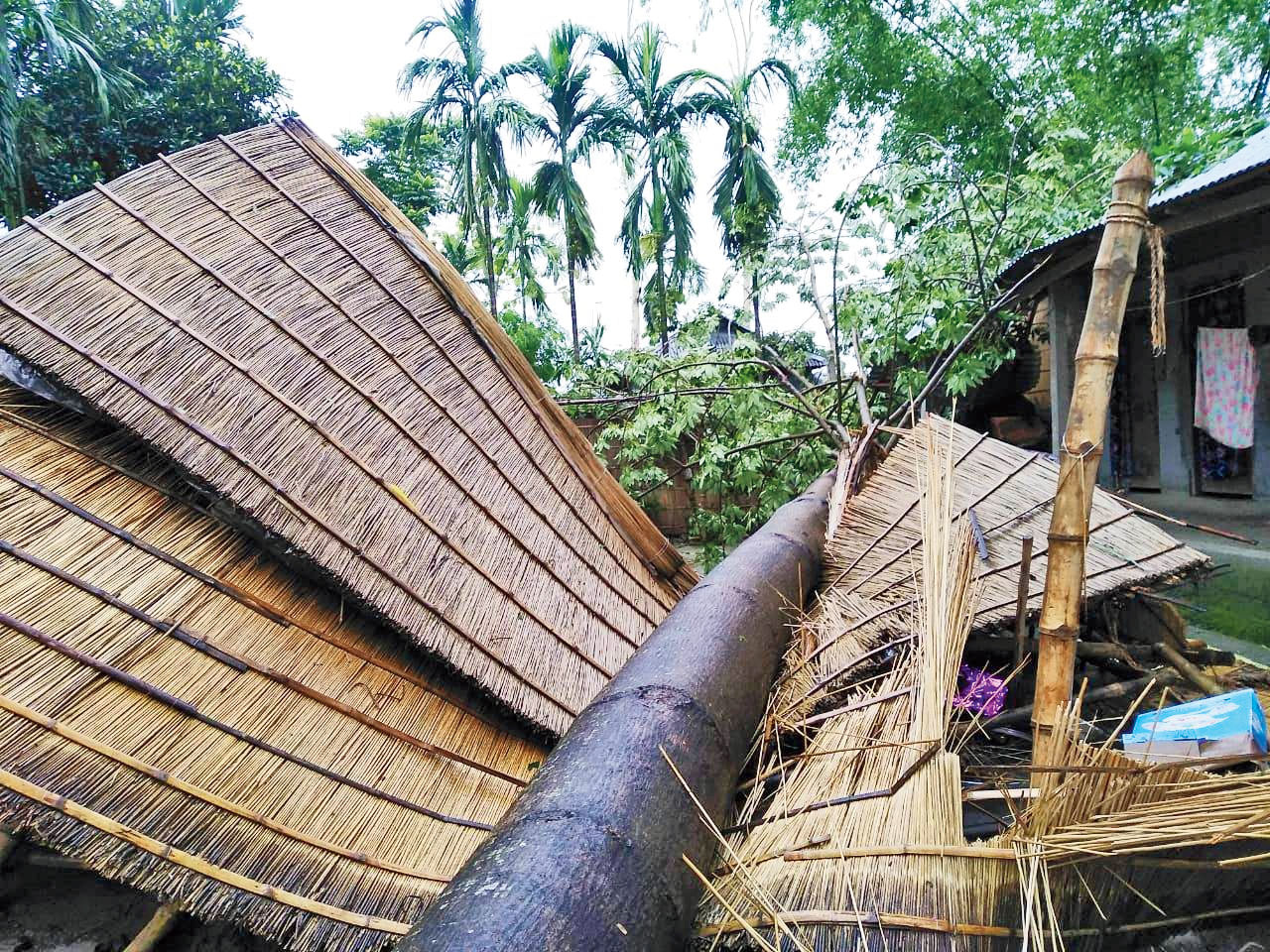 ---
|
Siliguri
|
Published 27.05.20, 09:58 PM
---
A low pressure trough over sub-Himayalan Bengal, coupled with an incursion of moisture from the Bay of Bengal, has been causing consistent rain and sudden bouts of gusty winds in north Bengal and Sikkim for the past few days, Met experts said on Wednesday.
"The trough is extending from east to west, right from Nagaland to Bihar, covering our region. There is also southerly incursion of moisture from Bay of Bengal. All these factors together are causing the downpour and the gusty winds and weather conditions are likely to remain same in north Bengal and Sikkim in the next few days," said G.N. Raha, a meteorologist at the Met Office in Gangtok.
Darjeeling, Jalpaiguri, Alipurduar and Malda districts experienced sudden bouts of strong winds on Tuesday evening. There were also showers in the plains and the hills.
The frequent rain and winds destroyed crops and homes and inundated some low lying areas.
A heavy rainfall (20mm to 60mm) has been predicted in Alipurduar and Cooch Behar districts in the next 24 hours, said sources.
The recurring rain has left most of the agricultural land flooded in some areas of Dinhata 2 block in Cooch Behar.
"Earlier, we could not get good prices for our produce because of the lockdown and was banking on the paddy that was ready for harvest. We have lost this produce, too, because of the storm. We don't know how we will survive in the coming months," said Bikash Burman, a farmer who has lost paddy.
The accumulated rainwater is posing a threat to jute fields also. "If it rains further, the situation will become worse," he added.
Officials in Cooch Behar district agriculture department said they were assessing the crop losses.
"Those who cultivate vegetables have also suffered," said Arun Kumar Basu, an official of the department.
Bengal tourism minister Gautam Deb visited some affected areas in the Maynaguri block of Jalpaiguri district on Wednesday and held a meeting with officials to take a stock of the situation.
In Maynaguri, hundreds of huts were damaged and around 100 electric poles uprooted.
Jalpaiguri BJP MP Jayanta Roy and district party president Bapi Goswami were stopped by police when they were on their way to the affected areas in Maynaguri.
They were stopped on the Teesta Bridge and asked to return home. The police said the duo didn't have permission to go out of their homes during the lockdown.
In the Siliguri subdivision, Akhil Roy, 56, died when a tree fell on him in the Kharibari block on Tuesday evening.
Over 100 huts were damaged in the storm in Kharibari and Naxalbari and in Rajganj block of the neighbouring Jalpaiguri district.
On Tuesday evening, two bouts of strong winds occurred in Malda district. The winds caused damaged to hundreds of huts.