Comrades snipe at CPM seal for Yashwant Sinha
Section of CPM workers question the rationale behind backing a turncoat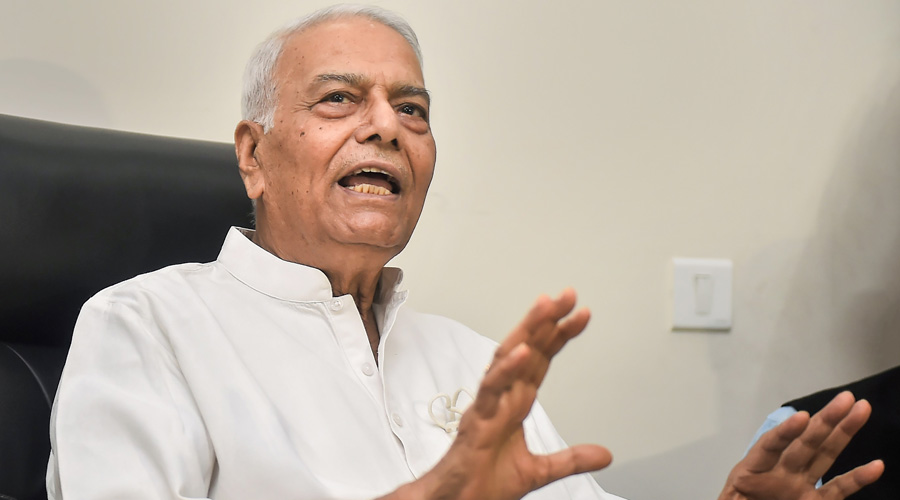 Yashwant Sinha
File picture
---
Calcutta
|
Published 23.06.22, 12:54 AM
|
---
The CPM's decision to support Yashwant Sinha in the presidential poll has triggered resentment in the regimented party with a section of comrades questioning the rationale behind backing a man who had been with the BJP and then joined Trinamul.
Sinha's candidature has been agreed upon by 17 national Opposition parties, including the CPM and the CPI, as part of a plan to put up a united fight against the BJP.
The logic has been pilloried to such an extent on social media by a section of CPM supporters that the leadership seems to have gone defensive.
"The party's Facebook page that is run by the central committee has disabled the comment option of two posts that were shared in connection with the presidential election.… This is a classic example of how democratic the party has become in recent times," said a CPM insider.
The first post — a joint statement supporting Sinha's candidature — was published on Tuesday, while a statement by Sinha was posted on Wednesday. Within minutes of the joint statement — issued after a meeting of the Opposition parties that was attended by CPM general secretary Sitaram Yechury — was posted, net savvy supporters unleashed an attack on the CPM.
"In less than an hour, 91 comments were made and most of them were against the party and very soon, the comment section was disabled.… The party didn't take any chance while sharing Sinha's statement today as the comment section was disabled from the very beginning," said a disgruntled Left activist.
The uproar over the CPM's support for Sinha brought back memories of the debate that had surfaced when the party had decided to back Pranab Mukherjee as the presidential candidate in 2012. Several young CPM leaders, who had opposed the move publicly, had been expelled.
"In defence of this decision it was said that the Left wants to create a wedge between Congress and TMC. Ten years down the line, it has ended up supporting a TMC candidate who is a Hindutva leader from the RSS stable. What strategic vision!" read a former CPM activist's Facebook post that was liked and shared by several like-minded comrades.
Rajya Sabha member Bikash Ranjan Bhattacharya, the only Left voter from Bengal in the presidential poll, said: "Yes, the unity of the Opposition is important and that prompted us to support a consensus nominee for the constitutional head. But it would have been better if this hadn't happened and the situation could have been avoided."
Several CPM insiders said they would not have had any problems if the party supported someone like Sharad Pawar or Farooq Abdullah. "But Sinha represents everything we stand against. He is a product of the BJP and Trinamul," a CPM supporter said.