College near river seeks mangrove cover
The initiative comes at a time when erosion in several Bengal districts has become a threat to ecological balance and livelihood of people living near the banks of rivers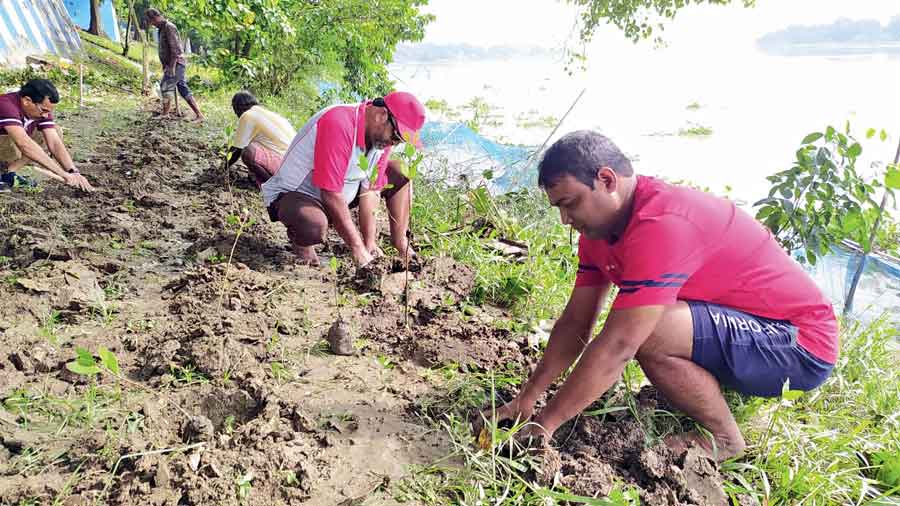 Mangrove species being planted near Chandernagore College on Friday.
Amit Kumar Karmakar
---
Calcutta
|
Published 10.09.22, 02:12 AM
|
---
 Students and teachers of Chandernagore College, with the help of a Sunderbans-based NGO, on Friday planted 250 mangrove saplings on the banks of the river Hooghly in a bid to stop soil erosion adjacent to the college campus.
The initiative comes at a time when erosion in several Bengal districts has become a threat to ecological balance and livelihood of people living near the banks of rivers. Multiple environmentalists had confirmed that two or three variants of the mangroves could easily grow on the banks of rivers and retard erosion.
Teachers of the college, which was set up in 1862 on the banks of the river Hooghly, and is known as one of the oldest colleges in Bengal, said that it is facing the threat of erosion by virtue of its location.
"Erosion is a threat for the college as well as Chandernagore, and erosion is now prominent on both banks of the river Hooghly. As a starting point, we planted 250 saplings of mangroves and our duty now is to nurture them. Once our first effort is successful, we will continue the plantation initiative in that part of the town," said Debasish Sarkar, the college principal.
"If our move is successful, other institutions or local bodies can take up similar responsibilities for the rest of the riverine areas," he added.Three species of mangroves which were planted alongside the river Hooghly on Friday were Keora (Sonneratia apetala), Ora (Sonneratia griffithii) and Chak Keora (Sonneratia caseolaris).Umashankar Mondal, a geography teacher and a resident of the Sunderbans who had earned the moniker Mangrove Man for planting lakhs of mangroves to protect erosion in the delta, was also present in the plantation event. Mondal, who is part of the NGO Purbasha Eco-Helpline Society, had arranged the saplings for plantation.Earlier, on World Environment Day on June 5, three organisations from the Sunderbans with the help of local clubs had planted over 200 mangrove plants on the banks of the river Hooghly near Baranagar of North 24-Parganas. "As of now, at least half of the plants are still alive there," said Mondal.