Collector's pride
Read more below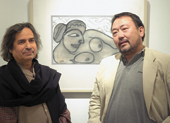 ---
---
Jogen Chowdhury with Masanori Fukuoka
When collector and artist take flight
The leitmotif can be pure delight
The frisson of passion
With soul interaction
Make our artspaces take on new light
It was over sushi ? not at Masanori Fukuoka?s Glenbarra Art Museum at Himeji, but at the Pan Asian here in Calcutta ?that artist Jogen Chowdhury and collector Fukuoka opened up about their art common cause. That was just for starters. The main course came at Chitrakoot Art Gallery a day before the release of an elegant, in-depth compilation of paintings and drawings of the artist and his musings on art published by Fukuoka.
The artist and publisher have been friends for decades, not just because Fukuoka has wolfed down over 400 of Jogen Chowdhury?s paintings and drawings for his famed contemporary Indian art collection in Japan, but more so because of a deep bond that has developed between the two. They speak a similar language ? that of a passionate delight in discovery. And what they busied themselves with that afternoon at the Kejriwals? Andarmahal, which is a true blue salon, was not trade talk, but choosing the work of Kartick Pyne.
From a stack of perhaps a couple of hundred paintings, many of them executed on Pyne?s favourite rice paper, Fukuoka?s practiced eye and his now highly sensitised approach to choosing Indian art, found him picking the ?right? ones to purchase in a matter of seconds. At the end, he had pared it down to around 25, but not before Jogen Chowdhury had interceded with his own admonitions and preferences and had also selected a couple which he bought for his own collection. There was an amazing frisson ? each one respecting the other?s tastes, but both bent on building up the magical, mysterious and sometimes childlike renderings of 70-something Pyne.
Fukuoka, who has been described as a ?virtual white knight for the Indian art scene?, has been furiously collecting Indian art for the last decade and a half and has in his 5,000-strong repository all the names that you would die to pay a price for.
The expected top names are there: Ganesh Pyne, Ramkumar, M.F. Husain, Souza, Tyeb Mehta, Nasreen Mohammed, Arpita Singh, Akbar Padamsee, Gaitonde, Laxma Goud, Swaminathan and Kartick Pyne. The unexpected, too ? Paris-based abstractionist Rajendra Dhawan. And our very own Jogen Chowdhury, 28 of whose works at the launch of his book in Calcutta were either pre-sold or went in a matter of hours. As did about 60-odd books on the artist published by Glenbarra Museum in Japan, which runs cheek by jowl with Fukuoka?s own home. Where the only work of art that adorns the walls is a painting by his daughter.
At the inauguration of Jogen Chowdhury?s paintings, which was combined with the release of the book, the Japanese art connoisseur could hardly be called inscrutable, mingling affably as he did with the eclectic gathering of artists, art critics, gallery owners and visiting intellectuals from as far away as Princeton and Hong Kong. As did Jogen Chowdhury, as he busied himself signing the books priced at Rs 2,000 that, for a Calcutta buying audience, flew off the table faster than pulp paperbacks.
What is it about Indian art that attracts collectors from another land to come and buy up in such large numbers? Fukuoka, whose food processing business focuses greatly on smoked salmon exports, used to journey to India as a tourist, with not a thought for art. The 90s saw him suddenly drawn to modern Indian art, and soon enough he had started his acquisitions, somewhat random at first. Then as he started interacting with artists and galleries and his own sense of the quality works of contemporary painters became more finely honed, he had actually amassed a collection that he compiled into his first offering to this country on Contemporary Indian Artists.
He bought, not just in India, but from auctions abroad. His one-and-a-half crore successful bid for a Tyeb Mehta from a Christie?s auction in New York is still talked about.
But he dislikes this swagger that is brought on him by the media, content instead to focus on collecting a wide range from a single artist. And in doing so, the Glenbarra collection is purported to be as stunning in its volumes as the Herwitz collection in Massachussetts, although afficionados do speak of Glenbarra being far more in-depth and exclusive.
I recall meeting Chester and Davida Herwitz at one of the first major auctions of Indian contemporary art in New York, and although they seemed highly pleased at the million-dollar response to the auction, the Manhattan collectors who came to buy were a na?ve group, many of them looking for decorative art, and a large number quite happy to gawk at Husain stalking around barefoot.
It is a different genre of collectors in this new century, exemplified by the likes of Fukuoka, whose seemingly predatory tendencies are overshadowed by their empathy, their discretionary powers and their deep relationships with artists. While art continues to need its patronage, artists like Jogen Chowdhury give a philosophical edge to the art scene, acting the elder statesmen. And even conceding that while a lover of art brings to his viewing of painting his own stock of knowledge and his own temperament, the sensitivity of the common man is of no mean order.
as, the common man may look, but not touch, with prices, and discernment having touched new highs. But essentially, the message to the world, by artists like Jogen is that India stands at the forefront of the Asian art scene, and more importantly, ?If we can grow and nurture a tree in our own territory, in our own soil, artists in Europe will be compelled to take notice.?
Add to this, his friend, Fukuoka?s comment about Indian art that transcends the diversity of images to make a universal statement. And you have an ideal scenario laid out for a burgeoning art mart. Which needs, as Paritosh Sen, inaugurating the exhibition and having just successfully completed a launch and showing of his own, said, ?more tastefully and fabulously produced books on artists, living or dead, who deserve to be glossy-paged for posterity?.