CM's call to end tandav
Mamata invokes Julius Caesar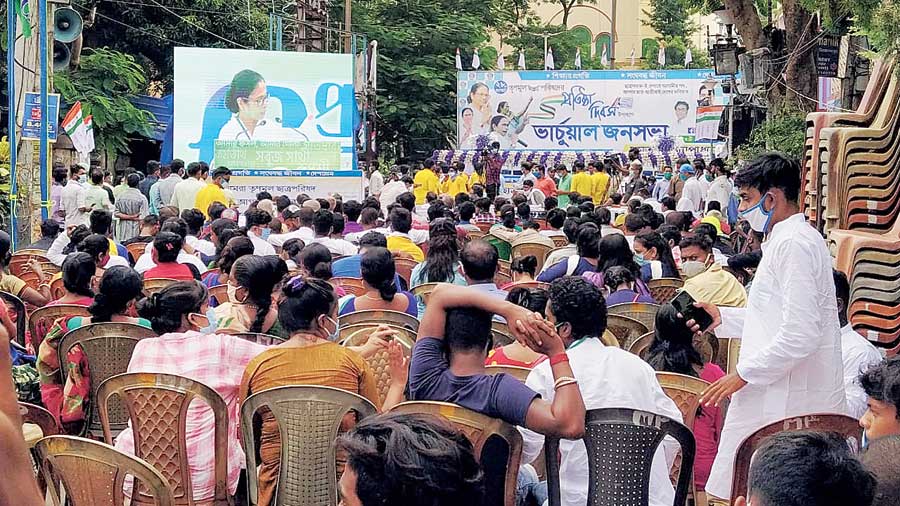 Students watch Mamata's address on a giant screen at Chandernagore on Friday.
Amit Kumar Karmakar
---
Calcutta
|
Published 29.08.20, 01:32 AM
|
---
Mamata Banerjee on Friday exhorted students to fight to end the Narendra Modi government's tandav (rampage) across India and said Bengal would restore freedom across the country if they stood by her in the 2021 Assembly elections.
Picking up from where she had left off at the meeting of some non-BJP chief ministers on Wednesday, the Trinamul Congress supremo pulled no punches in her attack on the Prime Minister and the BJP while addressing a virtual rally at the foundation day of her party's student wing.
 "If, in this fight, students stand by us, Bengal will restore freedom across the country…. That will be the real fight of 2021," the Bengal chief minister said in the virtual address at the Trinamul Chhatra Parishad event.
"How will we do that? By speaking for the people, fearlessly. What if they send us to jail? We will go, we do not fear even death. No, we are not cowards. 'Cowards die many times before their deaths; The valiant never taste of death but once'," she added, quoting William Shakespeare's Julius Caesar, in Bengali.
Mamata also addressed pressing issues such as the JEE/NEET exams, the confusion over UGC exams, the New Education Policy and the saffron camp's attacks on campuses. She also broached the alleged general atmosphere of fear and gloom in the country, the controversial citizenship matrix, the "divided" nation, curbs on freedom of speech and "draconian" laws.
"This pandemic has come, it will eventually go. But more than that, using the excuse of the pandemic, the political pandemic that the BJP government has created for the nation, its tandav (rampage) across the country… is something we must also fight to end," said Mamata.
Sources in Trinamul have said the 18-35 age group forms a crucial chunk of the Bengal electorate. According to internal estimates, a sizeable portion in that age group had favoured the BJP in the Lok Sabha polls last year, enabling its unprecedented victories in 18 out of the state's 42 Lok Sabha seats.
"An illusion is being created, through fake news…. Crores and crores being spent, but not even a paisa for the poor…. When elections come, they will come with bags of money to buy votes. Take their money, if you must, don't give them the votes. You were deceived once, in the Lok Sabha polls, you saw for yourselves how that turned out," said Mamata.
"The sky of India stands shrouded, dark, in a sheet of lies…. That sheet of darkness, you take it down. Overcome all obstacles, my beloved students, come forward… and take this pledge," she added.
Lambasting Modi and the Centre for allegedly rash decision-making and forcible imposition even on students, Mamata said whatever the state government controlled, such as school education, there would be no "endangering" of the student community.
"The Centre, which seems to have washed its hands, even feet, of all responsibilities now and point at the court — which I will say nothing against — for everything…. Will you be able to answer the people when the time arrives?" she asked.
"Now we are hearing of this NEP also… without discussion with anybody…. We are moving towards a frightful India," she added.
Mamata then directly challenged Modi, albeit without taking his name.
"We are in such a fix. Such is our Centre, they do nothing but deliver lectures. From morning till night, only lectures are being delivered… Mann Ki Baat," she said, referring to Modi's radio programme aired on all outlets of India's public service broadcaster.
"So, on your Mann Ki Baat, just once, ask real students what they want, let them speak their mind, not staged, scripted interactions… ask them what they really want. Whatever they want, let's accept," she added.
She also attacked the Centre, yet again, for withholding its dues to the states, including by way of GST compensation, allegedly gagging the national media, and using "draconian" laws to crush democratic dissent.
"This nation, built on the ideals of the likes of Mahatma Gandhi, Netaji Subhas Chandra Bose…. Now go and try to have even a cup of tea, they will demand every detail of your entire ancestry. Or else, you are rejected, summarily dismissed. The NRC-CAA-NPR, all of that will be imposed by them, now there's a lull only because of the pandemic," she said.
"The time has come for a decision. Hoy lorbeyn, naholey morbeyn. Konta korbeyn (You will either fight, or die. Which one will you do)? We will fight, we will survive, we will show them. The students… they will tear away the BJP's mask of darkness," she added.
Farmers' body protest
Mamata said Trinamul's farmers' wing would conduct a protest across the state on September 16 against the allegedly anti-farmer, anti-people policies of the Centre, standing on dykes in agricultural fields. She said she would try to join one of the programmes in an agricultural field close to Calcutta.