Covid mismanagement: Incapable and inefficient, PM must quit, says Chief Minister
Mamata alleged that the number of positive cases started to increase in Bengal after the BJP brought in outsiders to campaign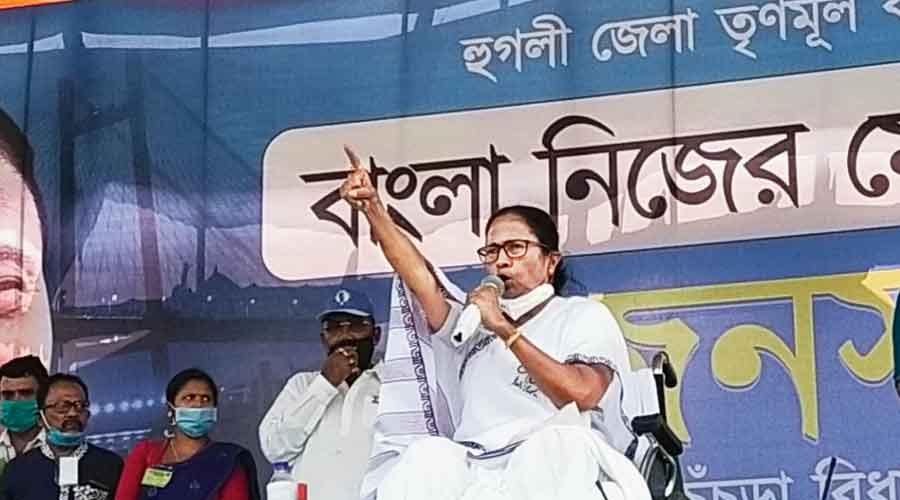 Mamata Banerjee
File picture
---
Khardah
|
Published 19.04.21, 02:02 AM
|
---
Mamata Banerjee on Sunday demanded Narendra Modi's resignation as Prime Minister, holding him responsible for the mismanagement of the effort against Covid-19.
"He has to resign for the rise in Covid-19 cases in the country. He has to resign. He is the man who is responsible for it. He had no planning, no administrative steps and it was his complete inefficiency. He is an incapable person. If he had the minimum capability, he would have planned to control the pandemic for at least the next one year. But he had no planning," Mamata told a rally at Khardah in North 24-Parganas.
The chief minister was campaigning at Surya Sen Nagar for Trinamul's Barrackpore candidate Raj Chakraborty and Khardah candidate Kajal Sinha.
Mamata spent about a third of her address attacking Modi over his failure to curb the outbreak. The chief minister has been increasingly building her campaign around the pandemic.
Her attack comes at a time the number Covid-19 cases in Bengal, as in many other states, has been increasing at an alarming rate.
The chief minister announced she would write to the Prime Minister — which she did about two hours after the rally — alerting him to the situation in Bengal amid the second wave of the pandemic.
"I shall write a stern letter to the Prime Minister. There is a lack of oxygen cylinders, there is no stock of remdesivir in the entire country. Maharashtra has already written a letter and we will write one today," Mamata said.
"Our own country has no medicine (for Covid patients) and he is donating medicines and vaccines to 80 countries. I have no objections to providing medicines to other countries but you have to give priority to our citizens first. Actually, he is providing medicines for self-glorification, nothing else," she added.
"At a time people in the country are dying in alarming numbers, he is happy securing thanks from other countries." Mamata criticised the state governments run by the BJP. "See the situation in Uttar Pradesh, a state ruled by the BJP and Modi. The government is constructing a wall to guard its crematoriums so that people can't see how many bodies are being simultaneously cremated. He provided vaccines and medicines to his own state Gujarat but the vaccines are being supplied there from the BJP party office," Mamata said.
She held Modi and the BJP accountable for the rise in Covid cases in Bengal, citing the extensive electioneering over eight phases involving tens of thousands of people, many of whom had entered the state unscreened for Covid-19.
"Between November and March, we had it completely under control here, we had turned the tide…. But the number of Covid-19 cases started increasing after the BJP brought in outsiders to campaign," she said.
Mamata said her government was trying its best to combat the situation despite the alleged lack of help from the Centre.
"We have directed officials to increase beds for Covid-19 patients at hospitals by 20 per cent so that people can get treatment at government hospitals. A team of 11 senior officials has been formed to get more private hospitals to treat Covid-19 patients. The chief secretary is speaking to the private hospitals so that people can easily be admitted there," Mamata said.
"I always take updates of the Covid-19 situation in between my meetings and during my helicopter flights," she added.