CM Mamata Banerjee warns against central rule
No bigger enemy than me if there are topple bids, she said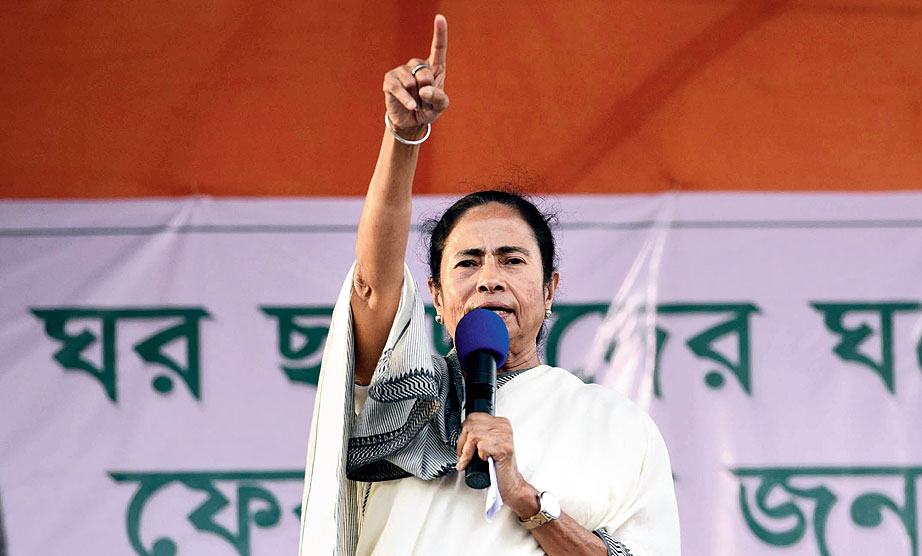 ---
|
Naihati
|
Published 30.05.19, 09:03 PM
---
Mamata Banerjee took to the streets on Thursday and threatened to retaliate if the BJP-led Centre made any attempt to highlight alleged lawlessness in Bengal and impose President's rule.
"Over 400 people have been rendered homeless and nothing can be more shameful than this. Women are being pulled by their hands. Such audacity?" Mamata said. "I am a deadly person. There would be no bigger enemy than me if any attempt is made to impose the President's rule by citing terror."
The chief minister was speaking from a small stage that was set up outside the gates of Naihati Municipality by Trinamul to help those rendered homeless in this part of North 24-Parganas, 48km north of Calcutta.
This was Trinamul chief's first public meeting since the May 23 results and Mamata chose lawlessness and terror as her plank to reach out to a large majority across parts of Naihati, Bhatpara, Kankinara and Barrackpore.
Many have alleged that they are living in fear since the BJP's Arjun Singh won the Barrackpore Lok Sabha seat, defeating Trinamul's Dinesh Trivedi. Arjun, once the undisputed leader of the region, had quit Trinamul and joined the BJP in March this year.
The choice of Mamata's venue was significant. Naihati municipality is among four civic bodies where Trinamul councillors have switched to the BJP in hordes.
In Naihati, 22 out of 31 councillors from the municipality have joined the BJP. "There have been 400 FIRs during this period and police has not taken any action," Mamata said. "Let me assure you I will take strong action against the criminals and after I leave (Naihati) if there is any report of terror. I will take it up with the DGP."
Slamming the Election Commission of India (ECI) for failing to control law and order ahead of the polls and later, Mamata wondered if the police that was then deployed –under the ECI—had really done their job.
"Koto taka niyechhen (How much money have you taken)," Mamata asked while referring to the police that had been on duty during the elections amid thunderous applause from the crowd that had gathered braving the afternoon sun.
"If there has been any lapses on the part of any police, I will take action."
Since the results were declared, terror has returned to haunt hundreds of families in this part of Bengal. Attempts by police and central forces have failed as houses have been ransacked, vehicles set on fire and families forced to move out in one of the worst backlash after polls in Bengal.
Sources said in Naihati, around 150 families have been away from their homes from Lichhubagan and Haajipur area while in Bhatpara and Kanikinara some 200-odd families are struggling to return home in the face of post poll backlash. In Bhatpara's Rustome Gumtee area at least 50 families have been away from their homes for the last week or so.
Mamata said that she would take revenge "but with humanity".
"I had said no revenge after the 2011 elections. I had then played Rabindra Sangeet and Nazrulgeeti. But I think it was a mistake. I'm sorry," Mamata said.
To counter the BJP onslaught, Mamata called for the formation of Bongo Jononi Committee in each block where women would take on outsiders trying to create disturbance.